Restaurant review: Cherry Field Restaurant (櫻之田野休閒養生館)
The Cherry Field Restaurant, though established by an immigrant from Taipei, has become one of Hualien's showcase dining establishments. Health is front and center at Cherry Field, as owner Chen Ying-mei (陳櫻美) created the restaurant after coming to Hualien to recover from surgery for thyroid cancer. Friends from around the county, including Hakka, Hoklo and Aboriginal people, told her about many different folk remedies making use of Hualien's vast selection of flora, much of it ignored by mainstream agriculture. She has included this experience in the creation of Cherry Field, a hot pot restaurant whose main feature is its buffet of five kinds of foraged wild greens that not only provide a unique flavor, but also all kinds of healthful benefits (including reduced cancer risk).
Personally I am always slightly dubious about restaurants that put health before flavor, as their claims for various therapeutic effects seem to be little more than an excuse for dishes lacking either character or balance. I was therefore rather skeptical about Cherry Field, but the buffet of vibrant-looking greens on the sideboard looked remarkably appealing. Staff encourage diners to use a mixture of all five available greens, which are selected from a range of 16, depending on availability. I had not heard of many of these plants, and the selection of nine herbal broths into which these greens were to be immersed was equally unfamiliar, though I did recognize aged radish and ginseng. The broths are all light, and need the wild greens to give them complexity. It is further enriched by meat, fish and other mainstream vegetables. A healthy hot pot (養生火鍋) with meat is NT$390 a head, featuring unlimited access to wild greens, chicken, pork and fish. A vegetarian version with a good selection of mushrooms to replace the meat is NT$300.
If the mix of wild greens is simply too medicinal in flavor (and it has to be admitted, these greens mostly fall into the category of bitter herbs, which accounts for their lack of popularity in the regular vegetable market, and is also a reason why they can grow successfully without the aid of pesticides), Cherry Field offers a wide selection of innovative and mainstream hot pots from heavily marbled "snow flake" prime beef hot pot (霜降牛肉鍋, NT$390 a head) to pumpkin hot pot (南瓜鍋, NT$250 a head). While there are plenty of vegetarian options available, meat eaters are catered to with a plentiful selection of choice and prime cuts.
The selection of ingredients for the hot pot is beautifully presented with a lotus flower, which provides a theatrical element to the meal.
Photo: Ian Bartholomew, Taipei Times
Cherry Field is primarily a hot pot restaurant and is ideally suited for tables of four and above. That said, the establishment also offers a selection of individual sets and a la carte dishes, many of them vegetarian. Quality is well above average and its pork trotter with dry pickled Chinese mustard (陳梅弄豬手, NT$200) and mountain yam with monkey head mushrooms (山藥猴頭菇, NT$200) are highly recommended.
Although the setting at Cherry Field is casual, considerable care is taken over presentation, and a high point of a hot pot meal is the immersion of a lotus flower into the pot at the beginning of the meal. Inevitably, health benefits are attributed to the flower, but the effect is also quite beautiful, and gives the meal a lovely sense of theater. The big cavernous interior of the restaurant can be a bit intimidating for couples, but the space has been well divided to provide a degree of intimacy for smaller tables.
Service is efficient and staff are helpful in instructing diners in the best way of navigating the complex menu. The selection of food is wide enough that healthy eaters and gourmands can all find some degree of satisfaction, and for those who find something that really flips their switch, many of the condiments used in the preparation of food at Cherry Field (most made by the restaurant), are also available to take home. It goes without saying that Cherry Field's food ticks all the health boxes from high fiber, organic, low salt and of course no MSG.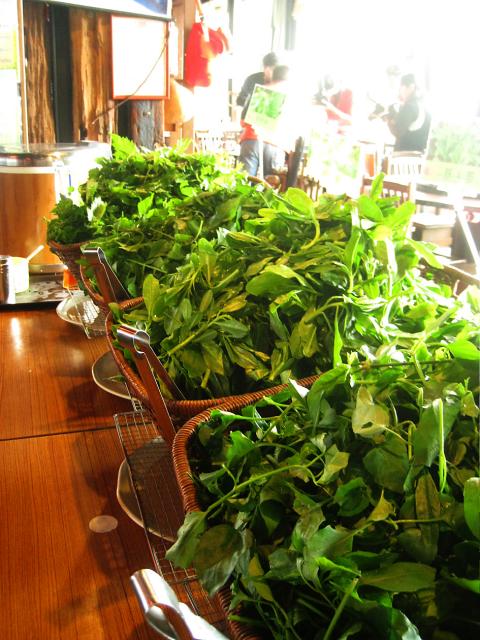 The buffet of wild greens is a unique feature of Cherry Field Restaurant.
Photo: Ian Bartholomew, Taipei Times
Publication Notes
Cherry Field Restaurant (櫻之田野休閒養生館)
Address: 8 Fuhsing 7th Rd, Fuhsing Village, Chi-an Township, Hualien County
(花蓮縣吉安鄉復興村復興七街8號)
Tel: (03) 8540-366
Open: 11am to 2pm, 4:30pm to 9pm (weekdays); 11am to 9pm (weekends
Average meal: NT$400
Details: Chinese menu only; credit cards accepted
On the Net: www.038540366.com.tw (Chinese only)
Comments will be moderated. Keep comments relevant to the article. Remarks containing abusive and obscene language, personal attacks of any kind or promotion will be removed and the user banned. Final decision will be at the discretion of the Taipei Times.