Restaurant review: Khana Khazana Indian Restaurant 饗印印度料理
Though located within walking distance of Taipei City Hall and the shopping quarter in the glossy Xinyi (信義) District, life on the side of perennially-jammed Keelung Road across from the World Trade Center has been dull, mostly revolving around a few undistinguished food stands, motorcycle repair shops and a convenience store. But things have spiced up a little since Mayur Indian Kitchen launched business over a year ago. And with the arrival of Khana Khazana Indian Restaurant last December, more flavors from the Indian subcontinent are sure to wow local foodies.
Unlike its neighbor Mayur, which is basically a kitchen counter with several tables lined up on the sidewalk, Khana Khazana boasts a spacious dining environment thankfully devoid of gaudy travel photos of South Asian landmarks. Despite its uninspiring entrance that suggests otherwise, the interior, tastefully painted in ocher red and decorated with India-themed paintings, feels relaxed and inviting.
Service is casual and friendly. The smiling young wait staff, though not satisfyingly knowledgeable about the rich south Asian fare, is able to provide suggestions to navigate through the restaurant's extensive menu that covers north and south Indian cuisine and contains everything from raita salads (NT$120 to NT$180), pakoras (NT$160 to NT$260), rotis (NT$80 and NT$100), paranthas (NT$100 to NT$160) and biryanis (NT$380), to a wide selection of tandoori barbecues (NT$320 to NT$490) as well as keema (NT$320 to NT$360) and paneer dishes (NT$320).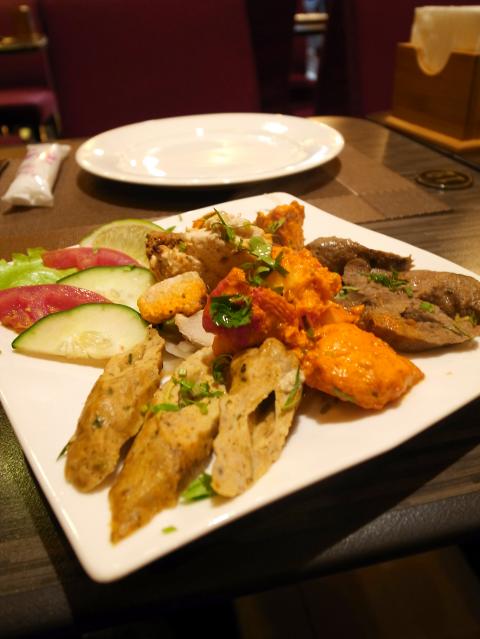 Khana Khazana Indian Restaurant has an extensive menu that covers north and south Indian cuisine.
Photo: Ho Yi, Taipei Times
Most of the Indian subcontinent's better-known curry dishes are also present, ranging from masala, vindaloo, dopiaza and jalfrezi.
Following the recommendations made by our waiter, my friends and I began our feast with tomato soup (NT$90) and multani daal soup, or lentil soup with herbs (NT$90). Deceivingly simple and plain, the dishes wowed with an aromatic explosion of spices and herbs. Appetizer choices are plentiful, and the chana pindi (NT$220), or boiled chickpeas fried with tomatoes, potatoes, chili, ginger and masala, looked healthy and tasted good, but didn't make a lasting impression.
For Indian barbecues, the tandoori mixed grill (NT$490) has chicken, lamb and fish all on one plate. Served with onions, cucumbers and plenty of lemon slices, the meat was properly charred but was a little bit too dry to my taste.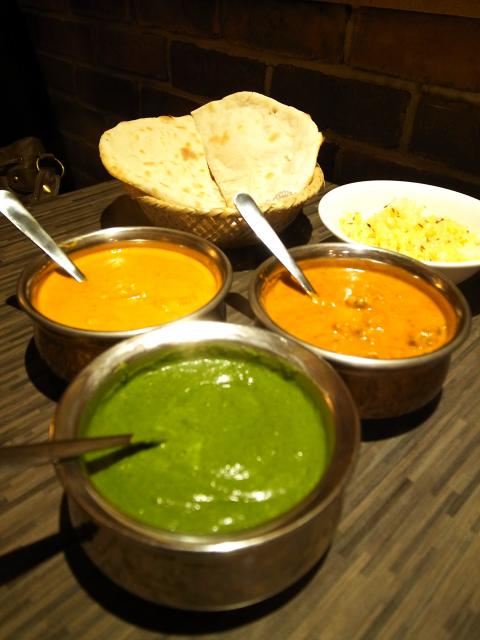 Khana Khazana Indian Restaurant has an extensive menu that covers north and south Indian cuisine.
Photo: Ho Yi, Taipei Times
Moving on to the curry section, which comprises choices of chicken, lamb, fish, shrimp and vegetables. The first item that arrived was the Mughlai chicken (NT$370), which is said to be a famous dish from the Mughlai cuisine served at the imperial family's dining table in north India. It was creamy, pleasantly mild and there was really nothing not to like about the tender tandoori chicken in cashew nuts sauce.
The chicken tikka jalfrezi (NT$370), another north Indian dish, features boneless tandoori chicken first roasted, then fried with onions and red and green peppers in capsicum curry sauce. It was good and mildly spicy, but all curry dishes can be made more pungent based on customer request.
South Indian in character, lamb tikka masala (NT$360) is made up of tandoori lamb tossed in coconut sauce and makes another smooth and creamy curry delicacy.
Among the restaurant's array of vegetable dishes, we had the sag paneer (NT$260), which is made with homemade paneer, or Indian cottage cheese, cooked with freshly pureed spinach, ginger and spices. The paneer lent the curry a luscious zest and made it my favorite dish of the night.
Other vegetarian options that come highly recommended include aloo gobhi (NT$280), or cauliflower and potatoes cooked with herbs and spices, and mixed vegetable jalfrezi (NT$300).
For an extra NT$60, diners can have naan and a bowl of pilau rice sprinkled with plenty of cumin seeds to go with main courses. Khana Khazana's rendition of the Indian flatbread is moist and chewy and comes in seven savory or sweet flavors (NT$40 to NT$120).
For dessert, the restaurant offers homemade cashew nuts-flavored kulfi, or Indian ice cream (NT$120 for two scoops), among the usual gulab jamun (deep-fried milk balls served in sugar syrup, NT$120). Lassi (NT$90 to NT$140) is remarkably yummy and comes in five flavors ranging from salted, mango to peach.
I ended my meal with Indian masala tea (NT$80, NT$120 cold), a great drink to have during cold winter days when it is served steaming hot with cinnamon, cloves and ginger.
According to our waiter, the team that manages Khana Khazana Indian Restaurant comes from the beloved Bollywood Indian Restaurant (魔力屋) in Taichung City. Judging from the quality food it serves, the north spin-off may soon become as popular as its counterpart in central Taiwan.
Publication Notes
Khana Khazana Indian Restaurant
饗印印度料理
Address: 366, Keelung Rd Sec 1, Taipei City (台北市基隆路一段366號)
Telephone: (02) 8786-9366
Open: Daily from 11am to 2:30pm and 5pm to 10pm
Average meal: NT$500 to NT$600
Details: Menu in English and Chinese, credit cards accepted
Comments will be moderated. Keep comments relevant to the article. Remarks containing abusive and obscene language, personal attacks of any kind or promotion will be removed and the user banned. Final decision will be at the discretion of the Taipei Times.