Tech Review: Apple's iOS 6 Maps
With the launch of its new operating system, iOS 6, Apple created its own built-in Maps app to replace Google Maps. Here's why Taiwanese users will probably want to stick to Google Maps and other alternatives for now
If you use an iPhone or an iPad, you've probably heard that Apple's new Maps app is a disaster.
That might be too strong of a word, but the new Maps is surprisingly bad, especially coming from Apple, which isn't known for cutting corners.
With the release of the latest version of its mobile operating system, iOS 6, Apple ditched Google Maps for its own mapping system.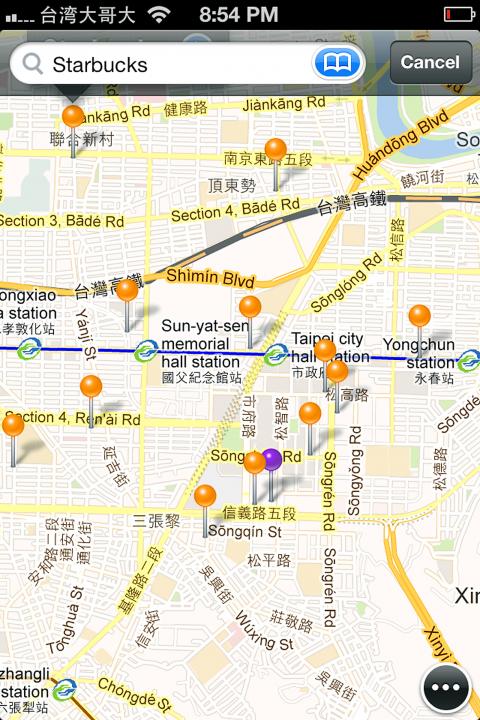 Maps+ gives back Google Maps to iPhone users.
Screenshots: David Chen, Taipei Times
The result has been a half-baked app that produces less accurate results than Google Maps. After its release, the new Maps elicited such a strong backlash that Apple apologized and offered a list of alternatives for users to download from its App Store.
To be fair, there are a few nice things about the new Maps app. It loads faster, it has nice typography so the street names are easier to read, and the flyover feature, which provides photo-realistic 3D views of certain cities (not in Taiwan yet) is pretty neat. And the new Maps gets the job done just fine when you're trying to get your bearings in an unfamiliar neighborhood. The app can pinpoint your location with no problem.
But a big, big problem arises when you actually try to search for places. The new Maps had trouble finding many major businesses and landmarks in Taiwan.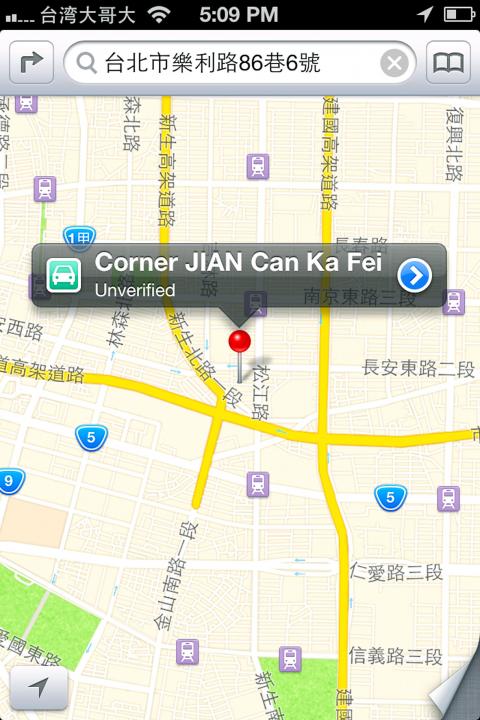 Apple's new Maps app is hit or miss when it comes to finding addresses.
Screenshots: David Chen, Taipei Times
Crappy app
I was planning a trip to Taichung, and was trying to decide whether to take the High Speed Rail. On an iPad, I typed in "Taichung High Speed Rail," and the result that appeared was the locale of the "Wu Jih Taiwan High Speed Rail Real Estate Agent Co. Ltd," located in a rural area east of Taichung proper and far removed from where the station actually was — on the opposite side of the city.
I tried typing in Chinese, thinking this would yield a better result, but no dice. "台中高鐵站" (Taichung High Speed Rail Station) and "高鐵台中站" (High Speed Rail Taichung Station) did lead me to a Taiwan High Speed Rail station — but in Chiayi.
Changing the Maps settings to display only Chinese characters (which you can do by going to Settings/Maps and toggling "Always English" to off) didn't work either.
Similarly inexplicable results showed up when I searched for other major buildings in Taipei. Searching for "Taipei 101" led me to several random offices near Fuxing South Road (復興南路) — and Taipei 101 is even listed on the map! Typing in the Chinese characters for the world's second tallest building yielded yet another completely random location. I also tried to search for "Wanfang Hospital" (萬芳醫院), and got flung over to several locations with the same name in China — and then I realized one of the major municipal hospitals serving southern Taipei wasn't even listed on Apple's maps.
The list goes on and on. I encountered none of these problems when using the same places in Google Maps.
Again, it's not that the new Maps is completely unusable.
Hit and Miss
I did get reasonably usable results when searching for specific addresses, but it can be hit or miss (see above photo). I found that especially in Taipei, Google is almost always more accurate, especially when it comes to mapping the city's labyrinthine alleyways and lanes.
The same holds for getting driving and public transit directions — you'll get better results on Google. One item high on my list of "things to improve" in Apple's new Maps app: Draw out the MRT lines and their corresponding colors in Taipei. For now, you can only see the station names, but no indication of routes or train lines.
And to make matters more complicated for those who don't read or speak Chinese, iOS 6 Maps uses Tongyong Pinyin to romanize street names. Google Maps uses the international standard for romanizing Chinese, Hanyu Pinyin, which is used in China and in Taipei. It's already hard enough for visitors and tourists to deal with unfamiliar names, and iOS 6 Maps isn't going to help clear the confusion.
So, what to do if you're longing for Google Maps on your iPhone or iPad? The simplest solution is to access Google Maps through Safari or whichever Web browser you use on your iDevice. You can create an icon shortcut on your iPhone or iPad's home screen by visiting Google Maps in Safari, tapping the middle button with the arrow on the bottom and then tapping "Add to Home Screen."
If you don't like accessing Google Maps through the browser, there are a few third-party apps to choose from.
Possible Alternatives
One alternative that looks promising at first glance is Maps+, a free map based on Google Maps. Maps+ looks very much like the old version of iOS Maps, with a slightly different interface. For me, it seemed like the perfect replacement — until, that is, after about a week, when the search function stopped working. As of press time, the company that makes Maps+, IZE, says in its support forums that the number of searches by its users have exceeded Google's limits, which suggests that a lot of people have caught wind of the app. If the company can work out this kink, then Maps+ will be the closest thing you have to getting the old Maps back. (A suggestion: check the App Store reviews to see if the problem has been fixed; users have been posting updates.)
Microsoft's free Bing app has been touted as a good alternative, but I wasn't able to get the Maps function working properly on an iPhone 4. Waze is a free driving navigation app that has received high ratings in Apple's App Store, but I wasn't able to test it in time for publication of this article. And if you'd rather have a solution straight from the source, Google is supposedly working on a separate Maps app for iOS, due out at the end of the year.
Why did Apple ditch Google Maps? Popular speculation in the tech press says Apple wanted access to Google's turn-by-turn voice navigation, which dictates directions to drivers. Google supposedly didn't want to license this feature to Apple and keep it for its own Android operating system, which is in direct competition with iOS. So Apple decided to build it's own app from scratch so it could include the voice feature.
But whatever the reason, Apple's customers are the losers, at least in the short term. In one sense, it may be unfair to compare Apple's Maps app to Google's. Google has had a lot more time to accumulate more experience and mapping data and thus holds a considerable edge. But until it catches up, Apple really should be calling its new Maps app a "beta" product, just as it does with its voice-recognition software Siri.
An update: The search function in Maps+ is now working, which makes the app your best bet for getting a Google Maps app back on the iPhone.
Correction: The original version of this article incorrectly stated that Tongyong Pinyin was the official system for romanization of Mandarin Chinese in Taiwan. Hanyu Pinyin was adopted as the official romanization in 2009. The Taipei Times regrets the error.
Comments will be moderated. Keep comments relevant to the article. Remarks containing abusive and obscene language, personal attacks of any kind or promotion will be removed and the user banned. Final decision will be at the discretion of the Taipei Times.