LGBT Parade: Wedding bells at the end of the rainbow
This year's LGBT Pride Parade, now in its 10th year, seeks to highlight the lack of marriage rights for same-sex couples, and to re-consider the traditional notion of marriage
The annual Taiwan LGBT Pride Parade takes place this afternoon, with more than 50,000 people expected to fill the streets of downtown Taipei.
Now in its 10th year, the Pride Parade has come a long way since it first started with a relatively small group of 500 lesbians, gays, bisexuals, transgenders and their supporters. Now it's one of Asia's largest LGBT pride parades, known not only for its festive carnival atmosphere, complete with rainbow flags and flamboyant costumes, but also as a platform for social causes.
This year's theme centers on same-sex marriage, and is entitled "I Do! Do I? Equal Rights to Marriage, Diversity in Partnership" (革命婚姻 婚姻平權 伴侶多元). Organizers are seeking to draw attention to the lack of institutional and legal rights for same-sex couples.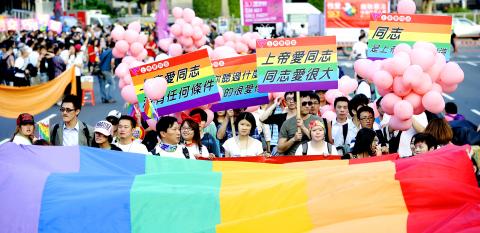 Scenes from last year's LGBT Pride Parade.
Photo: tsorng chang-jiin, taipei times
"We think the right to marry is a basic human right," said Chen Chia-yu (陳家玉), one of the conveners and spokespersons for this year's parade. "And whether or not a person actually wants to get married, marriage should be a basic right that all citizens have."
Same-sex couples should be allowed the same legal protections that married heterosexual couples have, she says. "If [one partner in a same-sex couple] gets in an accident, and has to go to the hospital, that person's partner might not be granted visitation rights. Or when someone passes away, they can't give their inheritance to their partners."
Taiwan first attempted to legalize marriage and adoption for same-sex couples with the proposal of the Basic Human Rights Law (人權基本法) in 2003, but the bill never passed in the legislature.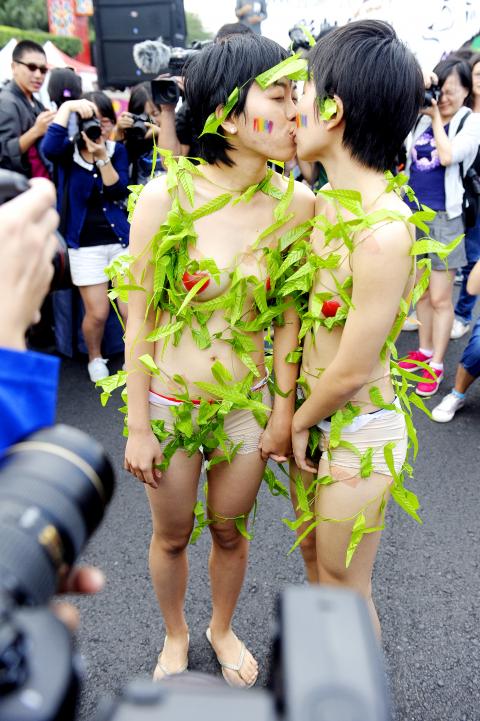 Scenes from last year's LGBT Pride Parade.
Photo: tsorng chang-jiin, taipei times
But the Pride Parade organizers are also looking beyond legal issues surrounding same-sex marriages. They want Taiwanese society to reconsider the traditional notions of marriage and family to allow for a "diversity in partnerships" such as same-sex relationships and heterosexual couples without children.
Chen says the institution of marriage is such that men and women are encouraged to have children, but doesn't account for "different kinds" of families and relationships. One simple example, she says, is same-sex or heterosexual couples without children. They face the challenge of receiving proper care when they become elderly, particularly in a society where children traditionally look after their parents in their old age, she says. "Our country hasn't paid much attention to these issues."
Other causes and issues will also be covered at tomorrow's parade, with groups devoted to HIV/AIDS awareness, labor rights — and even protesting the construction of the Miramar Resort in Taitung — slated to attend the march.
The procession starts at the Presidential Office on Ketagalan Boulevard (凱達格蘭大道) at 2pm and splits in two. The north route follows Zhongshan South Road (中山南路), Qingdao East Road (青島東路), Changan East Road (長安東路), Nanjing East Road (南京東路) and Linsen South Road (林森南路). The south route follows Zhongshan South Road to Roosevelt Road (羅斯福路) and passes through Hoping East Road (和平東路) and Jinshan South Road (金山南路).
Both processions will converge on Renai Road (仁愛路) and return to the Presidential Office, where the parade ends with speeches and performances from activist and rights groups, as well as a "massive group hug-in," according to Chen. There will also be performances from Hong Kong singer Anthony Wong (黃耀明), who notably announced he was gay during a concert earlier this year, acclaimed Aboriginal singer/songwriter Suming (舒米恩) and environmental activist and new age musician Matthew Lien.
Chen, who is one of the parade's 300 volunteers, has seen the parade grow quickly. She marched with 15,000 people when she first participated in 2007 and witnessed that number grow to over 50,000 last year. The parade also attracts visitors from Hong Kong, Malaysia, Singapore, Japan and the Philippines.
When asked about the progress of LGBT rights over the past decade, Chen says activists are finding more "diverse" ways to promote their platform. But she laments what she sees as dithering responses from government officials regarding issues such as same-sex marriage.
Chen notes that in recent years presidential candidates (including both President Ma Ying-jeou (馬英九) and his predecessor Chen Shui-bian, 陳水扁) voiced their support for gay marriage but backtracked after winning office. "They say they must follow the consensus of society, but the numbers of people [who support same-sex marriage] keeps growing ... so how many people do we actually need to call it a consensus?"
"When it comes to the right to marry, it's not about how many people support it," she said. "When [LGBT couples] are not granted protection and rights, this is harmful to them. We hope the government can step up its efforts and better understand what's happening."
For more details, visit: twpride.org
Comments will be moderated. Keep comments relevant to the article. Remarks containing abusive and obscene language, personal attacks of any kind or promotion will be removed and the user banned. Final decision will be at the discretion of the Taipei Times.