Halloween: A stroll down "Halloween Street"
The aptly named street, located two blocks north of Taipei Main Station, has a wide selection of Halloween costumes and accoutrements for that scary outfit or spooky party
Halloween is right around the corner and you still don't know what to dress up as. You've been to the costume stores in Ximending (西門町) on Hanzhong Street (漢中街) and the good ones are already spoken for. It's time to get creative on the aptly nicknamed Halloween Street, a block northwest of Taipei Main Station. This two-block area on Changan Rd (長安路) between Chongqing North Road (重慶北路) and Chengdu Road (成都路) boasts 14 stores that sell a variety of Halloween supplies ranging from disco wigs to swords filled with fake blood to superhero costumes for toddlers.
The Holiday House (節慶屋) at 95 Changan W Rd (台北市大同區長安西路95號), tel: (02) 2559-4897 is geared more towards women with the requisite flirtatious Little Red Riding Hood and risque female versions of Captain America costumes. Prices are between NT$499 and NT$599 for adult costumes and NT$100 less for children. Unfortunately, the Holiday House seemed like a Christmas store moonlighting as a Halloween shop.
A few steps down the road is Lucky House (吉祥屋) at 109 Changan W Rd (台北市大同區長安西路109號), tel: (02) 2550-0262. At first, the list prices on everything seemed to be a bit higher than the Holiday House, but soon the owner came over and started offering better deals. She turned out to be a spirited bargainer and a costume that contained a hat, wig and sailor's dress went from being NT$970 to NT$750 with a few clicks on the buttons of her oversized calculator. Eventually, a price of NT$700 was settled on, but not before using the time-honored pretending-to-walk-away tactic of negotiation.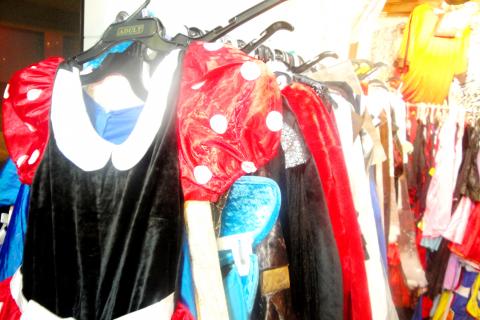 Costume choices on "Halloween Street" range from Minnie Mouse to Bruce Lee.
Photo: Marcus Aurelius
Technically not on Changan West Road but worth mentioning because it's very visible from the intersection at Changan and Taiyuan is Party World Thematic Warehouse (派對世界) at 63 Taiyuan Rd (台北市太原路63號), tel: (02) 2559-9758. This two-level shop had the widest selection of all with kids' costumes, fairy wings and tons of pirate paraphernalia. One of their specialties is all shapes and sizes of mylar balloons, which ranged in prices from NT$100 to NT$450 filled with helium. Overall, Party World would be the first place to shop to decorate for a Halloween party.
A few other tips for this area would be to do a walk through of all of the stores before making any purchases. Never pay the actual price on the tag for anything if it's over a few hundred dollars. Add items together and ask for a group discount. If you want to dicker with the salespeople, they are more willing to cut down the prices, but do it out of earshot of other customers. Also, try to go at a time that is less busy. Every night from now until October 31 will be crowded with people looking for last-minute costume ideas. A stroll through in the early afternoon is recommended.
The Taipei Times will have complete Halloween coverage — from bars and clubs to dance halls — in next Friday's Features section.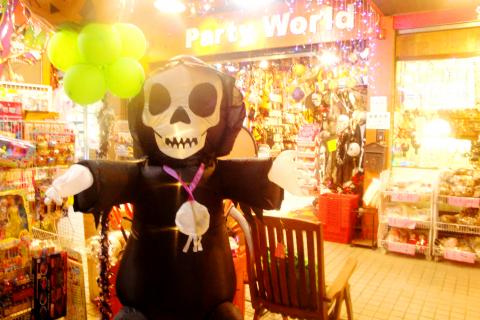 Party World is the place for Halloween party accessories.
Photo: Marcus Aurelius
Comments will be moderated. Keep comments relevant to the article. Remarks containing abusive and obscene language, personal attacks of any kind or promotion will be removed and the user banned. Final decision will be at the discretion of the Taipei Times.