Making life a little easier
Taiwanease.com is a new Web site that aims to be a one-stop resource for Taiwan's foreign community
Managing the ins and outs of life in a foreign country has its challenges, and in Taiwan, expatriates have long turned to online communities and Web sites to ask and answer questions, exchange tips and information, or simply vent their frustrations.
A fair number of Web sites cater to English-speaking foreigners in Taiwan. The best-known include Forumosa.com, an established Internet forum full of lively discussions on every facet of life in Taiwan, from the practical to the mundane; Tealit.com is another popular site for finding English-teaching jobs and buying and selling used items; Taiwanfun.com and Taiwannights.com focus on leisure and recreation.
And now a new Web site, run by two Taipei expats, aims to cover all of the above.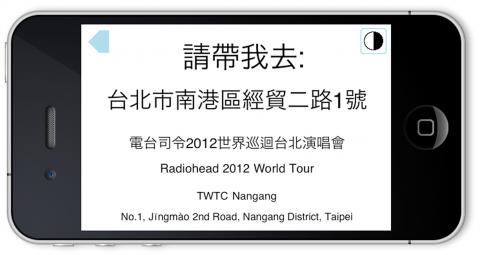 Taiwanease aims to make life in Taiwan easier with its soon-to-be-released iPhone app.
Photo Courtesy of Taiwanease
Taiwanease.com was launched in September last year by Eric Schmitt and Anthony van Dyck, who are hoping their Web site's features will make it the new go-to resource for foreigners and visitors to Taiwan.
Van Dyck, a 45-year-old Canadian who has lived in Taiwan since 1989, was one of the co-founders of Forumosa.com, but decided it was time to move onto a new venture.
He and Schmitt, a 27-year-old American software engineer and marine ecology graduate student, saw an opportunity to provide a resource more organized than discussion forums such as Forumosa or Taiwan Ho!, where foreigners post information on everything from the process of opening a bank account to which restaurant serves the best pizza.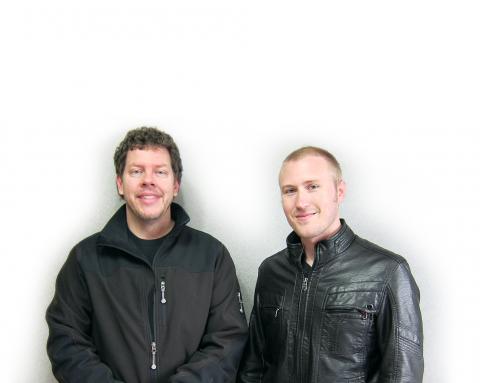 Taiwanease co-founders Anthony van Dyke, left, and Eric Schmitt.
Photo Courtesy of Taiwanease
"You could search the forums but you would get an answer that might be 10 years old," said Schmitt. "Or hidden in 10 pages of static," added Van Dyck.
As Van Dyck sees it, foreigners "have to now go to 10 different Web sites" to get information. "That doesn't make sense."
So the pair set out to make Taiwanease a one-stop "community-sourced resource" with information that is organized, easily searchable and up-to-date.
Part of their solution lies in an online directory with a dozen categories that include hotels, trade offices and embassies and restaurants. Each place has its own dedicated page with address and contact information listed, and space for Web site users to write reviews.
GETTING AROUND
Van Dyck and Schmitt are particularly excited about one feature of their directory, Taxi Cards, which is designed to help travelers or people who don't speak Mandarin.
For example, a user who searches the site might find Zoca Pizza on Linjiang Street (臨江街) in Taipei and decide to go there. He or she can then click on "print taxi card," which opens a new page with a map linked directly from Google Maps and simple instructions written in Chinese to show to taxi drivers. The Taxi Card pages are formatted for printing, and are also easy to read when opened on a smartphone's Web browser.
Although for many people Google is a de facto online directory of sorts, Van Dyck and Schmitt say Taiwanease is different because their information is curated, updated and accurate. The site is run by a small staff that collects and edits data for the directory. They verify the addresses of all places listed in English and Chinese, and collect GPS data to make it searchable using a smartphone or Google Maps. And students of Mandarin will appreciate that all addresses are listed both in Chinese characters and Hanyu Pinyin with tone marks.
USER POWERED
The online community is also important to Taiwanease, says Van Dyck. He says users are encouraged to submit information on their favorite restaurants or whichever places are suited to the site's given categories. (It's not apparent on the Web site, though. Users have to scroll to the bottom and click on "submit a venue").
Anyone holding an event can submit it to be listed on the site. Taiwanese's main page also has an "upcoming events" column that lists major concerts and events, as well as activities held by members of the foreign community.
Taiwanease also provides practical information for expats living in Taiwan, including a step-by-step guide for foreigners applying for permanent resident status, as well as a guide for getting a motorcycle license. There are also general interest articles on Taiwanese life and culture, which include a recently written opinion piece on the state of Taiwan's roads and driving standards.
Some long-term expats will recognize a few of these articles as recycled material from a now-defunct magazine, also called Taiwanease, which was published from 2006 to 2007; Van Dyck was one of the co-owners. And as is the case with the magazine, Taiwanease the Web site will feature a mix of how-to guides written by volunteers and articles penned by paid contributors.
Taiwanease has a classified ads section with a different name, Taiwanted, which Van Dyck brought over from his days at Forumosa. Users can post ads for free, though Van Dyck and Schmitt say they are considering charging for job classifieds in the future.
"REAL" PRESENCE
Those accustomed to the online discussion board format of Forumosa will find a similar offering at Taiwanease. (In fact, a number of netizens that frequent Forumosa are also online participants at Taiwanease). There's also another forum for native Chinese speakers, dubbed Taiwaneasia (台灣易喜亞).
For Van Dyck, another side of the community aspect behind Taiwanease is its "real human presence." He says that Taiwanease has already started to hold regular social events, and its get-togethers at pubs and restaurants are open to all (meeting times are posted on the site's forums). The Web site has also pledged a portion of its revenues to the Taiwanese chapter of the Society for the Prevention of Cruelty to Animals (SPCA).
Van Dyck and Schmitt are running Taiwanease as a for-profit business supported by advertising and they hope loyal users and travelers will buy their soon-to-be released iPhone application, which is a cleaner, ad-free version of the Web site.
But they say they aren't in it for the money.
"Even if we don't make a dollar off of this, so be it," said Schmitt. "We didn't actually set out to get rich. We set out to make life easier."
"This is also about Taiwan being a really good place to work, a good place to live, and a good place to visit," said Van Dyck. "So I really want to promote that.
Taiwanease will be holding an official launch party in May. Details will be announced at its Web site.
Taiwanease for smartphones
An iPhone app, which will cost NT$95 (US$2.99) and is advertisement free, offers quick access to all of Taiwanease's services. Planned launch is next month Apps for Android and Windows Phone 7 are also in the works. Check Taiwanease.com for the latest news
Publication Notes
Other Web sites catering to English-speaking expatriates in Taiwan
Forumosa.com The longest-running online forum for expatriates and anyone interested in discussing life in Taiwan Tealit.com A popular site listing English teaching jobs and selling and buying used items Taiwandeal.com Another expat run Web site that provides English-language classifieds. It has a nice, easy-to-navigate design Taiwanho.com Online discussion board for long-term expats Craigslist Taipei taipei.craigslist.com.tw The US-based company Craigslist has relatively few users in Taiwan, but the Web site's sparse design and ease-of-use make it a good choice for personal ads and selling and buying used items. Beware of scammers, though www.englishintaiwan.com An online directory of businesses that cater to English teachers in Taiwan www.communitycenter.org.tw This Web site from the nonprofit Community Services Center provides counseling services and news pertaining to Taiwan's international community
Comments will be moderated. Keep comments relevant to the article. Remarks containing abusive and obscene language, personal attacks of any kind or promotion will be removed and the user banned. Final decision will be at the discretion of the Taipei Times.