Gobble gobble
With Thanksgiving around the corner, a variety of options are available for those in Taiwan who are celebrating this American tradition
With Thanksgiving just a week away, it's time to start planning your own feast or deciding where to dine. Here's a list of places to go to gather ingredients for your own celebration, as well as establishments that will do all of the cooking (and the dishes) for you.
Set meals at hotels and restaurants generally range between NT$660 to NT$980, while fully prepared, takeout turkey dinners average around NT$3,000. Among the dine-in choices, the lowest-priced meals are to be found at PJ's Cafe in Taichung and Carnegie's for lunch in Taipei (see below for details). If you don't have time for dinner on Thanksgiving Day, which is next Thursday, Carnegie's, the Brass Monkey and Grandma Nitti's offer turkey meals over several days.
Unless otherwise listed, three days' advance notice is required for table bookings and takeout orders. Some businesses list their bird weights in pounds and others use kilograms. We've done the conversion for you once; after that it's up to you. Same with pies, which are usually measured in inches.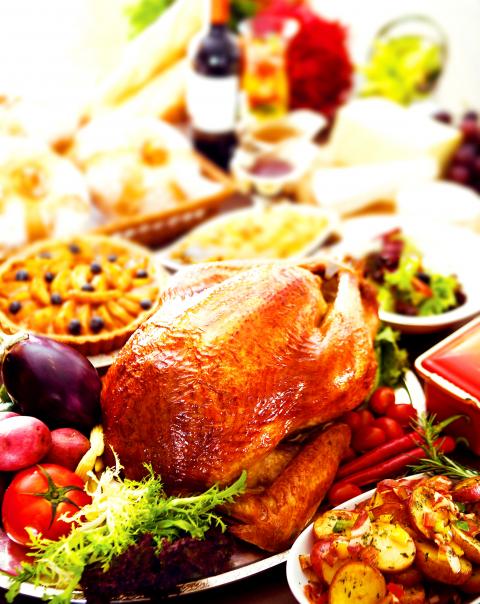 The Deli at the Sheraton Taipei offers turkey hampers starting from NT$2,600.
Photo courtesy of the Sheraton Taipei
MAKE YOUR OWN
For many, there's no better Thanksgiving meal than a home-cooked feast. Costco sells frozen 10-pound (4.5kg) turkeys for NT$699 each. Supplies are limited, so call your local store first to check if they have any in stock. The wholesaler also offers 11-pound, pre-cooked turkeys that come with gravy, stuffing and cranberry sauce. Orders must be placed and payment made at least three days before pickup. Store locations are listed at www.costco.com.tw.
If you're feeding a bigger party, Thomas Meat (www.thomasmeat.com.tw, (02) 2932-3807 X217) offers frozen turkeys weighing between 5kg and 9kg, priced from NT$875 to NT$1,575. Again, it's best to call first as supplies are limited. Thomas Meat also has a special on smoked turkeys, available for NT$1,790, which includes free delivery to anywhere in the country. The distributor will only deliver frozen turkeys for orders totaling NT$3,000 or more. If you're in Taipei, the store is easy to reach: It's near Wanlong MRT Station (萬隆捷運站) Exit 4.
Jason's supermarket is another option. An 11-pound frozen turkey is NT$1,300, and the store can roast it for you as part of a set package that includes a 7-inch (18cm) pumpkin pie, red wine gravy and a berry sauce for NT$2,688. Pre-cooked turkeys must be ordered and paid for in person at a Jason's store five days before pickup. Visit www.jasons.com.tw for store locations and phone numbers.
If you're cooking a turkey for the first time, the University of Illinois Extension school has an informative and advertisement-free Web site: urbanext.illinois.edu/turkey. The site also offers practical cooking tips for the experienced, and interesting trivia for Thanksgiving fanatics.
For vegetarians, vegans or those who simply want a change from the same old turkey dinner, Mercy for Animals, an American animal rights group, offers some healthy, simple recipes that also look appetizing and use easy-to-find ingredients. Visit www.mercyforanimals.org/thanksgiving-recipes.aspx.
DINE IN AND TAKE OUT
The Brass Monkey is offering a Thanksgiving dinner from next Wednesday through Nov. 25. This year's menu includes ginger pumpkin soup, roast turkey and stuffing, green beans, roast or garlic mashed potatoes and pumpkin pie. Cost is NT$660 per person before a 10 percent service charge, and bookings should be made by contacting hugo@brassmonkeytaipei.com. Whole 10-pound cooked turkeys are available for takeout for NT$2,200, and it costs NT$3,200 for the same size turkey with stuffing, gravy, cranberry sauce and roast potatoes. 166 Fuxing N Rd, Taipei City (台北市復興北路166號), tel: (02) 2547-5050.
Carnegie's serves its Thanksgiving meal from next Wednesday through Nov. 26 at NT$490 per person for lunch and NT$630 for dinner. On the menu is roast turkey with gravy, cranberry sauce, mashed potatoes, vegetable casserole, stuffing, butter rolls, and "winter fruit salad" with lemon poppy seed dressing. For dessert, it's pumpkin cheesecake with coffee or tea. For larger parties, a whole turkey can be ordered for dine-in at NT$5,800 and NT$2,900 for takeout; advance booking and payment is required for these two options. 100, Anhe Rd Sec 2, Taipei City (台北市安和路二段100號), tel: (02) 2325-4433.
The Grand Hyatt Taipei's Cafe, which has one of the better buffets in town, is offering a Thanksgiving special at NT$980 per person plus a 10 percent service charge next Thursday. Reservations are recommended and get there early if you can. Last year I arrived at around 7:30pm and they were almost out of turkey. The menu this year includes prime rib and Arkansas slow-cooked ham, with roasted pumpkin, green bean casserole, mashed potatoes and corn bread as side dishes. The standard buffet fare will also be available. For takeout dinners, the hotel offers 5kg turkeys for NT$4,900 and 7kg roasted Virginia ham for NT$5,900. Both prices include bread or sage stuffing, corn on the cob, mashed potatoes, corn bread, and pumpkin and pecan pies. The sets are also available for Christmas. 2F, 2 Songshou Rd, Taipei City (台北市松壽路2號2樓), tel: (02) 2720-1200 X3198 or X3199.
Robin's Grill, an upmarket steakhouse at the Grand Formosa Regent, is offering set menu meals next Thursday that include a choice of either roast turkey, braised US prime bone-in short ribs, or lobster fillet with black truffle sauce as the main course. The turkey dinner comes with standard trimmings such as mashed potatoes and cranberry sauce, and other sides include spiced pumpkin soup with hazelnuts and a wide variety of desserts at the salad bar. Lunch prices range from NT$1,500 to NT$2,000 and for dinner it's NT$2,000 to NT$2,600. 2F, 41, Zhongshan N Rd Sec 2, Taipei City (台北市中山北路二段41號2樓). Call (02) 2523-8000 X3930 for reservations.
Chicago-themed restaurant Dan Ryan's offers a Thanksgiving dinner next Thursday only. Its menu remains unchanged from last year, with walnut green beans and candied yams in addition to roast turkey, mashed potatoes, cranberry sauce and homemade gravy, available as a set for NT$750. The price goes up to NT$920 to add salad, pumpkin soup, and pumpkin pie. The children's dinner special is NT$520 and does not include dessert. All dinner sets are available for takeout, and whole 4.5kg to 5.5kg turkeys with gravy and cranberry sauce (in a can) are available for NT$2,700. With stuffing and mashed potatoes, the price goes up to NT$3,700. Turkeys-to-go must be ordered three days in advance. 8 Dunhua N Rd, Taipei City (台北市敦化北路8號), tel: (02) 2778-8800.
This year Capone's is not serving a Thanksgiving dinner, but its sister establishment, The Tavern, will have a buffet dinner next Thursday that includes roast turkey with gravy. The price is NT$750 per person, reservations recommended. 415, Xinyi Rd Sec 4, Taipei City (台北市信義路四段415號), tel: (02) 8789-0892.
Grandma Nitti's Thankgiving meal is available all day next Thursday and on Nov. 25 with a set that includes a serving of roast turkey or roast beef, salad, mashed potatoes, stuffing and gravy, cranberry sauce, pumpkin pie, tea or coffee, and a glass of wine. Price is NT$800 plus a 10 percent service charge, but a 15 percent discount is offered to those who book by this Sunday. Takeout dinner sets, which the restaurant says feed 12 to 15 people, include whole cooked turkeys ranging from 10 to 12 pounds, mashed potatoes, stuffing and gravy. Prices are NT$300 per pound of turkey, and today is the last day to place an order. The restaurant's sister bakery, Sweetie Pie, also makes pumpkin pies from scratch for NT$1,000 each, but those who order by this Sunday get a 40 percent discount. 8, Lane 93, Shida Rd, Taipei City (台北市師大路93巷8號), tel: (02) 2369-9751.
The Watermoon Tea House (水月草堂) will host a Thanksgiving potluck by the East West Culture Project from 6:30pm to 11pm next Thursday. Entertainment will be provided by beatboxer Unkle Sam. The cost is NT$500 or NT$350 if you contribute a dish. 2, Lane 180, Fuxing S Rd Sec 2, Taipei City (台北市復興南路二段180巷 2號). For more information or reservations, contact 0983-339-901 or eastwestcultureproject@gmail.com.
TAKEOUT ONLY
The Deli at the Sheraton Hotel offers hampers for Thanksgiving and Christmas priced between NT$2,600 and NT$3,800. The basic hamper comes with a roasted 3.5kg turkey, giblet gravy and cranberry kumquat sauce for NT$2,600. The roasted Virgina ham hamper comes with apple sauce and gherkin mustard for NT$2,800, and the roast US beef hamper includes a 2kg roast beef, herbed mushroom cream sauce, horseradish sauce and Lyonnaise bacon with small potatoes for the same price. For a turkey dinner with all the trimmings, which includes corn bread stuffing, Lyonnaise bacon with small potatoes and pumpkin bread, get the roasted turkey combo hamper for NT$3,800. 12, Zhongxiao E Rd Sec 1, Taipei City (台北市忠孝東路一段12號). Call (02) 2321-5511 X8373 between 10am and 8:30pm.
Azie Bun at the Grand Formosa Regent offers a Thanksgiving basket that includes a 6kg roast turkey, red currant sauce and sweet and sour chestnuts with applesauce. The set comes with mashed potatoes, pan-fried zucchini, mixed mushrooms and bread pudding. The set is available from now until Christmas and costs NT$3,500. Orders must be placed at least three days in advance. Eight-inch pumpkin pies by the hotel's French chef are also available for NT$720. 41, Zhongshan N Rd Sec 2, Taipei City (台北市中山北路二段41號B3), tel: (02) 2523-8000 X3157.
The Westin Taipei's roast turkey set remains the same as last year: Priced at NT$3,888, this hamper includes a turkey weighing approximately 6kg, roasted potato, brussels sprouts with cream, wild berry sauce and pumpkin pie. A Virginia honey glazed ham weighing around 3.5kg is also available with the same trimmings for NT$3,300. The sets are available through Christmas, and orders need to be placed four days in advance in person at the Elite Concept bakery, located at 2F, 133, Nanjing E Rd Sec 3, Taipei City (台北市南京東路三段133號2樓). Call (02) 8770-6565.
Jake's Country Kitchen in Tianmu, an old expat standby, offers turkeys-to-go ranging from NT$2,400 for a 10- to 12-pound turkey to NT$3,400 for one weighing 20 pounds. Jake's sells side dishes separately, with mashed potatoes at NT$200 per pound, broccoli at NT$250 for four persons, cranberry sauce at NT$120 per can and pumpkin pie at NT$450 each. Or get the full-fledged dinner set, which includes all of the above and feeds 8 to 10 people for NT$5,165. 705, Zhongshan N Rd Sec 6, Taipei City (台北市中山北路六段705號), tel: (02) 2871-5289.
TAICHUNG
In Taichung, PJ's Cafe, which has been in business for 14 years, offers one of the lowest-priced Thanksgiving meals in Taiwan. For NT$195, diners get one plateful of turkey, mashed potatoes, stuffing, cranberry sauce and coleslaw. American owner PJ McKenna says that one plate usually manages to satisfy the appetites of most customers, but if it doesn't, a second plate definitely will. McKenna also offers a non-meat option — a vegetarian steak made of black beans. Dinner is available next Thursday, Nov. 25 and Nov. 26, or until supplies run out. 23 Daye Rd, Greater Taichung (台中市大業路23號), tel: (04) 2325-2457.
TAINAN
Candy's American Kitchen in Tainan offers a roast turkey dinner set menu for NT$300 per person that includes mashed potatoes, stuffing, apple cider and pumpkin pie. Owner Candy Hsu (許惠雲) says the turkey is locally sourced from farms in Chiayi. Dinner is available next Thursday and Nov. 26. On Thursday, dinner will be served in two shifts: one for the dinner crowd from 6:30pm to 8:30pm, and the other from 8:30pm to midnight to accommodate people who work late. Reservations strongly recommended. 49 Chongming Rd, Greater Tainan (台南市崇明路49號), tel: (06) 289-5757.
KAOHSIUNG
The Splendor Kaohsiung (高雄金典酒店) offers a takeout Thanksgiving hamper that includes a 7.8kg turkey with gravy and cranberry sauce, mashed potatoes and an assortment of bread rolls for NT$2,999. For an extra NT$600, the set comes with a bottle of red wine and a 6-inch pumpkin pie. Three days advance notice is needed. 1 Zihciang 3rd Rd, Greater Kaohsiung (高雄市自強三路1號), tel: (07) 566-1149.
For large parties or those with big appetites, Smokey Joe's Rib House and Pub is selling cooked turkeys weighing between 17 and 19 pounds as part of a Thanksgiving set for NT$3,500. Side dishes include chestnut stuffing, mashed potatoes and red wine gravy. 208 Jhongsiao 1st Rd, Greater Kaohsiung (高雄市忠孝一路208號), tel: (07) 968-5989. Also available for pickup at two other locations — visit www.amy.com.tw for addresses.
Comments will be moderated. Keep comments relevant to the article. Remarks containing abusive and obscene language, personal attacks of any kind or promotion will be removed and the user banned. Final decision will be at the discretion of the Taipei Times.