Pop Stop
Edison Chen (陳冠希) just doesn't seem able to keep his photographs private, and the ramifications of his libido are all too well known. He has only recently returned to something resembling good graces with the Chinese-language entertainment industry after being forced to take refuge in the West following the sex photo scandal back in 2008.
There have been a number of minor incidents since then, as Chen seems congenitally unable to keep his hands of other people's wives and girlfriends. It must be said in all fairness that these women seem unusually willing to risk exposure to spend time with this talented Lothario. Earlier this year, Cecilia Cheung's (張柏芝) marriage with Nicolas Tse (謝霆鋒), already damaged by the photo scandal, was utterly undone after the "airplane incident" (機上事件) in May, when she was snapped consorting with her erstwhile lover.
Chen, having pretty much covered all the bases in relation to fornication and adultery, has moved on to new realms of sexual impropriety. According to a report in Next Magazine, the most recent photos of Chen to hit the Internet are intimate, though not sexually explicit, photos of the 31-year-old actor with 16-year-old model Cammi (real name Hsieh Chih-hui, 謝芷蕙). The photos are said to have leaked into the public domain after Cammi lost her mobile phone, and there are rumors of a much more explicit two-minute video in Chen's possession.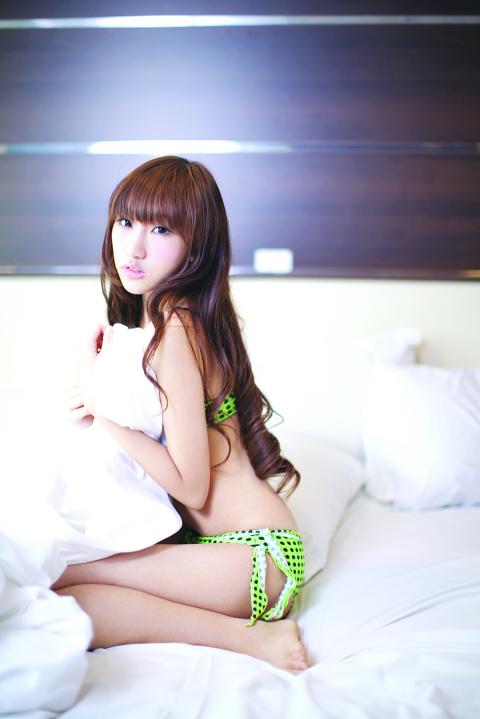 Edison Chen says his relationship with 16-year-old Cammi has been shuttered.
Photo: Taipei Times
According to a Sina.com report, Cammi denied that any such tape exists and insisted that she was still a virgin.
The photos now on the Internet are tame compared to those that led to Chen's first fall from grace, but Cammi's age has led him to take defensive maneuvers, stating that he has broken from Cammi and leaving Taiwan for Hong Kong.
According to Next, Chen and Cammi remain in contact, and the reported breakup is nothing more than a smoke screen that is unlikely to fool anyone. All the same, these revelations are unlikely to do much damage to Chen's comeback in the entertainment industry, with much Internet comment tending toward admiration at Chen's prowess rather than condemnation. Still Chen should tread carefully, for Cammi has history. Only last month she denounced male model Shen Chi-ming (沈志明) for making a heavy pass at her after inviting her to his home, and even suggested that she had been forced to watch him masturbate. While these allegations have not been verified, it underlines that Cammi is not shy about dishing the dirt to the press.
Another romance that has come under the media microscope is the apparently solid romance between pop diva Jolin Tsai (蔡依林) and male model Vivian Dawson (錦榮). The fact that Dawson is six years Tsai's junior is no longer a subject for comment, with a general acceptance that Tsai, as Taiwan's most financially successful female artist, can pick and choose anything she wants. The problem has arisen from comments made by Tsai's mother, who is reported to be strongly against the relationship with the anglophone Dawson.
Tsai and Dawson have been together for 16 months without any hint of any rocks or shoals, and this apparent "going steady" has begun to worry Momma Tsai, who, according to Next, has been actively arranging meetings with eligible young men, and calling for her daughter to keep looking for someone suitable.
After a concert in May when Tsai performed a duet with former boyfriend and eternal rival Jay Chou (周杰倫), hope was briefly ignited that the two superstars might get back together. Next reported that Momma Tsai was bowled over by a charming and polite Chou and complained that she isn't even able to talk with Dawson.
Moreover, Dawson, whose home is in New Zealand, is in Taiwan primarily to build his modeling career and is content to walk or ride around on a 50cc scooter when getting around Taipei, and in terms of offering her daughter wealth or stability, cannot compare to Chou. Jolin Tsai has responded to these revelations with indifference, probably feeling that she is long past having to rely on anyone.
Comments will be moderated. Keep comments relevant to the article. Remarks containing abusive and obscene language, personal attacks of any kind or promotion will be removed and the user banned. Final decision will be at the discretion of the Taipei Times.