Ono, oh yes
Bossa nova songstress Lisa Ono brings her brand of genre-blending tunes to Taiwan for three concerts
When you're in need of comfort and relaxation, Japanese-Brazilian bossa nova diva Lisa Ono can deliver soothing sounds like no one else.
"Singing and playing music heal my mind and relax my body," the 49-year old singer told the Taipei Times in an e-mail interview earlier this week. "I am glad that audiences around the world would feel same."
As part of her 2011 world tour, she will perform three concerts here next month. She appears at Taipei's Sun Yat-sen Memorial Hall (台北國父紀念館) on Thursday, at Taichung Chungshan Hall (台中市中山堂) on Oct. 8, and at Kaohsiung Chihteh Hall (高雄至德堂) on Oct. 9.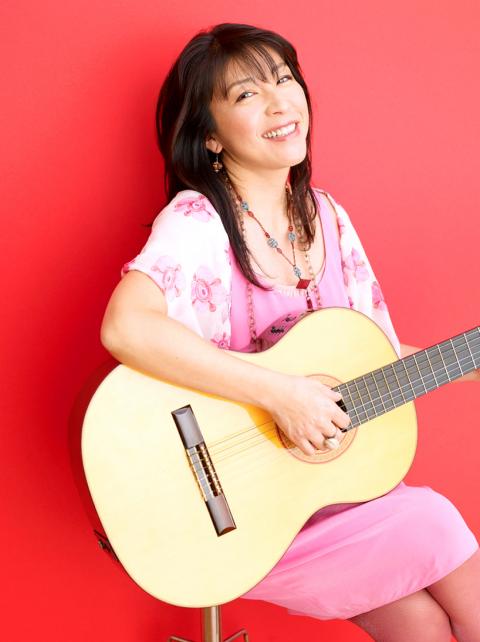 Lisa Ono.
Photo Courtesy of Yu Kuang Music
Born in Brazil, Ono moved with her family to Japan when she was 10. Since then, she has divided her time between the two nations, immersing herself in the two disparate cultures. Influenced by her father who is a club owner, Ono started singing and playing the guitar at 15.
She released her debut album Catupiry in 1989 and won fame soon after with her enchanting mixture of a warm voice, comforting music and charismatic smile.
As the premier bossa nova songstress in Asia, she has released 27 albums over the past two decades, many of them blending genres that include French chanson, samba, jazz, hula, Arabian music and Asian folk. She has performed with top musicians such as Antonio Carlos Jobim and Joao Donato.
"There are many beautiful, wonderful and impressive songs in the world. What matters is not their 'genres' but the chance to encounter these songs," Ono said. "I am often surprised to see these songs fitting the rhythm of bossa nova."
Last year, Ono released Asia, reinterpreting Asian classics with bossa nova. The album includes two Chinese-language tracks: When Will You Come Again (何日君再來) and Tuberose (夜來香).
"I remembered seeing the audience singing Chinese songs together at my first Taiwan concert. It was a pleasant experience that I cannot forget it," Ono said, adding that she would include Chinese-language songs for the upcoming concerts.
Ono said that despite her eclectic interests, she often revisits her Brazilian influences.
"I have many drawers in my experiences which overflow with my memories of Brazilian life, nature, environment, and bossa nova songs," Ono said. "Brazilian people are geniuses who know how to find pleasure in their life. I do that too and it's very simple."
Publication Notes
Performance Notes
WHAT: Lisa Ono 2011 Live in Taiwan
WHEN and WHERE: 7:30pm on Thursday at Sun Yat-Sen Memorial Hall (台北國父紀念館), 505, Renai Rd Sec. 4, Taipei City (台北市仁愛路四段505號), 7:30pm on Oct. 8 at Taichung Chungshan Hall (台中市中山堂), 98 Syueshih Rd, Greater Taichung (台中市學士路98號), 7:30pm on Oct. 9 at Kaohsiung Chihteh Hall (高雄至德堂), 67 Wufu 1st Rd, Greater Kaohsiung (高雄市五福一路67號)
ADMISSION: Tickets are NT$800 to NT$4,000, available through ERA ticketing or at 7-Eleven ibon, FamilyMart (全家) FamiPort and Hi-Life (萊爾富) Life-ET kiosks
ON THE NET: www.avex.com.tw/lisaono
Comments will be moderated. Keep comments relevant to the article. Remarks containing abusive and obscene language, personal attacks of any kind or promotion will be removed and the user banned. Final decision will be at the discretion of the Taipei Times.