Highlight: Body Worlds & The Cycle of Life (人體奧妙之生命巡迴展)
Seven years after its Taiwan debut, anatomical exhibition Body Worlds returns with a new exhibition titled Body Worlds & The Cycle of Life (人體奧妙之生命巡迴展), which comprises more than 200 preserved human and animal specimens. The 2004 exhibition aimed to educate the public about the beauty and fragility of the body, while The Cycle of Life focuses on the process of aging.
On display at the National Taiwan Science Education Center (台灣科學教育館) in Taipei's Shilin District (士林) until Sept. 25, the exhibition of human "plastinates" begins with fetal development and includes detailed introductions to all the organ systems, including specimens with deformities.
Body Worlds was originally developed by German anatomist Gunther von Hagens, who in 1977 invented what he calls the plastination preservation technique, which involves replacing the specimen's water and fat with reactive polymers such as silicone rubber. The Body Worlds Web site (www.bodyworlds.com) says it takes about one year to plastinate a human body.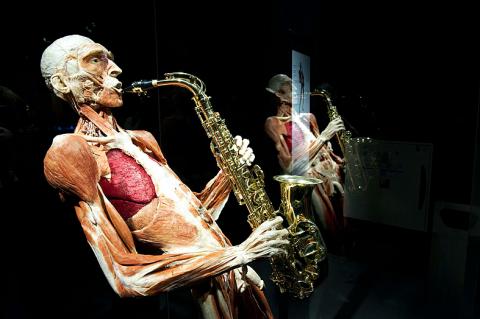 Photo: EPA
Body Worlds & the Cycle of Life is open to viewers of all ages, but some may find viewing an exhibition that includes a splayed human head distasteful.
■ Until Sept. 25 at National Taiwan Science Education Center (台灣科學教育館), 189 Shishang Rd, Taipei City (台北市士商路189號)
■ Monday to Friday from 9am to 5pm, weekends and public holidays from 9am to 6pm
■ Admission is NT$280 for adults, NT$250 and NT$140 for concessions. Tickets are available online (www.walkieticket.com) and at the door. Audio guide players in English and Mandarin are available for NT$100
■ On the Web: www.bodyworlds.com.tw
Comments will be moderated. Keep comments relevant to the article. Remarks containing abusive and obscene language, personal attacks of any kind or promotion will be removed and the user banned. Final decision will be at the discretion of the Taipei Times.