Puppetry: Death becomes them
For its debut performance in Taiwan, German puppet group Figuren Theater Tubingen will perform Salto.Lamento, or the "nocturnal side of affairs."
The award-winning production was inspired by the medieval iconography of the Dance of Death, a funeral rite practiced when Europe lost much of its population to the Black Death during the 14th century.
Acclaimed German puppeteer Frank Soehnle, who cofounded the group with Karin Ersching in 1991, says that puppetry is a good vehicle for presenting skeletons dancing with people, which also reminds him of the relationship between himself and his puppet.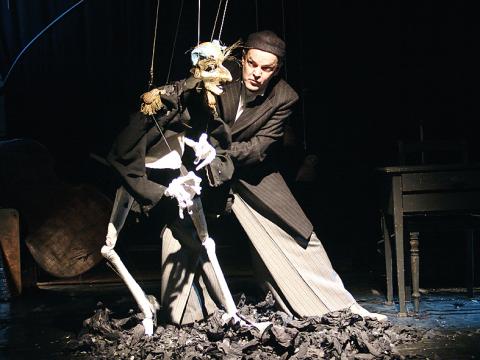 Frank Soehnle and his puppets from Salto.Lamento.
Photo Courtesy of Figuren Theater Tubingen
"In puppetry, you don't look only at the puppets. You also look at the puppeteer and what is happening in this [puppeteer-puppet] relationship. It's like a dance. It's like giving life or taking death from one to the other," Soehnle told the Taipei Times.
Without one uttered word, the piece is an exquisite danse macabre between the sole puppeteer and his array of puppets. They depict various characters, from a flirtatious half-woman, half-horse puppet to a monastic figure and a naughty sheep-goat creation. The performance is composed of vignettes choreographed to live music by Johannes Frisch and Stefan Mertin, who have been working with Soehnle since their first collaboration 20 years ago.
Like an alchemist, Soehnle instills life into the inert figures with a superb artistry. He exerts a light twist of the strings or a slight maneuver of a stick and the puppets swing into action as if they were completely autonomous. The interplay between life and death finds its most intense manifestation when a life-size masked faun manages to sever its strings and gain freedom. But the creature soon suffers the consequences of its actions and falls lifeless to the floor.
Inhabited by skeletal figures and chimeric creatures, the world of Salto.Lamento is as nightmarish and somber as it is playful and comical. Some puppets display a zany sense of humor, like a fussy devilish figure that demands live accompaniment from the musician duo when he sweeps and cleans.
Frisch and Mertin, who play live on stage, interact and communicate with the puppets with their instruments.
"The music is never the same," the 48-year-old puppeteer said. "It is breathing with the whole performance."
After five sold-out performances in Taipei last week, the group moves on to Tainan tomorrow.
Publication Notes
Performance Notes
WHAT: Salto.Lamento
WHEN: Tomorrow at 2:45pm and 7:45pm
WHERE: Tainan Municipal Cultural Center (台南市立文化中心), 332, Jhonghua E Rd Sec 3, Greater Tainan (台南市中華東路三段332號)
ADMISSION: Tickets are NT$500, available through NTCH ticketing or online at www.artsticket.com.tw.
Comments will be moderated. Keep comments relevant to the article. Remarks containing abusive and obscene language, personal attacks of any kind or promotion will be removed and the user banned. Final decision will be at the discretion of the Taipei Times.