Weekender: Two legends rock Taipei in first Taiwan shows
Rock fans in Taiwan were treated to impressive performances last week from not one, but two giants of rock 'n' roll: Santana and Bob Dylan
Last week was perhaps Taiwan's most memorable for live rock 'n' roll, as Carlos Santana and Bob Dylan each performed for arena-sized audiences in Taipei. It was the first appearance in Taiwan for both Santana, who played on Wednesday at the Taipei World Trade Center Nangang Exhibition Hall (台北世界貿易中心南港展覽館), and Dylan, who appeared at Taipei Arena (台北小巨蛋) on Sunday.
The two legends put on impressive shows that showcased their extensive repertoires of songs both classic and contemporary. And despite their age, Santana, 63, and Dylan, 69, proved that their live acts remain as vital as ever.
Whereas Dylan's concert on Sunday was a no-frills, yet highly rousing roadhouse rock romp, Santana's show on Wednesday was a carnival-like marathon.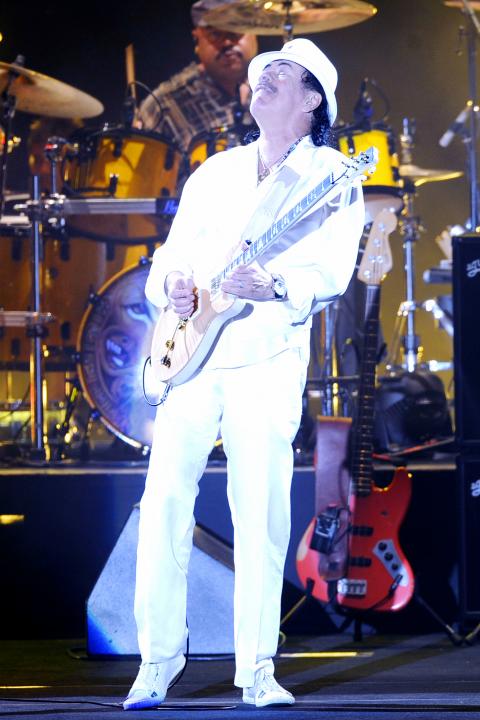 Carlos Santana at the Nangang Exhibition Hall on Wednesday last week.
Photo: Taipei Times
Santana's 11-member band, which included three percussionists, an organist and a horn section, set the tone for the evening by beginning with the Latin-flavored (Da La) Yaleo from his 1999 blockbuster hit album Supernatural.
The audience, which organizers said numbered around 10,000, responded with loud cheers, and clapped along throughout the concert, which lasted nearly three hours. Santana, who donned an all-white suit and hat, played with signature passion and was on stage for most of the show.
There were plenty of highlights, from high-energy covers of AC/DC's Back in Black and Cream's Sunshine of Your Love to the salsa-flavored hits Maria Maria and Smooth, as well as John Coltrane's jazz classic A Love Supreme.
But it was Santana's early songs that drew the biggest cheers. The virtuoso guitarist drew an electrifying response as he played the crying notes that began Black Magic Woman. By then, concert security had given up trying to make the audience members at the front stay in their seats.
The band followed with Oye Como Va, during which you could feel the entire floor at the Nangang Exhibition Hall shaking, with most of the audience on their feet and dancing.
The show ebbed and flowed, with some band members performing extended solos to give the rest of the group a break. There was a cameo appearance by Santana's wife Cindy Blackman (who some will recognize as the Afro-haired drummer in Lenny Kravitz's video Are You Gonna Go My Way). She played a thunderous drum solo on Corazon Espinado, while Santana's drummer Dennis Chambers performed a jaw-dropping solo during the show's three-song encore.
Huge screens above the stage broadcast live video of the band on stage throughout the night, and also indulged in rock nostalgia, showing some past photographs of Santana, including shots of him at Woodstock.
Santana let his hippie colors shine at the end of the show, leading the band and the audience in a chant of "peace and happiness," and later declaring: "You and I are weapons of mass compassion." But his audience had already been won over: Before the encore, Santana obliged concert-goers with what sounded like a well-practiced farewell in Mandarin: "Wo ai Taiwan, Wo ai nimen" (我愛台灣,我愛你們, "I love Taiwan, I love you all").
Bob Dylan, on the other hand, lived up to his reputation as being a man of few words.
His only quip the entire evening was "Oh yeah!" during a break between songs. The lights were off, so it was hard to tell whether he was speaking to his band or addressing an audience member who complimented him on the white hat he donned.
But there was no apparent lack of enthusiasm from the American music icon, who, accompanied by his top-notch five-man backing band, burned through 16 songs in a concert that lasted over an hour and a half. Taipei Arena, which holds around 15,000 people, looked around two-thirds full. (Organizers say they sold approximately 70 percent of available tickets.)
Dylan was animated throughout the show, swinging his leg to the beat as he leaned into the keyboard at the side of the stage, which he played for half of the set. For a handful of other songs, Dylan stood at center stage, gently shimmying and swaying in front of the microphone, gesturing widely with his hands as he sang and bending his knees while belting out soulful solos on harmonica.
The concert began with a funky Gotta Serve Somebody, from the 1979 album Slow Train Coming, which drew a hair-raising cascade of cheers from the audience. But it wouldn't have mattered what Dylan's first song was: The feeling of anticipation and excitement from the crowd — a mix of expats and locals, young hipsters, business types and gray-haired retirees, many of them likely experiencing a Dylan concert for the first time — was palpable.
It was a solid show that revolved around blues-rock grooves and wall-of-sound guitar jams. Dylan and his band presented a healthy mix of old and new material, with some songs dramatically re-arranged. It Ain't Me, Babe was virtually unrecognizable and even newer songs such as Cold Irons Bound (from 1997's Time Out of Mind) sounded markedly different from the original recording. Highlights included a moving rendition of Simple Twist of Fate, which featured sweetly hypnotic melodies from lead guitarist Charlie Sexton. Dylan drew a rousing response with his biting vocal delivery on Desolation Row, while Ballad of a Thin Man also pleased the crowd with its spooky intensity.
The Dylan of today sports a raspy, croaky voice, and on louder and faster numbers, he tends to rap-sing his lyrics. On quieter songs, he can still croon. The band's rendition of Sugar Baby, from 2001's Love and Theft, was simply gorgeous and one of the more memorable highlights of the evening.
Visually, the show was old-fashioned rock 'n' roll basics: Dylan's band wore matching gray suits and black hats, while their bandleader donned a black suit to go with his white hat. The lighting was simple, but played up Dylan's mystique by casting his shadow, which loomed large in the background throughout the concert.
Dylan ended the evening with an encore of two songs that cemented his place as a rock 'n' roll icon: Like a Rolling Stone and Blowin' In the Wind, which had most of the audience out of their seats, dancing and cheering.
A side note: If there was one common complaint I heard about both concerts, it was the sub-par sound for the audience in the back. I sat near the front for both shows, but several friends who purchased cheaper seats told me they felt disappointed with the quality of the sound.
Comments will be moderated. Keep comments relevant to the article. Remarks containing abusive and obscene language, personal attacks of any kind or promotion will be removed and the user banned. Final decision will be at the discretion of the Taipei Times.