From fashion to food
Designer Shiatzy Chen applies the principles that have brought her international recognition in the fashion industry to modern cuisine with Chinese characteristics
With its whippet-thin models and outlandish flourishes, the world of haute couture might seem a million miles from the culinary arts, but designer Shiatzy Chen (王陳彩霞) believes that the principles of one can easily be applied to the other. Chen opened Cha Cha The (采采食茶) boutique tea emporium, which serves a line of elegantly crafted meals and desserts, two years ago.
While it is not unusual for artists of various stamps to branch out into the food and beverage business, what makes Cha Cha The noteworthy is the hands-on role played by Chen in every aspect of the establishment's design. According to executive chef Tsung Shan (宗山), Chen was involved in the development of the restaurant's unusual menu and remains the ultimate arbiter of each dish's taste and presentation.
In an e-mail interview, Chen said that "from the interior of the restaurant, to the tableware, the food itself and the presentation of the food, Cha Cha The is fashion in itself."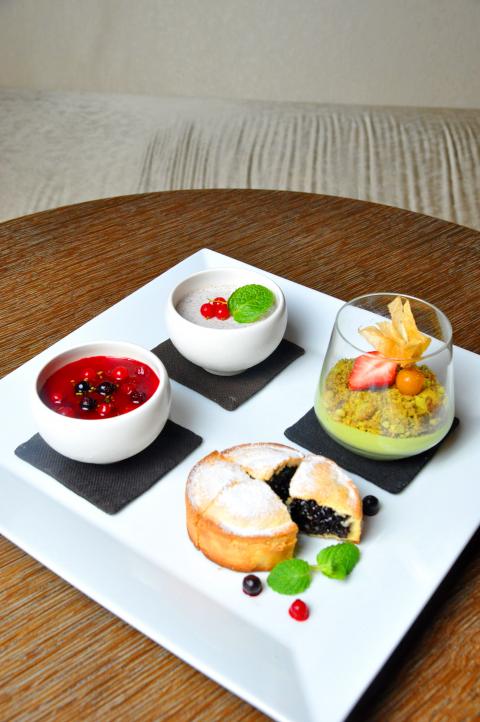 Mixed dessert display of (clockwise from top) panna cotta with black sesame, matcha and white chocolate tiramisu, black rice with vanilla tart, and creme brulee with rooibos tea flowers.
Photo courtesy of Cha Cha The
The dimly lit entryway, with its jars of high-end local teas displayed under soft spotlighting, is designed to highlight the value of tea. Toward the back is a minimalist stone counter at which teas can be sampled, brewed by knowledgeable uniformed staff members who are happy to explain the tea's terroir, how it is processed and how to prepare it properly.
The choice of tea as the central theme of Chen's move into the food and beverage industry is deliberate.
"The custom of tea drinking has long been part of traditional lifestyles in Chinese history. However, with the prevalence of Western-style food and lifestyles, tea drinking has unfortunately been ignored and increasingly substituted by coffee or alcohol. [I] would like to imbue the age-old tradition with a modern spirit and make tea drinking a part of the modern lifestyle again," Chen said.
Chen's fashion aesthetic draws heavily from Chinese culture, and her ability to make the traditional into something contemporary has earned her a place in the international fashion establishment. Shiatzy Chen was the second Taiwanese design house to show a collection at the official Paris Fashion Week, and she is currently busy with preparations for another appearance at the event on Tuesday.
At Cha Cha The, Chen emulates her approach to fashion by blending an appreciation of traditional Chinese culture with a contemporary aestheticism.
"There are many tea merchants around Taiwan selling fine teas," Bianca Chang (張瑞伶), public relations manager of Cha Cha The, told the Taipei Times, "but these are steeped in old traditions that are not always suitable within the context of a chic contemporary lifestyle."
The culinary heart of Cha Cha The is its intimate dining area and a small but elegant menu created by Tsung.
Chen invited Tsung, a Cordon Bleu chef who trained in France and England, to create an innovative menu that would express her aspirations for the new venture. The dishes on offer are European, mostly with French or Italian influence, but designed specifically to complement particular teas. Wine pairing long ago became mainstream in upmarket European, and even some Asian, eateries, but the idea of combining spring onion spaghetti and mixed mushroom with black truffle sauce (宜蘭三星青蔥麵襯什錦菇佐新鮮黑松露醬) with a smoky charcoal roasted oolong (炭焙烏龍) tea, or risotto with clam jus infused with saffron and pan-fried scallop and Japanese-style deep-fried king prawn (香煎干貝炸明蝦蛤蜊番紅花燉飯) with a light roasted tieguanyin (青鐵觀音, or "Iron Goddess of Mercy" tea) is an exciting development.
The meticulously brewed teas served at Cha Cha The interact with the flavors on the plate in similar, if more delicate ways, than wine. When ordering, servers provide suggestions as to which teas might go best with your particular choice of food.
The desserts and afternoon tea selections also blur the boundary between European and Asian culinary traditions, with some, but not all, using tea as an ingredient. Something like the matcha, or milled green tea, and white chocolate tiramisu (抹茶白巧克力提拉米蘇) follows a well established practice of incorporating Asian ingredients into European classics, but the black rice with vanilla tart (養生香草紫米塔), which combines a buttery pastry case, similar to that used in the popular Taiwanese pineapple tart, with a sticky filling of sweet black rice infused with vanilla, manages to transcend distinctions of East and West to present a totally new flavor sensation.
Publication Notes
Emporium notes
Cha Cha The (采采食茶)
Telephone: (02) 2781-8289
Address: 23, Ln 219, Fuxing S Rd Sec 1, Taipei City (台北市復興南路一段219巷23號)
Open: 11:30am to 10pm (afternoon tea from 2pm to 5:30pm)
On the Net: www.chachathe.com
Comments will be moderated. Keep comments relevant to the article. Remarks containing abusive and obscene language, personal attacks of any kind or promotion will be removed and the user banned. Final decision will be at the discretion of the Taipei Times.