RESTAURANTS: Su Hung Restaurant 蘇杭餐廳
The dull, concrete National Taiwan University Alumni Club (台大校友會館) building on Jinan Road (濟南路) doesn't look like it would house a restaurant boasting an acclaimed menu of Jiang-Zhe (short for China's Jiangsu and Zhejiang provinces) cuisine and Shanghai-style snacks at wallet-friendly prices.
Su Hung Restaurant (蘇杭餐廳) teems with office workers and suit-clad officials from the nearby Ministry of Education (教育部) and Legislative Yuan (立法院) on weekdays, and families and groups of friends on weekends. Reservations are recommended.
Despite its abundant banquet fare, the restaurant is best known for two things: its sponge gourd and shrimp soup dumplings (絲瓜蝦仁湯包, NT$280 for eight) and scallion pancakes (蔥油餅, NT$90). Both can be found in the menu's snack section. Although the latter seems to be simple street nosh that doesn't demand much culinary skill, Su Hung impresses by frying the pancake so the surface is scrumptiously crisp and the inside juicy.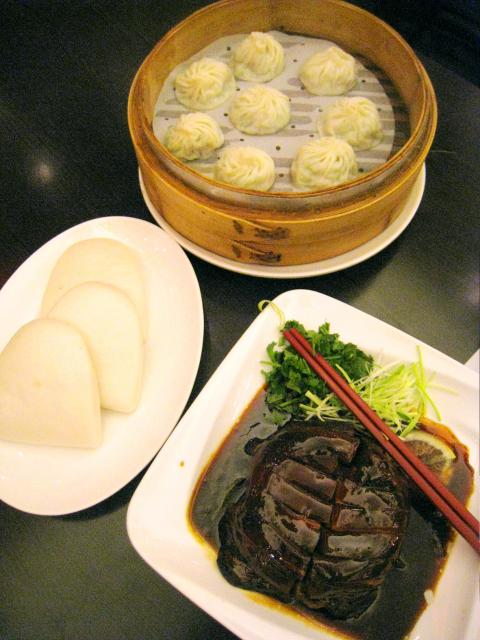 Two must-tries at Su Hung: braised pork in honey sauce and sponge gourd and shrimp soup dumplings.
Photo: Ho Yi, Taipei Times
With skin that was a little dry and less broth than run-of-the-mill xiaolongbao (小籠包), I was slightly disappointed by the sponge gourd and shrimp dumplings. The natural sweetness of the chopped sponge gourd, however, complemented the minced shrimp well.
All items on the menu's snack section are currently being sold at half price. (The prices in this review have not been discounted.)
Another signature dish is the braised pork in honey sauce (東坡肉, NT$360), which is tucked in a steamed bun (刈包, NT$20 for one) like a hamburger.
The braised fish belly in soy sauce (紅燒肚膛, NT$240) melts in the mouth and is glazed with a sweet dressing. For soup, the braised tofu with Chinese cabbage served in a clay pot (砂鍋白菜豆腐, NT$280) is a delightfully subtle concoction of clam, tofu, Chinese cabbage, mushroom, shrimp, ham and pork intestine.
Other highlights include the braised crab eggs with tofu (蟹黃豆腐, NT$220), braised pork with bacon, tofu and bamboo shoot served in a clay pot (砂鍋醃篤鮮, NT$380) and braised duck, bamboo and ham soup (杭州老鴨煲, NT$1,280 — must be preordered at least one day in advance).
Service is adequate but a little slow when the restaurant is full. Still, the dining experience is generally pleasant as the space is designed for comfort, with gallery lighting, spacious seating and a neat interior that could be described as modern Chinese chic.
Su Hung is ideal for a family meal that won't break the bank. It also operates branches in Sindian (新店) and Tianmu (天母). For more information, visit www.suhung.com.tw.
Publication Notes
Su Hung Restaurant 蘇杭餐廳
Address: 2-1, Jinan Rd Sec 1, Taipei City (台北市濟南路一段2之1號)
Telephone: (02) 2396-3186
Open: From 11:30am to 2pm and 5:30pm to 9pm
Average meal: NT$500
Details: Menu in Chinese and English, credit cards accepted
On the net: www.suhung.com.tw
Comments will be moderated. Keep comments relevant to the article. Remarks containing abusive and obscene language, personal attacks of any kind or promotion will be removed and the user banned. Final decision will be at the discretion of the Taipei Times.