[FILM REVIEW] Agent of reinvention (sorry about that, chief)
Adapting hit TV shows into hit movies is harder than it sounds, as 'Get Smart' neatly shows
So, the old turn-a-beloved-TV-show-into-a-hit-movie trick, eh?
Nothing to it, really. A nip and tuck on the characters, a bit of updating here and there, and then simply sit back and watch nostalgia-craving hordes pour into the theater.
Would you believe that it's tougher than stringing together a few beloved catchphrases and memorable sight gags? Even a pop culture classic as durable and winning as Get Smart, a spy spoof with a storied provenance and many frantic fans, carries some suspense, especially when you consider that the youthful demographic that makes or breaks an opening weekend knows nothing of the back story and glories of Maxwell Smart. Bringing this brainless agent into a contemporary — and profitable — context is hardly a given. Over the course of the uneasy union between contemporary Hollywood and television's past many expensive attempts to put new rubber on old tires have blown apart in plain view.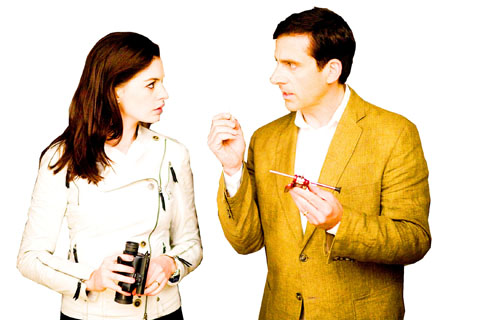 Steve Carell, right, holds a tricked-out Swiss Army Knife equipped with a flame-thrower and a mini crossbow, as he talks with Anne Hathaway, below, who plays Agent 99.
PHOTO COURTESY OF WARNER BROS
For every Mission: Impossible there is more than one Bewitched. In fact the list of small-screen wonders that failed to blossom into healthy 10m versions suitable for the movie house is long enough to program a network. People of a certain age have fond memories of series like The Avengers, The Mod Squad and The Honeymooners, but their cinematic offspring? Well, let's just say they missed by far more than that much.
Warner Brothers is hoping it can thread the needle with Get Smart, a movie built on the much-loved series, created by Mel Brooks and Buck Henry, about a secret agent named Smart who was anything but.
The original Get Smart was conceived in a quainter age, before the public worried that the government was listening in on its phone calls. In 1965 Henry and Brooks noticed a swelling interest in the spy genre and decided that the public might be in the mood for a spoof of it. Over a pool table they talked their way through what such a spoof should look like, and then shopped it around until NBC picked it up.
Get Smart ran for five years, racking up big numbers and leaving enough of a legacy to inspire The Nude Bomb, an earlier attempt at a movie version. Bomb, a star-crossed bid in 1980 to revive the ethos and appeal of the series using Don Adams, the original Maxwell Smart, sparked so many damning riffs on the unfortunate name that it is beyond cliche to do so now. (OK, I give. It was neither naked nor explosive, but it did bomb.)
So how to honor the past and do some box office in the present? It can be done, as Sex and the City is proving this summer. (It's perhaps the first time a cable television show has crossed over to such big box-office numbers.) Then again, Speed Racer, a TV cartoon that Warner Brothers pushed into the marketplace, crashed almost immediately.
The studio's approach to Get Smart began with Steve Carell. "I walked in with my head shot and resume expecting to read, and there were all these high-level executives, and they just offered me the role," he said. Rather than attempting to spoof a spoof, the director, Peter Segal, decided to make a spy movie played for laughs, with plenty of diverting action and high jinks to win over moviegoers who were unfamiliar with the original.
"It is a tricky and dangerous proposition," Carell said by phone. "We wanted to get at the essence, but not do an impersonation. And I think it worked because what Peter did was come up with a spy movie that was also funny, as opposed to a spoof of the spy movie. It is an action movie in addition to being a comedy."
Maxwell Smart, as played by Carell, is as eager as a Labrador to get out of his cubicle and into the field. He gets a shot after the identities of almost all of Control's agents are compromised and the chief (Alan Arkin) has no choice but to send out Smart next to the suave Agent 23, played by Dwayne Johnson, and the brutally beautiful Agent 99. (Anne Hathaway gets her vixen on to surprisingly convincing ends.) They are all, of course, working together to thwart world domination by the evildoers from KAOS.
The going gets tricky after that. Any attempt to bring a treasured television program to the big screen needs to strike a balance between feeding the die-hards and wooing recruits, and the cultural penetration of the original Get Smart (mention entering the "cone of silence" at a conference table today, and everyone will get the drift) means that some part of the audience will arrive with great expectations. But the rest, including the young people who make or break a big movie? Segal said that by making the film an origin story — where did Maxwell Smart come from, exactly? — the creators tried to lay down enough track for people new to the world of Control versus KAOS to climb aboard.
"We had to make something that was entirely new for those people who didn't know anything about the television show but make sure that old fans were not left out in the cold," Segal said. He acknowledged that he was preoccupied with the opinion of one particular audience member and held back tears of joy when Brooks called and said he liked it. Brooks, who watched The Nude Bomb implode, said Get Smart is a far more successful extension of the franchise, which may have something to do with the passage of time. "Maybe the secret is to skip a generation so that you can get the benefit from both nostalgia and discovery," he said.
Publication Notes
Film Notes
Get Smart
DIRECTED BY: Peter Segal
STARRING:
Steve Carell (Maxwell Smart), Anne Hathaway (Agent 99), Dwayne Johnson (Agent 23), Alan Arkin (The Chief),
Terence Stamp (Siegfried), Terry Crews (Agent 91), David Koechner (Larabee), James Caan (The President)
RUNNING TIME: 110 MINUTES
TAIWAN RELEASE: TODAY
Comments will be moderated. Keep comments relevant to the article. Remarks containing abusive and obscene language, personal attacks of any kind or promotion will be removed and the user banned. Final decision will be at the discretion of the Taipei Times.