[FILM REVIEW] DreamWork's 'Panda' not much of a kick
It's not even Po, the martial arts-obsessed animated panda for whom Black provides dude-acious line readings. Rather, the movie's stars are production designer Raymond Zibach, art director Tang Heng, visual effects supervisor Markus Manninen, and the 4,000-processor Linux cluster at the heart of DreamWorks Animation's computer rendering farm.
Not exactly red-carpet names, but welcome to the modern family film — all form, no function. Kung Fu Panda is prototypical non-Pixar animated product as we've come to expect it: a lushly beautiful, even soulful, visual experience yoked to a pro forma story line that wouldn't fool a 3-year-old.
What the designers, processors, and workstation galley slaves have created is a phantasmagoric medieval Chinese otherworld — a Crayola-colored riff on the kung fu landscapes of countless Shaw Brothers movies with titles like The New One-Armed Swordsman and Eight-Diagram Pole Fighter. Those originals and their ferocious near-camp sensibility have filtered into the American pop consciousness by way of Crouching Tiger, Hidden Dragon, Quentin Tarantino movies, and the Cartoon Network. Now they get their Happy Meal moment, slo-mo tiger leaps and all.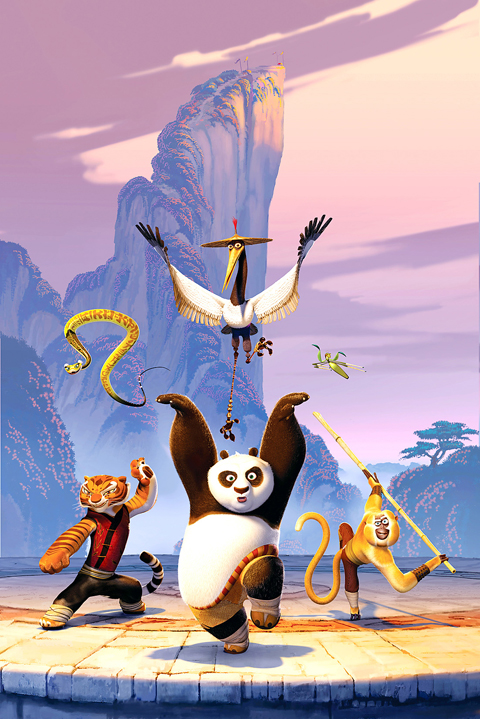 Kung Fu Panda goes nowhere surprising, despite its impressive visuals and some thrilling action scenes.
PHOTO COURTESY OF UIP
So familiar are the genre's cliches by now that bolting them onto the tired studio family-film framework — lots of character slapstick interspersed with believe-in-yourself moralizing — fails to enliven either. The Forbidden Kingdom has already come and gone this year, and Kung Fu Panda goes nowhere surprising even as its images unscroll handsomely before our eyes. The sound could go out in the theater, and you wouldn't ask for your money back.
Actually, that might count as an improvement, since you wouldn't have to deal with Black or the limp fortune-cookie aphorisms that tilt the film in the direction of yellowface ("There is no good or bad news. There is only news"). On the other hand, you wouldn't be able to hear Dustin Hoffman give his adenoids a workout as Master Shifu, the be-robed red panda who serves as this movie's Yoda. Hoffman's crafty honk is heard too rarely in movies these days, and we'll take it where we find it.
Black's Po is a bumbling, oversize bear who worships wuxia the way fanboys venerate Han Solo action figures. The son of a noodle shop owner (veteran character actor James Hong) who's a goose — the movie seems about to explain that one but then dodges — he crashes the ritual choosing of the Dragon Warrior and ends up with the honor himself.
This doesn't sit well with Master Shifu or the martial arts experts known as the Furious Five — Tigress (Angelina Jolie), Crane (David Cross), Viper (Lucy Liu), Mantis (Seth Rogen), and Monkey (Jackie Chan). The villainous Tai Lung (Ian McShane) has escaped from his fortress prison, though, and a stalwart hero is called for.
Cue the training montage, the humiliation of the bumbler by his betters, the search for self-respect, the final confrontation — Kung Fu Panda tours this highlight reel with the passion of a PowerPoint presentation. Black and Hoffman get most of the dialogue, with the rest of the players limited to a few lines each, but Black's neo-Ralph Kramden shtick wears thin fast. Where's the wit?
It's in the look of the thing; occasionally in its pacing, too. I'd swap the entire movie for the sequence in which Tai Lung escapes his dungeon, outmaneuvering the complacent rhino guards and swarms of arrows to clamber toward daylight. It owes too much to the Bridge of Khazad-dum in The Lord of the Rings, but no matter — the scene's alive with the thrill of craft. Same goes for a nighttime sequence in which the Furious Five leap and tumble over pagoda roofs; for a brief second you sense the fluidly beautiful kiddie action movie Kung Fu Panda might have been.
Notice that neither scene features the film's star. Without Black's participation, though, DreamWorks wouldn't know how to sell the movie and audiences wouldn't know what box to put it in (this was the marketing problem that vexed the vastly superior Ratatouille). Kung Fu Panda illustrates the dilemma CGI movies find themselves in: They're suspended on a rickety bridge between product and moviemaking, and the boards of our interest are beginning to rot away.
Publication Notes
Film Notes
Kung Fu Panda
DIRECTED BY: John Stevenson and Mark Osborne
With the voices of: Jack Black (Po), Dustin Hoffman (Shifu), Angelina Jolie (Tigress), Ian McShane (Tai Lung), Jackie Chan (Monkey), Seth Rogen (Mantis), Lucy Liu (Viper), David Cross (Crane), Randall Duk Kim (Oogway)
RUNNING TIME: 91 MINUTES
TAIWAN RELEASE: TODAY
Comments will be moderated. Keep comments relevant to the article. Remarks containing abusive and obscene language, personal attacks of any kind or promotion will be removed and the user banned. Final decision will be at the discretion of the Taipei Times.