New but nostalgic, the music of Ken Ohtake
Many guitarists tend to get carried away during solos — but Ken Ohtake (大竹研) knows when to play, and more importantly, when not to play. During a gig I did with him earlier this month, the Japanese guitarist displayed a knack for adding his own touch to a song without being overpowering.
Ohtake makes for an ideal backing guitarist, but he has another talent — composing — and tonight he presents his music in an informal concert at the Booday Shop on Nanjing West Road. Accompanying Ohtake on acoustic guitar: Chinese classical musician Chung Yu-feng (鍾玉鳳), who will play the pipa (琵琶) and accordionist Hsieh Chieh-ting (謝杰廷).
Many of Ohtake's instrumental compositions have a cinematic feel. Simple melodies lead listeners through different moods and then develop into abstract themes, covering a wide range of tones and tempos.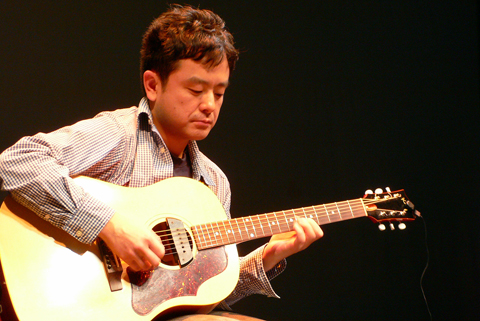 Guitarist Ken Ohtake presents his own compositions tonight at the Booday Shop on Nanjing West Road.
PHOTO BY WU ZAOWAY, COURTESY OF TREES MUSIC AND ART
Like many musicians he hesitates to pin down his music: "It's not jazz, it's not pop, it's not blues ... ." Yet Ohtake acknowledges these styles as the building blocks of his playing — in his early years, he studied jazz, and he cites guitarist Bill Frisell as an early influence.
"I hope my music will be something new for the audience but I also hope they will [feel] some nostalgia," Ohtake says after a rehearsal last Monday. He says that for him personally, his music evokes his childhood, when he often "played outside until sunset."
There is another sense of nostalgia in Ohtake's music, inspired by his four-year musical apprenticeship with renowned Okinawan folk musician Takashi Hirayasu. Ohtake describes the first time he heard Hirayasu sing an Okinawan traditional: he had never heard the song before, but it felt very familiar. "I like this kind of emotion very much," he says.
Hirayasu made such an impression that Ohtake scrapped his plans to attend the Berklee College of Music in Boston; instead, he stayed in Japan and served as Hirayasu's backing guitarist. At the beginning, Ohtake imagines that they sounded "strange" to some, as he brought his jazz sensibilities to Okinawan folk music. "But this chemistry ... it's my style," he says, smiling.
Through Hirayasu, who performed in Taiwan several times between 2003 and 2006, Ohtake met Hakka singer-songwriter Lin Sheng-xiang (林生祥), with whom he has formed a close musical partnership, and Chung Yu-feng.
Chung, who teaches Chinese classical music at Fo Guang University (佛光大學), enjoys the "space and freedom" of Ohtake's music. She said that she admired his "compositional abilities" and his ability to "take something difficult and make it easy to listen to." Accordionist Hsieh Chieh-ting admires Ohtake's sense of direction: "He's very clear on what he wants to do."
What Ohtake wants is to see where his music can go. Of working with Chung and Hsieh, he says, "there's always a new discovery." The two have brought a fresh perspective to Ohtake's compositions: they have helped "to break my original image of [them] ... and this is good," he says.
Tonight's performance is Ohtake's way of returning to his own "roots." After playing with Hakka and Aboriginal musicians in Taiwan, he says, "sometimes I have to go back to my own place."
"What I go back to is composition," he says.
Comments will be moderated. Keep comments relevant to the article. Remarks containing abusive and obscene language, personal attacks of any kind or promotion will be removed and the user banned. Final decision will be at the discretion of the Taipei Times.