Humble, hard-working and hard-rocking
It can be difficult to track down members of a successful band for an interview. Especially when the band has a video on MTV. But two musicians from indie-rock group Neon made it much easier by opening - and working at - popular downtown sandwich bar Toasteria.
During an interview there on Monday, lead guitarist Tomer Feldman and drummer Johnny Ong Eng Keng took a break from their busy schedule to talk about their new album, the video they've just released and their gig at Witch House tonight.
"We've been very, very lucky," said Feldman. "A good friend of Johnny's from Singapore directed the video for the song Exit from our new album Exit and hooked us up with Directorkit [who has directed music videos for Totem (圖騰) and Mojo]. He did us a big favor and did two songs, Three Years and The Road Ahead. The way he did The Road Ahead was without editing. We had all our good friends in the video and he shot it all in one take - no cutting, no editing, just the way it is."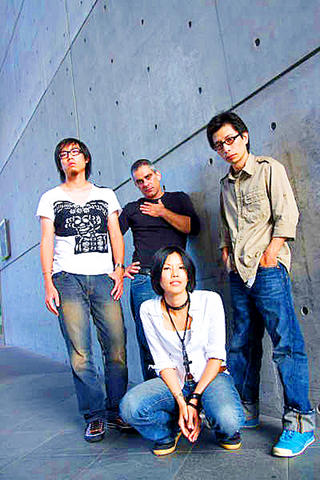 Neon, from left: Xian San, Tomer Feldman, Jun Lee and Johnny Ong Eng Keng.
PHOTO: COURTESY OF KEN SAN
The black-and-white video shows a row of people, including members of the band, sitting in chairs in various positions. The mood is melancholic, with most of the people looking at the camera with somber facial expressions, conveying a very human depth of feeling.
According to Feldman, producing the shot was nowhere near as peaceful as it looks in the video.
"There were all these people running around getting in chairs so the camera could just keep flowing. It was kind of crazy," he said.
The members of Neon take a hands-on approach to their music, which allows them the freedom to keep their sound independent.
"With the new album we learned a lot about working in the studio, which is a great journey" said Feldman. "We started with Bobby Chen (陳昇) in his studio and did the bass and drums in Shanghai, then decided to produce by ourselves in [Riverside (河岸留言) owner Geddy Lin's (林正如)] studio."
The release of their album Exit has opened doors for the band and led to new venues for their shows.
"It's been really great," said Feldman. "We've been playing all over the island and have done a lot of college shows, shows at Eslite."
While Neon's electric shows have become more hard-driving and loud, Feldman said the band really enjoys getting back to the basics with acoustic, unplugged sets such as the one the group will be performing tonight.
"It's wonderful. Really mellow, really nice. The last few shows we did in Witch House, we got a lot of good feedback from the audience. People got really excited. It's a different mood. We all sit together, it's quiet, you hear a lot more details in the music, and you really feel the friendship. We've been together for a long time."
Keng, who had just finished serving a customer, wiped his hands on a cloth and joined the conversation.
"This is a band with a very different sound than you usually hear in Taiwan. We're all from different countries." (Keng is from Singapore, Feldman is Israeli and Jun Lee is Malaysian. Only bass player Xiao San is from Taiwan.) "We don't make very complicated music. I've been playing since I was 16, and I was into very complicated stuff: metal, these guitar solos where you feel you are up for a competition. With Neon it's very simple and melodic."
Both said they want to do more gigs where they play with other people.
"There are so many great musicians in Taiwan," said Feldman. "Why not? Taipei is seriously one of the cities in the world where it's like a community. I played in New York where it's very competitive. Here all the musicians are such good friends. It's all these friends who are really serious, and really into it."
As Keng got up to clean up the restaurant, Feldman joined him.
"You see, we don't only make music," he said. "We also do dishes and mop floors."
Toasteria is located at 2, Ln 248, Zhongxiao E Rd Sec 4, Taipei City (台北市忠孝東路四段248巷2號). For more information, call (02) 2731-8004.
Publication Notes
Performance notes
What: Neon
Where: Witch House, 7, Ln 56, Xinsheng S Rd Sec 3, Taipei City (台北市新生南路三段56巷7號). Call (02) 2362-5494 or visit www.witchhouse.org for more information
When: Tonight at 9:30pm
Tickets: NT$300 entrance includes one drink
Comments will be moderated. Keep comments relevant to the article. Remarks containing abusive and obscene language, personal attacks of any kind or promotion will be removed and the user banned. Final decision will be at the discretion of the Taipei Times.