Love never dies, even when lovers do
Hong Kong director Johnnie To reveals his feminine side in 'Linger,' a story about a couple parted by death
Johnnie To's (杜琪峰) films are always highly anticipated and well received. Gangster movies like The Mission (鎗火), PTU and Election (黑社會) earned him the status of a world-class director. In light of that, his latest work, Linger (蝴蝶飛), may catch his fans by surprise as the director swerves into romantic territory. Taiwanese heartthrob Vic Chou (周渝民) of boy band F4 fame and China's Li Bingbing (李冰冰) turn in competent performances in this tale of love, loss, regret and rebirth.
The film begins with Dong (Vic Chou) dying in a car accident during a quarrel with his college sweetheart, Yan (Li Bingbing). The tragedy leaves Yan a psychological wreck who is barely able to cope, even with the help of Prozac.
Three years pass and when Yan's psychologist suggests that she comes off the medication, Dong's ghost appears, full of anger and regret over his death. At first confused and laden with guilt, Yan begins to pick up the bits and pieces of Dong's past: The life of a child growing up in a dysfunctional single-parent family.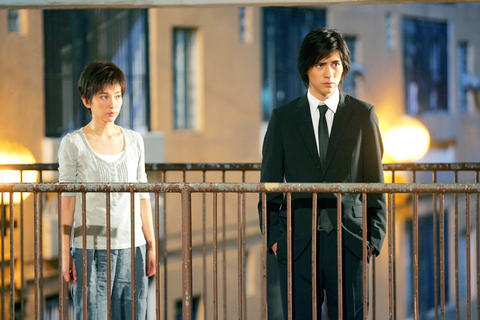 Both Li Bingbing, left, and Vic Chou, right, score well in Linger, a romantic comedy directed by Johnnie To.
PHOTO: COURTESY OF GROUP POWER ENTERTAINMENT
It hardly need be said that the two reconcile and love rekindles, but there is something other than love for Yan that keeps Dong's spirit lingering in the mortal world.
Keeping his promise to celebrated playwright Ivy Ho (岸西), of Comrades, Almost a Love Story (甜蜜蜜) and Divergence (三岔口) fame, To, who is known for shooting films without complete scripts, sticks to Ho's original composition, including feminine perspectives. The end result is a departure from To's sharp and pungent vocabulary to a style that is mild and sensitive.
The film is well cast. Taiwan's Chou succeeds in his silver screen debut, coming off as a lovable Prince Charming with a troubled past. Seasoned Chinese actor Yong presents a few good tear-jerking moments in the film as a father who has deep regrets. Leading lady Li also lives up to expectations by bringing out the dramatic and psychological intensity required for her role.
Though Linger is a romance flick through and through, audiences should expect more than the usual slobbery story about a lost lover. In To's romance, love goes hand-in-hand with unresolved anger, guilt and forgiveness and is open to the oscillations of genuine human emotions. The father-and-son relationship, though a side story, adds dramatic tension to the film in a way that touches the heart.
A love story told through seamless transitions and editing that threads through the present and past, underworld and mortal realm, Linger is as unexpected as it is charming.
Publication Notes
Film Notes
Linger (蝴蝶飛)
DIRECTED BY: Johnnie To (杜琪峰)
STARRING: Li Bingbing (李冰冰) as Yan, Vic Chou (周渝民) as Dong, You Yong (尤勇) as Dong's father, Wong You-nam (黃又南) as Wo
Language: IN Mandarin with English subtitles
RUNNING TIME: 88 MINUTES
TAIWAN RELEASE: TODAY
Comments will be moderated. Keep comments relevant to the article. Remarks containing abusive and obscene language, personal attacks of any kind or promotion will be removed and the user banned. Final decision will be at the discretion of the Taipei Times.