'Lust, Caution' takes relationships to the extremes
The lust factor of this movie has been covered from every angle in the media. Monday, Ang Lee's (李安) Lust Caution (色,戒) hits the big screen in Taiwan and audiences will have the chance to cut through the sensationalist claptrap and judge the movie's merits for themselves.
Although Lee earned his second Venice Film Festival Golden Lion in three years for this espionage thriller, the first was Brokeback Mountain in 2005, more attention has been given to the movie's steamy scenes and its NC-17 rating awarded in the US.
The adaptation of Eileen Chang's book of the same name is peppered with generic elements, but employs a unique narrative structure to tell the story as only Lee can: by searching for the human factor behind the plot and profound truths.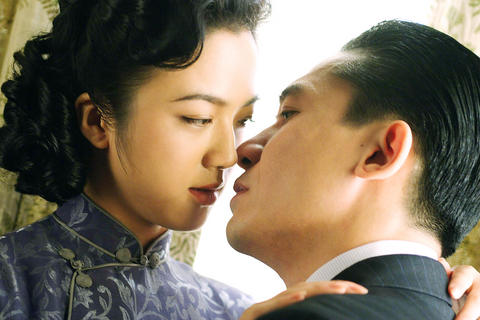 Lust, Caution (色,戒)
PHOTO: COURTESY OF BVI
The story opens in Japanese-occupied Shanghai in 1942. A group of wealthy, idle wives of high-ranking men plays mahjong at the home of Mr. Yee (Tony Leung, 梁朝偉), who is head of the collaborationist Chinese government's secret service. Among Mrs. Yee's (Joan Chen, 陳沖) mahjong partners is Mrs. Mak, the bored young wife of a businessman.
Rewind to Hong Kong, 1938. Mrs. Mak is an unassuming college student named Wang Jia-zhi, abandoned by her father who fled to the UK. After joining a theater troupe that performs nationalistic plays, Wang Jia-zhi realizes she has found her calling in acting and is gifted with the ability to move and inspire audiences.
Prompted by the troupe's patriotic leader Kuang Yumin (Wang Lee-hom, 王力宏), the actors decide to serve their country by assassinating Yee, a collaborator. Wang Jia-zhi becomes Mrs. Mak and uses her talents as well as womanly charms to seduce Mr. Yee.
The operation fails with unexpected bloodshed, forcing Wang Jia-zhi to flee.
Fast forward to Shanghai, 1941. Wang Jia-zhi is reenlisted by Kuang, now part of the organized resistance, to reprise her earlier role. As she is drawn deeper into the liaison, Wang's real identity is gradually subsumed by her assumed one, to the point that even she has difficulty discerning one from the other.
Throughout the film, Rodrigo Prieto's lush cinematography captures the slightly romanticized charm of Shanghai in the 1940s - earning the Mexican cinematographer top honors at Venice. Historically correct costumes and production design set a tone that is beautifully illuminated by Alexandre Desplat's melancholy score.
As the early part of the film, in which grand ideas of patriotism and loyalty play significant roles, fades into the background, the real drama of the film gets off the blocks when Wang Jia-zhi's sexuality is played out in the shadow of a patriarchal society and her search for a real self begins.
Self-identity is a recurrent theme in many of Lee's films, and Lust, Caution highlights the director's sober observations about human nature - this time the nature of a woman whose identities shift in the roles she plays for others. Wang Jia-zhi convinces Mr. Yee that she is Mrs. Mak by actually becoming Mrs. Mak, and while she is gradually consumed by playing the part, she is simultaneously empowered by the palpable feelings it generates within her, Mr Yee' s belief in who she is and the sexual intimacy and love that ensue.
The much talked about sex scenes appear halfway through the film when Lee has developed the personalities of the main characters. From brutal to tender to overwhelming, every instance of their sexual encounters serves the narrative. The initial sex scene sees Wang Jia-zhi engage in a series of calculated 1940s movie moves, but to both Wang Jia-zhi's and the audience's surprise, Mr. Yee turns the scene into a sadomasochistic episode in which his truer nature - one that is necessary to accomplish his job - is revealed.
Unquestionably graphic and visceral, these scenes are crucial to understanding the shifting emotional dynamics between the characters. Wang Jia-zhi's destructive path is skillfully examined by Lee's meticulous control of the complicated tangle of love, hatred and lust.
While American-born pop star Wang Lee-hom can easily be forgotten with his comparatively bland performance, it is, perhaps, unfair to criticize his performance too sharply considering who he is up against. Novice Tang Wei is pleasantly believable - growing from a shy young woman to a seductress. Leung reminds the audience that he is one of the world's best actors with subtle expressions and nuanced gestures - and delivers emotionally charged moments with precision and (need we say?) passion. Veteran actress Chen also turns in a fine performance, helping to bring to life the social circle that revolves around idle gossip at the mahjong table.
Director Lee's monumental talent lies not only in the diversity of his filmmaking, but his ability to make his characters believable. In the case of Lust Caution, he succeeds in creating a human drama with the rich layers of complicated emotions that typifies Chang's works. Yet to fans of the beloved novelist, no film adaptation can ever perfectly represent the intricate and sublime world of Chang.
Publication Notes
Film Notes
Lust, Caution (色,戒)
DIRECTED BY: Ang Lee (李安)
STARRING: Tang Wei (湯唯) as Wang Jia-zhi; Tony Leung (梁朝偉) as Mr. Yee; Joan Chen (陳沖) as Mrs. Yee; Wang Lee-hom (王力宏) as Kuang Yumin
Language: In Mandarin, Shanghainese, Cantonese, English and Japanese with both English and Chinese subtitles
RUNNING TIME: 156 MINUTES
TAIWAN RELEASE:
Premiers on MONDAY EVENING; general release IS ON Tuesday
Comments will be moderated. Keep comments relevant to the article. Remarks containing abusive and obscene language, personal attacks of any kind or promotion will be removed and the user banned. Final decision will be at the discretion of the Taipei Times.