Stuart Rose, boss of Marks & Spencer
As the company's Taipei branch opens for business, Stuart Rose, the savior of British retail giant Marks & Spencer, talks about skinny models, the rise of British design and ethical shopping
One wall of Stuart Rose's office, a chief executive-sized cube of steel and glass suspended nine stories above a tangle of London's Paddington railway station's tracks, is entirely covered with framed newspaper cartoons. All are about Marks & Spencer (M&S), and all have been published during the three years Rose has been running the company. The sheer number of them reflects both the unique position that M&S occupies in the British national consciousness, and the astounding story of those years, during which it has made a dramatic recovery from a seemingly terminal decline. Shares in the company were at US$7 when he took over; they now stand at US$12.50.
Yet, Rose's focus shifted, as it does for a week, twice a year, from the high street to the catwalk. As chairman of the British Fashion Council (BFC) since 2004, he is a front-row fixture at London fashion week. For the past two seasons, the London catwalk shows have been overshadowed by the media furor about skinny models. Today, the day before the first models take to the runway, the Model Health Inquiry, headed by Baroness Kingsmill, will announce its recommendations on how the fashion industry should tackle the problem.
And tackle the problem it must, says Rose. He has no truck with the culture of the fashion industry that prioritizes the creative freedom of designers over the physical and mental health of young women. "We have to be grown-up about this. I am sure the recommendations will be sensible - Baroness Kingsmill is a sensible woman. And we in the fashion industry will have to take the recommendations on board, and take seriously our responsibilities to those who work in the industry."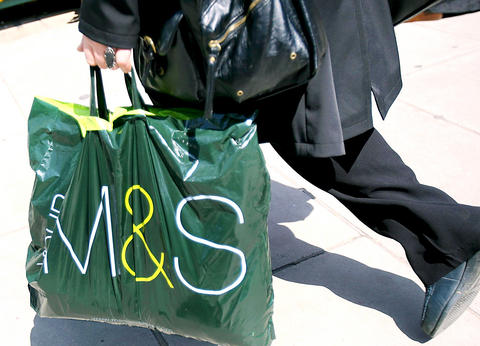 A pedestrian carries a Marks & Spencer shopping bag in central London.
PHOTO: AFP
"Growing up" is a phrase Rose uses often in relation to London fashion week. Early last year, he appointed Hilary Riva, previously managing director of high-street giant Rubicon Retail, as chief executive of the BFC. Riva, who amassed a personal fortune of over US$80 million during her career in retail, understands that catwalk fashion is one element of a broad and complex industry, and not an ivory tower that can stand alone. With what Rose calls "a proper team," headed by Riva, the BFC is on the way to becoming a more muscular body which "is in a position to talk authoritatively about British fashion," says Rose.
"The difference between London fashion week and how things are done in France or Italy is that the French and Italians understand that fashion is serious - it's an industry. In London there is the air of fashion being something for gifted amateurs. I fully respect the creative freedom of designers, but" - and he delivers this final phrase in the painstakingly slow tones of a man who has been trying for some time to get a simple point across without success - "fashion is a business."
For Rose, as for many in the British fashion industry, the frustration of the "size zero debate" is that it has overshadowed what is a resurgent time for London fashion week. This season, Anna Wintour, the hugely powerful editor of American Vogue, will attend London and skip the Paris shows, a move unthinkable three years ago. Matthew Williamson and Luella Bartley, successful and influential young British designers who moved their catwalk shows from London to New York several years ago, will both return to the London fashion week fold next week. British Designer of the Year, Giles Deacon, and the white-hot Scottish designer Christopher Kane are generating a buzz the like of which has not been seen since the early days of Alexander McQueen.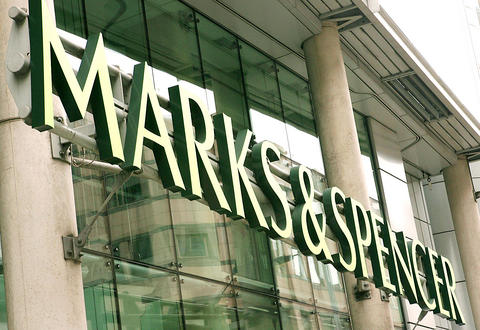 Marks & Spencer, the British clothing-to-food retailer, has pulled further away from a crisis suffered three years ago, enjoying record sales and strong profits last year, it said on Tuesday.
PHOTO: AFP
Rose's verdict that "London is on the rise" is a view shared by many in the industry, but it is also typical of Rose, whose old- fashioned, patriotic bumptiousness has made him a larger-than-life figure in the gray boardroom world which he inhabits. He is passionate about Britain, and dismisses the idea that British fashion is an underdog on the world stage: the French, he says, are just "very good at self-promotion." He waxes lyrical about the scope of British design talent: "We're not just fantastic at fashion design, we produce brilliant car designers.
And the iPod was designed by a Brit, don't forget that." Warming to his theme, he insists that the notion of scruffy Brits and chic French is outmoded. "The average British woman has benefited far more than the average French woman from the fashion industry becoming more sophisticated at every level. The average British girl is much more fashionable than the average French girl. Much more on trend. Give me a British girl any day, I say!"
Rose has a penchant for such un-PC comments. "You look jolly pretty. I do like a girl in a nice frock," was how he greeted me at one London fashion week show, causing his PR minder to roll her eyes in despair. However, one suspects that despite the apparent guilelessness he knows exactly what he is doing. In turning on the roguish charm, he is fuelling the near-celebrity status that prompted one shareholder to famously ask UK supermarket giant Sainsbury's chief executive Justin King the most cutting question of the company's AGM in July: "Why aren't you as charismatic as Stuart Rose?"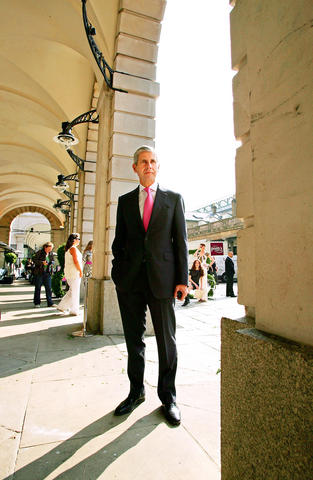 Marks & Spencer chief executive Stuart Rose looks on during a clothing launch at Covent Garden in central London.
PHOTO: AFP
Between them, Rose and Philip Green, the Arcadia boss who is Rose's rival/nemesis/best mate (depending on the week/who you believe), have brought a level of personality and intrigue to the high street on a par with the gossip and backstabbing that has long characterized high fashion. The duo ricochet from screaming at each other on Oxford Street to having cozy lunches at high-profile restaurants. For the moment, their stormy relationship appears to be amicable, judging by Rose's bonhomie when I inquire after the wellies and waterproof hat which are propped against his desk. Green, it transpires, sent them as a gift after Rose said, in relation to the propensity of retailers to blame bad results on weather conditions, that "weather is for wimps." "Philip sent these over, rang me up and said, 'What do you know about the fucking weather? Wear these to your next fucking shareholders' meeting'," Rose tells me, chuckling. This, it seems, is what passes for friendly joshing at CEO level.
The next challenge facing both retailers and consumers is how to reconcile our two current obsessions: value and ethics. Last week, Rose wrote to the London Guardian letters page, commenting on a piece exposing sweatshop labor used to produce clothes on the British high street. "Supply chains are never perfect," he wrote, "and there is always more we can do to improve them. This is why we track the production of our clothes from start to finish and keep a close eye on all the factories we source from."
Today's high street is entering "a very interesting period," says Rose. "The customer has never had it so good. Food is cheaper, and clothing is astonishingly much cheaper, than it has ever been. The customer has reaped the benefits of that and, increasingly, she has become accustomed to it. Now, the world is waking up to the ethical price of cheap goods."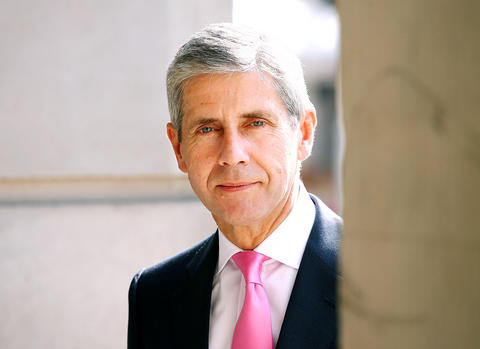 Stuart Ross: The average British girl is much more fashionable than the average French girl. Much more on trend. Give me a British girl any day, I say!
PHOTO: AFP
Ethical fashion is a huge issue both at high- street level - M&S this year launched Plan A, a high-profile 100-point plan to become Britain's greenest retailer within five years - and at London fashion week, where Esthetica, a platform for eco-sustainable fashion, has won sponsorship from Monsoon and Accessorize. "The customers who can afford it are espousing ethical goods," says Rose, "and we are working hard too. I'm not talking with my M&S hat on here - I think everyone in the industry is trying. We're trying, but we're not perfect." He stresses that the task of monitoring all the independent producers making goods for M&S is immense. "We monitor 2,000 factories a year, with announced and unannounced visits. But we can't watch everyone all the time. In many cases we have to rely on trust."
London fashion week may not yet have unveiled the designer collections for spring 2008, but Rose already has his sights set on 2012. "London will be the hottest city on the planet," he says. "The Olympics aren't just about watching a load of people running around. People coming to London want to experience everything about the city: the culture, the street life, the shopping. Say what you like about [London mayor] Ken Livingstone, he champions London. We should blow our own trumpet a bit more. Do you know what we should have? A Minister for Morale!" Just the job for Rose, perhaps.
Comments will be moderated. Keep comments relevant to the article. Remarks containing abusive and obscene language, personal attacks of any kind or promotion will be removed and the user banned. Final decision will be at the discretion of the Taipei Times.