The good, the bad and the divine
Chinese Cartoon Production's animated feature 'Mazu' gives the ancient legend of the popular deity the modern treatment
Before the advent of OEM animation production deals with Disney in the 1970s, Taiwan was home to several companies that produced original work. The prospect of earning large sums working on OEM productions, however, created a brain drain and local talent left the budding animation businesses, which then either closed down or switched to OEM production. "It was a catastrophe still remembered by veteran animation professionals," said Teng Chiao (鄧橋), production director of Chinese Cartoon Production (CCPCO). One of the country's few animation studios that stayed in production over the past three decades (making Taiwan's first animation feature Feng Shen Bang (封神榜) in 1974), the company was set up by Teng's father, Teng You-li (鄧有立), in 1971.
Five years ago Teng Chiao returned from the US with a business-management degree and a plan to build the company into a brand name producing international quality animated features. Three years of laborious production and NT$70 million later, the first project, Mazu, an adaptation of the legend that features Taiwan's most popular deity (often romanized as Matzu or Matsu), is ready to hit the big screen.
Set in China's Fujian Province during the Song Dynasty, the film begins with humans inadvertently creating mutant creatures by polluting the seas. Upon discovering the looming crisis, the bodhisattva of mercy, Guanyin, gives a baby girl, Lin Mu-niang (林默娘), to a fishing family in the hope that she can protect the village.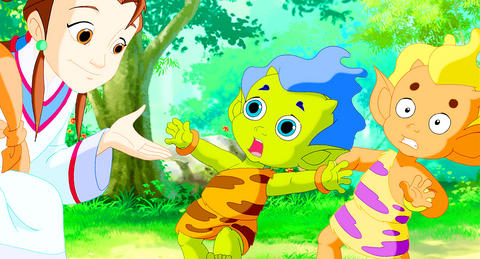 Appealing to the millions of Matsu devotees in Taiwan, the animation Mazu is on track for box office success.
PHOTOS: COURTESY OF CHINESE CARTOON PRODUCTION CO LTD
Born with divine powers and a compassionate heart, Lin studies under Guanyin's pupil, the Taoist priest Shun Ton (玄通). During her apprenticeship in white magic, Lin vanquishes two goblins, Far-seeing (千里眼) and Far-hearing (順風耳), who after their defeat befriend the young sorceress.
Before long, the troupe of mutants led by a three-headed sea monster attack the fishing village. As in all fairy tales, good triumphs over evil. The heroine, however, collapses having used the last of her strength to save the villagers. Leaving the mortal world, Lin ascends to heaven and becomes the highly revered deity of the title.
Instead of inviting pop stars to lend their voices to the characters a la Hollywood, the production relies on cinema veterans Huang Hsi-tien (黃西田) and Fang Chun (方駿), and has made a couple of unusual choices to voice the main roles: Sun Cui-feng (孫翠鳳) of Ming Hwa Yuan Taiwanese Opera Company (明華園歌仔戲團) and Non-Partisan Solidarity Union legislator Yen Ching-piao (顏清標). Yen is also the chairman of Tachia's Chenlan Temple (鎮瀾宮), an important religious site from where the annual Mazu pilgrimage sets off.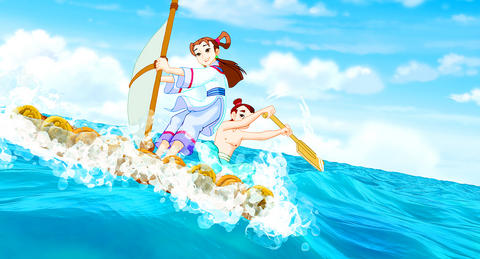 The unusual choice of voice artists is part of Teng Chiao's marketing strategy, which focuses on the estimated 8 million Mazu devotees in Taiwan.
"If young people were our primary target audience, we wouldn't tell the story of Mazu in the first place since they are not necessarily interested in the ancient legend, neither do they have loyalty to made-in-Taiwan productions," said Teng Chiao. "When you look to global markets, the question that foreign buyers always ask is, what can best represent Taiwan. The story about a magic girl and two cute sidekicks spiced up with a strong local flavor will appeal to the international market."
The company's long-term goal, Teng Chiao said, is to foster a local animation industry that produces work with a wide appeal.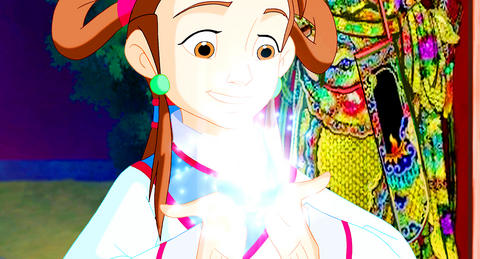 As for the voice artists, each successfully gives their animated character a vivid personality. Legislator Yen admitted he was extremely nervous as a first-time voice actor. "I was doing Shun Ton and unlike me, this character can get quite crazy sometimes. I should have drunk some whisky before going to the recording room," said Yen, adding that he didn't ask for the deity's permission as "he has known Mazu since childhood."
For the well-known Taiwanese opera performer Sun, the voice-over assignment was the result of fate. Having staged numerous performances about Mazu at temples around the island, the veteran actress said she felt honored to lend her voice to "the most amiable deity who feels like a next-door neighbor."
"As a performer, I am used to bringing out emotions through bodily movements. But for professional voice artists, they just stand in front of the microphone and deliver all kinds of tones," said the novice voice artist who took three days to wrap up the job.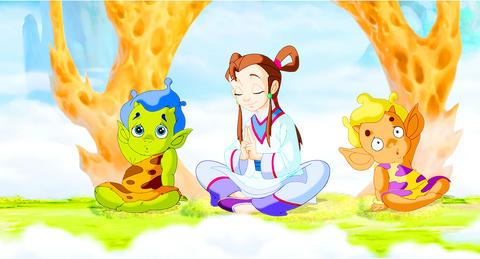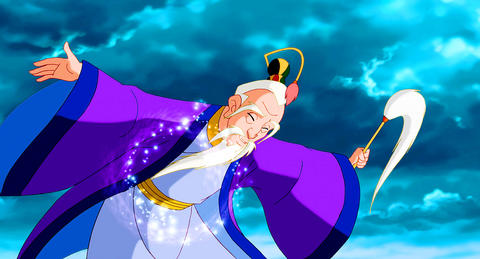 Publication Notes
Mazu (海之傳說媽祖)
DIRECTED BY: LIN SHIH-JEN (林世仁) STARRING: CHEN CHAO-TING (陳昭婷)AS CHILD MAZU, SUN CUI-FEN (孫翠鳳)AS GROWN-UP MAZU, YEN CHING-PIAO (顏清標)AS SHUN TON, HUANG HSI-TIEN (黃西田) AS FAR-SEEING, FANG CHUN (方駿) AS FAR-HEARING TAIWAN RELEASE: TODAY LANGUAGE: MANDARIN AND TAIWANESE VERSIONS WITH CHINESE SUBTITLES RUNNING TIME: 90 MINUTES
Comments will be moderated. Keep comments relevant to the article. Remarks containing abusive and obscene language, personal attacks of any kind or promotion will be removed and the user banned. Final decision will be at the discretion of the Taipei Times.