Local opera seeks a balance of old and new
Taiwanese Opera (歌仔戲) once dominated Taiwan's cultural landscape. In the 1960s and 1970s - a period considered the medium's golden age - radio stations broadcasted opera by the hour and it was one of a handful of entertainment programs on television. Today, however, people searching for a little entertainment or distraction are more inclined to watch a movie, see a play or just stay at home and chat on line.
But Hsu Ya-fen Fine Arts Opera (許亞芬歌子戲劇坊) and Luan-Tan-Chiao Beiguan Opera Troupe (亂彈嬌北管劇團) continue to draw the crowd by adapting riveting classical Chinese tales to Taiwanese Opera using the best in costuming and special effects to interest a younger generation of theatergoers.
"We use the story and language to attract the older generation," said Chiu Ting (邱婷), producer of The Search for the Orphan (搜孤救孤), which opens to today at Metropolitan Hall.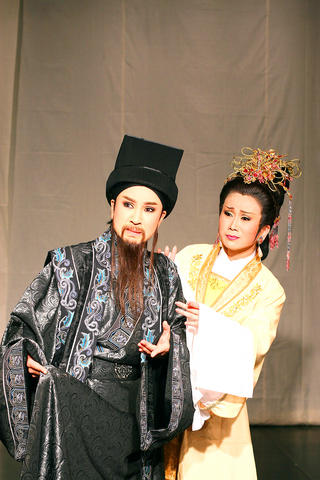 Political treachery and revenge are brought to the stage in The Search for the Orphan.
Born into a family of beiguan musicians (her father Chiu Huo-rang (邱火榮) is one of Taiwan's foremost beiguan maestros), Chiu Ting decided last year she wanted to move into Taiwanese Opera as a means of appealing to a broader crowd, and one not just in Taipei.
Chu feels she could have no better collaborator than Hsu. She said the work should also appeal to "university students and foreigners" because it uses modern stage design and a visual narrative that is easy to follow.
The Search for the Orphan is a tale of political treachery, sacrifice and revenge. Adapted from the literary classic The Orphan of Zhao (趙氏孤兒), it tells the story of an attempted massacre of a family and how one survivor returns to seek revenge.
Publication Notes
Performance Notes
What: The Search for the Orphan (搜孤救孤)
Where: Metropolitan Hall (城市舞台),
25 Bade Rd Sec 3, Taipei
(台北市八德路三段25號)
When: Today and tomorrow at 7:30pm and Sunday at 2:30pm
Tickets: NT$300 to NT$1,500 and are available through NTCH ticketing or online at www.artstickets.com.tw
(Note: NT$1,500 tickets are sold out)
Comments will be moderated. Keep comments relevant to the article. Remarks containing abusive and obscene language, personal attacks of any kind or promotion will be removed and the user banned. Final decision will be at the discretion of the Taipei Times.