Rock 'n' roll, coming to a park near you
Watermelon Rock Festival is small, anticapitalist and raw. Moving to a more prominent venue last year hasn't dampened the organizers' rebellious spirits
Two decades ago, rock 'n' roll was a sound for the young and rebellious, played live at only a few underground bars. A decade later, Taiwan's rock music came out of the closet and spawned big events like Spring Scream (春天吶喊), Formoz Festival (野台開唱) and Hohaiyan Rock Festival (海洋音樂祭).
For the past couple of years, the indie music scene has taken on a more spontaneous vibe at free street music gigs like the Watermelon Rock Festival (搖滾西瓜音樂季). Organized by the guitar club at National Taiwan Normal University (NTNU, 國立台灣師範大學), it features 15 bands jamming for eight hours nonstop, tomorrow at Shida Park (師大公園), Taipei.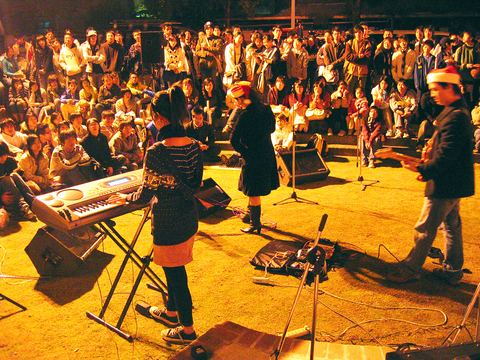 Last year's Watermelon Rock Festival successfully graduated from university to the park with full honors.
PHOTO: COUTESY OF WATERMELON ROCK FESTIVAL
The semiannual festival was started five years ago by Bear Boss (熊老大), a member of the band Inferno, which was formed of guitar club members. He decided to change the group's irregular performances into a scheduled event. The best time for the show, the pioneers reckoned, was during the university's anniversary celebrations in June, also the time of the Watermelon Festival, when students traditionally give the fruit to their sweethearts.
The festival's rules are simple: at least one member of each band must be an NTNU student or alumnus and the event itself must remain avowedly independent and anticapitalist. Last December, the festival moved out of the campus to Shida park.
"We'd like to continue the street rock spirit from last year, highlighting music that is untainted by the mainstream," this year's festival coordinator and electric guitarist Hsu Ting-yu (許庭毓) said.
This year's lineup sees the return of Inferno, the members of which are now office workers who transform into heavy-metal bad boys at night. NTNU's musical luminaries include folk rock outfit Who Knows Band (天曉得) and Greenbean starring A-Mai (阿賣), who flunked classes because of jamming sessions.
Another big draw is the all-girl punk rock band Da Mo Wang (大魔王), who have been playing together since high school.
The festival organizers, in true anarchical style, have bent the rules and invited guest bands Clay Pigeon (陶土飛靶), to represent the National Taiwan University (國立台灣大學), and the award-winning Echo (回聲樂團), which consists of National Tsinghua University (清華大學) graduates.
The festival's anticapitalist ethos comes at a cost: limited sponsorship. But despite struggling with a simple sound system, the spirit of rock looks set to live on. "The Watermelon Rock Festival will be back next year, at the same place, and the same time," Hsu said.
Festival notes:
What: The 10th Watermelon Rock Festival
(第十屆搖滾西瓜音樂季)
Where: Shida Park (師大公園), near Shida night market
When: Sunday from 1pm to 9pm
On the Net: blog.roodo.com/ntnu_rocker
Comments will be moderated. Keep comments relevant to the article. Remarks containing abusive and obscene language, personal attacks of any kind or promotion will be removed and the user banned. Final decision will be at the discretion of the Taipei Times.