Lai Hsiang-ling: Taiwan's doyenne of contemporary art
MOCA director, Lai Hsiang-ling, says running a contemporary art museum is a balance between appealing to the local community and choosing the right curator
Lai Hsiang-ling (賴香伶) is passionate about contemporary art. The mere mention of an installation or video projection are all that's needed to send the Museum of Contemporary Art's (MOCA, 台北當代藝術館) director off on a tangent about the diverse array of artists exhibiting in her museum or the curators she works with.
Drawing on 20-years of experience in Taiwan's culture industry, she can explicate at length about the minutiae of arts funding, the ups and downs of negotiating with policy wonks and the difficulties of squeezing money out of corporations. And it is her ability to communicate across a broad spectrum of institutions and disciplines that has made her the doyenne of Taiwan's contemporary art scene.
"From artists, administrators and corporate and art officials I need to work with them and communicate with them," she said in an interview with the Taipei Times.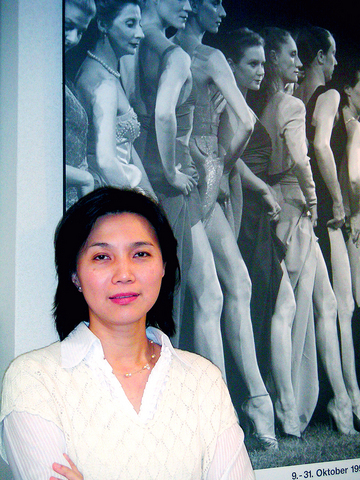 Lai Hsiang-ling uses her considerable experience and acumen to promote emerging curators.
PHOTO: COURTESY OF MOCA, TAIPEI
Appointed to the position in 2005, she began her two-year tenure last year after leaving the National Culture and Arts Foundation (NCAF, 國家文化藝術基金會), where she was director for grants.
"My friends always joke that before I gave money and now I always ask for money," she said.
For Lai, running a contemporary art museum means striking a balance between finding and working with curators who have a broad list of artist contacts and interacting with the community within which MOCA is based.
"Working with younger, emerging, artists and [finding] resources to work with different curators, younger emerging curators, while establishing MOCA as a platform that attracts artists working in cross-discipline to work are all goals I'm working towards," she said.
With four annual exhibits in the museum's main exhibition space and four smaller exhibits in the MOCA Studio, Lai has her hands full finding curators and mounting shows.
For MOCA's main exhibition space, Lai works with two kinds of "guest" curators all of whom have complete freedom to mount the shows they want. The first are what Lai calls the "scholarly curator," a person who writes a curator's statement and provides a list of artists, but does no hands-on work in setting up the exhibition. This becomes the responsibility of the museum's in-house curators, led by Lai.
Lai says this often causes problems because these curators often know little about MOCA's budget and size restrictions. As a result, she prefers to work with curators or institutions "based on some mutual understanding or mutual knowledge of working together before."
This often means that local guest curators are chosen over international guest curators because, "it's easier and safer to work with local guest curators."
Lai cites Manray Hsu (徐文瑞), curator of Naked Life and Sean Hu (胡朝聖), curator of the forthcoming Fashion Literally, as examples of young Taiwanese curators who can draw on a list of international artists operating in a global framework.
Like the curators she cultivates, Lai travels extensively throughout the globe to network with different curators and artists and keep abreast of art movements and museums.
"Because there's no one museum in the world ... information systems are important and you have to keep yourself updated and that's why museum and art community networking is very important," she said.
The three in-house curators work closely with Lai in the MOCA Studio. In addition to working on exhibits in the main gallery, each in-house curator is responsible for mounting an exhibit in the MOCA Studio, a space that was once a coffee shop that Lai single-handedly transformed into a space for emerging artists.
For Lai, the Studio benefits both the museum and emerging artists.
"Each year the three in-house curatorial staff members have to do one or two MOCA Studio exhibitions. They have to propose who will be the artist they will want to have and how to select their work and they have to write an exhibition essay," she said.
In addition to working with international curators, artists and art spaces, Lai also has to interact with the local community.
Lai continues MOCA's founding tradition of allowing staff and students of the school adjoining the museum free admission. She also works with the school to increase art education programs and encourage students to become tour guides.
Since last year, Lai has promoted the museum's plaza as a space to bring the community together with art fairs, unplugged concerts and movie screenings.
"These kinds of activities help to attract more people and opens a dialogue in the local community," she said.
In the future Lai will use the plaza's space to hold activities to promote exhibits at the museum.
Lai can't cite any one person who influenced her career as director. Instead she cites the Cartier Foundation in France as her inspiration because it was among the first institutions in the world to encourage contemporary art using guest curators.
"They already had the vision twenty years ago to see themselves as a platform for different kinds of art people to work together. That's my major interest — wherever I'm working. I should be that kind of person," she said.
MOCA is different than many museums in that it's only a showcase for art rather than a compiler of collections.
"What we call the four missions of a museum is: collection, exhibition, research, and education. Very few museums don't keep the four missions, and MOCA is one. Like P.S.1 in New York, we are very similar ... in that we don't have our own collection," she said.
Without a permanent collection MOCA has considerable freedom to develop its own unique voice through the curators they work with and the artist's work they exhibit. It is a mission that Lai embraces.
"[MOCA] is a kind of platform for art people to communicate, for the artists to be seen [and] for their artwork to be discussed, for curators to present their ideas and for critics to give their critical thinking about contemporary culture," she said.
Comments will be moderated. Keep comments relevant to the article. Remarks containing abusive and obscene language, personal attacks of any kind or promotion will be removed and the user banned. Final decision will be at the discretion of the Taipei Times.