That's a wrap
Taipei Dance Circle (光環舞集) founder and choreographer Liou Shaw-lu (劉紹爐) usually drenches his dancers in baby oil before setting them loose to glide about the stage. The lack of friction between the dancers' bodies and their surroundings has been an essential component of his work.
This year, in Man and Object, friction is back. Liou wraps his six dancers in what he calls sponges, though to the uninitiated the material looks more like a cross between a big bed sheet and a yoga mat. The dancers roll up, roll out, bend and twist, constrained by their wrappings yet free to create forms, angles and movements that they could not do by bodies alone.
Liou said he was trying to focus on the internal — the spiritual — dimension of dance.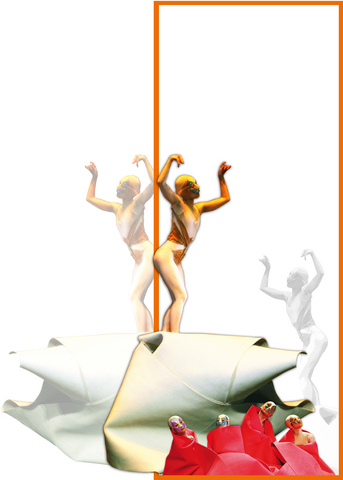 "I have made many oil dances in 13 years. Every time we perform we have a sponge underneath to take care of the dancers. We can feel it like a skin," Liou said yesterday in a telephone interview, explaining how he came up with the idea of using sponge mats for this piece.
"By limiting movement, sometimes it's a struggle like we have in real life ... struggle, but then freedom comes out," he said.
At the beginning of Man and Object the sponge-mats are on the floor and the dancers emerge "like new life coming out of the earth," he said.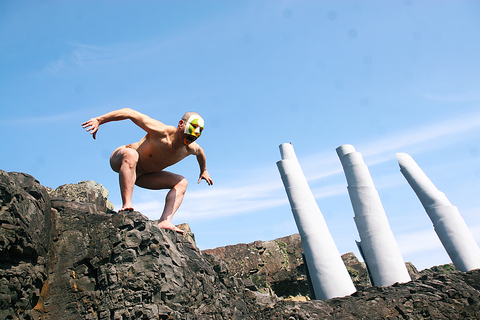 PHOTOS: TAIPEI DANCE CIRCLE
"At the end, we are moving on the ceiling," to give the impression of "nature being so big and mankind is so small," he said. "It's very dreamlike — the sponge makes very strange shapes, just like visions."
Liou's wife and artistic partner Yang Wan-jung (楊宛蓉) said the sponges are hard on the dancers.
"They can't see the direction they are going — there's only a small hole to see through — so they have to think they are moving east, west, north," she said.
The lack of a clean count in the score makes things still more difficult for the dancers, as well as Liou's preference for a clean floor, which rules out using tape strips as floor marks. If that wasn't enough of a challenge, the dancers also have to cope with changes in their numbers each night.
Depending on the size of the stage they are using, Liou may have to pull a dancer out of a section if there isn't enough room for everyone to move. "This time the performances are all on big stages — except for Taoyuan and Nantou — so we are lucky," Yang said.
Flexibility is obviously a key requirement for a Taipei Dance Circle dancer, in addition to their basic training in dance and taichi. Liou used the music of modern Japanese composer Keiko Harada as the basis for Man and Object. He met Harada last year when he was invited to perform in Japan. He said he found her music very special, defying easy categorization. Her music is Asian, but largely uses Western instruments.
"The sounds are very original, not a beautiful melody," Liou said.
Harada gave Liou several of her compositions and he brought them back home to listen to before picking out the bits he wanted to use.
The score is performed by seven musicians, but it also incorporates chanting by the dancers.
"We have had eight years of body and voice coordination ... . Chinese movement comes from the dantian (丹田); so does the dancers' music and voices. So some sections have both music and voice, some have just voice, some just music," Liou said.
Harada and her parents came from Japan for the company's opening night in Taichung on March 31. Yang said that Harada was surprised by the way Liou had used her music but was very happy with the result. While the company has just four more performances ahead of them after tomorrow nights' show in Sinjhuang, Liou and Harada are hoping to find the funding that will allow the company to take Man and Object to Japan at some point, and for Harada to perform her music live with the company.
Comments will be moderated. Keep comments relevant to the article. Remarks containing abusive and obscene language, personal attacks of any kind or promotion will be removed and the user banned. Final decision will be at the discretion of the Taipei Times.