Restaurant: Shang Palace
Address: 6F, 201 Dunhua S Rd Sec 2, Taipei (台北市敦化南路二段201號6樓)
Telephone: (02) 2376-3229
Open: Daily, from 11:30am to 2:30 pm and 6pm to 9:30pm
Cost: NT$1,500 per person, plus 10 percent service charge, for the set menu
Details: Chinese and English menu. This is a special promotion from today through March 25 only
"Nouveau Taiwanese cuisine" is a label that was going to stick sometime. Now that it has you can sample traditional and reinvented Hakka dishes by prize-winning chef Robin Lin (林祺豐) at the Shang Palace in the Far Eastern Plaza Hotel (台北遠東國際大飯店). The former mechanical engineering and Chinese cuisine graduate combines attention to detail and a love of food and country.
The result is a piquant and earthy style of cooking that uses local ingredients, such as clams, salty pork, Chinese cabbage, preserved turnip, intestines and fruits of the sea. Lin uses these staple foods to develop "new Taiwanese" recipes based on old formulas.
The Hakka, or "guest people," were originally from northern China, around 1,700 years ago, but settled in the south and then moved outward in a series of diasporas. Most Taiwanese Hakka settled in hilly or remote areas and typically were poor and dependant on farming. As a result their food was often preserved with salt or by pickling, in order to make the most of their seasonal harvests. It was also occasionally oily as this provided much-needed energy.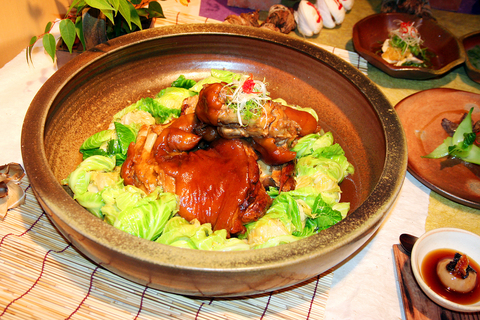 Nouveau Taiwanese cuisine has arrived, finally, at the Shang Palace in the Far Eastern Plaza Hotel.
PHOTO: JULES QUARTLY, TAIPEI TIMES
This was evident in dishes such as the salty pork with preserved turnip and the spicy, salted deep-fried bomb fish. Like spice in an Indian curry or the seasoning originally used by French chefs to disguise indifferent ingredients, Taiwanese fare has evolved its own set of flavors. Preserved been curd sauce is a key element in many of the dishes and has a strong taste that would have originally given bland food some interest.
"Hakka food is generally considered to be common. Here we are making it more cultured and sophisticated so that diners can appreciate the real Hakka spirit. It is food that was originally for poor people but actually it is now considered to be good for the health and natural," Lin said.
An example of this was the clam with fried rice, wrapped with cabbage that came garnished with seaweed. The gently seasoned seaweed and clams went together perfectly and Lin explained choosing elements that complemented each other was a signature of his dishes.
Lin, who won a Hakka cuisine championship in 2005, is head chef at the renowned Hwataoyao (華陶窯) restaurant, botanical garden and ceramic studio in Miaoli County (苗栗縣). For this weeklong promotion at the Far Eastern, Lin will assist the hotel's chefs in providing nouveau Taiwanese cuisine, for the first time.
Comments will be moderated. Keep comments relevant to the article. Remarks containing abusive and obscene language, personal attacks of any kind or promotion will be removed and the user banned. Final decision will be at the discretion of the Taipei Times.