'Perfume' not as sweet as might be
A whiff of moralizing undermines Tom Tykwer's luscious production of the best-selling novel
Jean-Baptiste Grenouille can smell when people in a nearby building finish making love. He can instantly recreate and improve upon the most expensive perfumes in Europe. He can follow a faint but bewitching odor through the stinking streets of 18th-century Paris. And he is prepared to kill people to find the ultimate scent.
It took more than a decade, but Patrick Suskind's tale of misanthropy and sensuality has finally made it to the cinema. Fans of the book should be delighted that the film stays true to that bestseller's sardonic tone. But one thing was always going to challenge its director: How do you make a film about smell?
The answer in this European production is to pump up the budget and fill the screen with as many gorgeous or awful-looking odorous things and places as possible: flowers, grime, skin, dead fish, maggoty carcasses, a tannery and lots of perfume. It is into this world of exceptionally foul odor that Jean-Baptiste is born, surviving by his very nose, and at the cost of the lives of those around him.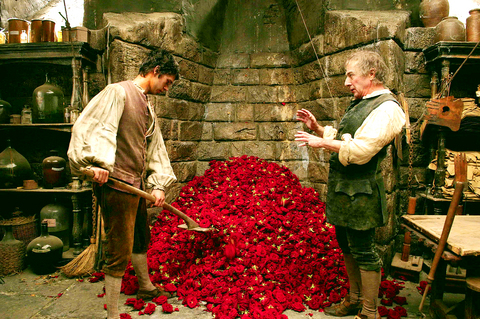 Jean-Baptiste Grenouille exacts a heavy price from young virgins to find the perfect scent.
PHOTOS COURTESY OF FOX
Jean-Baptiste (Ben Whishaw) eventually convinces an aging, once-fashionable Italian perfumer to take him on as an apprentice. Giuseppe Baldini (Dustin Hoffman) is skeptical, but comes around and finds his career resurrected by this strange young man. But Jean-Baptiste has his own agenda: He needs to know how to construct scent and, better still, how to capture it.
En route to a town where he can learn this skill, Jean-Baptiste finds himself in a mountain cave, and he realizes something terrible about himself that explains most of his detachment from human relations. It is this epiphany that drives him back to the human realm to imprint his presence on the world by creating the most powerful scent ever known. Then the bodies start appearing: female, naked, unviolated.
The sumptuousness and decay on offer does not quite compensate the audience for its inability to smell the goings-on, which is something the book seemed to be able to do. A more radical director such as John Waters (who shot his 1981 flick Polyester in "Odorama" with handout scratch 'n' sniff cards) might have looked for ways to get the audience's noses involved in all the perversity; the great Ken Russell might have ordered various odors be pumped through the air-conditioning.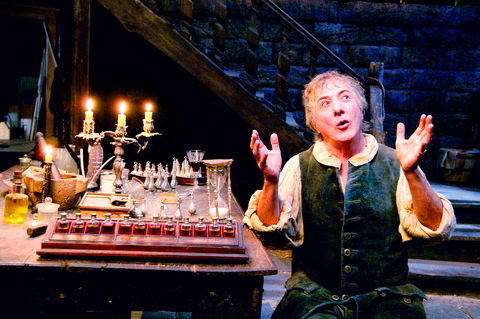 Tom Tykwer's film is too stately (and too expensive) for such gimmicks, and the attendant downside is its formulaic core. When our reinvigorated subject reaches the town of Grasse — where he can learn how to capture the scent of any creature or object — the film becomes flabby and conventional as he preys on a sequence of virginal victims. What could have been a short, sharp depiction of stalking, killing and deviant perfuming becomes a rather long detour into Alan Rickman's character's attempt to persuade the town's leaders that the killer needs to be better "understood," and, having failed, to protect his daughter from the prowling killer.
By the end of this, Jean-Baptiste is a barely functioning character, a problem that has a parallel in the disappearance of John Hurt's narration for most of the second half of the film. Shunting this character around in this way, of course, could have been consistent with the sociopathy of human brilliance that the book delved into. For Jean-Baptiste, there are no good or bad smells in the traditional sense — just interesting and uninteresting ones. Likewise, Tykwer's version could have only featured interesting and uninteresting characters, and moralizing be damned.
In the end, however, a tweaking of the book's tone provides the anti-hero with what seems to be a whiff of redemption, something that many of the book's fans might find hard to forgive. But, fragrant with scenes of psychopathy and occasionally thrilling camerawork, most will be forgiving, even if the grand guignol fate of Jean-Baptiste Grenouille is presented without the shocking gore of his birth.
The film is screening in Taiwan with a restricted rating but without cuts. Tykwer is co-director of Paris, je t'aime, which is also on limited release.
Publication Notes
Film Notes:
PerfumeDirector: Tom Tykwer Starring: Ben Whishaw (Jean-Baptiste Grenouille), Dustin Hoffman (Giuseppe Baldini), Alan Rickman (Antoine Richis), Rachel Hurd-Wood (Laura Richis), John Hurt (Narrator)Running time: 148 minutes Taiwan release: On general release
Comments will be moderated. Keep comments relevant to the article. Remarks containing abusive and obscene language, personal attacks of any kind or promotion will be removed and the user banned. Final decision will be at the discretion of the Taipei Times.