How low can you go?
Downsizing takes on a whole new meaning as fashion companies are introducing subzero clothes sizes
Could subzero become the next status symbol for size-conscious women?
The ideal women's size has been shrinking for years, and now more designers and retailers are introducing a less-than-zero size, sometimes called "subzero" or 00.
Designer Nicole Miller plans to introduce the size in next fall's line, and last spring, Banana Republic started selling size 00 online.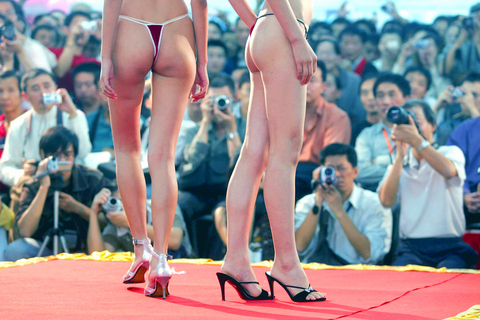 Models wear lingerie at the Fourth Guangzhou Sexual Culture Show in Guangzhou, Guangdong Province, China.
PHOTOS: EPA AND AFP
The subzero sizes are intended for the naturally slender — women who find they are swimming in the waist of a size zero or two. But some experts worry that the proliferation of such a tiny size could cause eating disorders as some women aspire to shrink to subzero.
As one character from the movie The Devil Wears Prada quips, "two is the new four and zero is the new two."
Could subzero now be the new zero?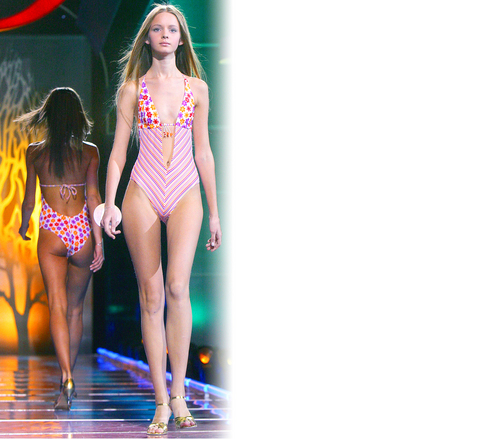 Models are getting younger and thinner.
"They love the size zero," Tony Paulson, clinical director for Summit Eating Disorders and Outreach Programs in Sacramento, says of some of the women he treats. "For some reason, that's almost a badge of honor to them, to reach a size zero. Now they have another goal, to reach this sub-size zero."
Take a minute to size up today's reigning fashionistas (think Mischa Barton, Nicole Richie, Lindsay Lohan and Kate Bosworth) and one common trait is obvious: They're all itty-bitty, even bordering on scary-thin. Today, models weigh about 23 percent less than the average woman, according to the Social Issues Research Centre in Oxford, England.
"If those are the people that our young girls want to emulate, that is terrifying," says Nichole Zidenberg, director of the teen clinic at Kaiser Permanente Medical Center, Roseville, California.
If this decade's ideal body type is superskinny, a glance down the fashion timeline is a reminder that it wasn't always this way.
In the 1950s, a size 12 Marilyn Monroe wrote the body-type rules.
The 1960s shifted to a shape more familiar to today's runway — Twiggy's long and lanky frame.
Contestants in the Miss America pageant from 1960 to 1978 increasingly shrank, and winners of the pageant were consistently tinier than the other entrants, according to a 1980 study by psychologist David Garner.
In the 1980s, the beauty ideal stayed slim, but also fit and toned.
And in the 1990s, Pamela Anderson summed up the ideal: impossibly slender with impossibly large breasts.
"What happens is that the beauty ideal keeps on changing, and you have a lot of adolescent girls who are striving for that," Paulson says. "Unfortunately, for most of the girls, it's completely unrealistic; it's impossible for them to reach these goals they've put out there."
It's impossible because most women just aren't built that way. The average American woman is 162.6cm, weighs about 70.3kg and wears size 14.
The average model?
She stands at 175cm, weighs 49.8kg and wears a zero or a two, according to the Social Issues Research Centre.
"Why 'double zero' scares me is I don't want to see any more 00 models," Zidenberg says. "The more that (are) out there, the more our young girls think that's realistic."
Of course, not all girls are starving themselves to subzero status. Those who are naturally tiny welcome the new lines of clothes because subzero sizes have been difficult to find.
At 165cm and 43kg, 15-year-old Julia Hethcoat and her sister Stephanie are grateful to find pants in tiny sizes such as 00.
"We really love it, 'cause we need it," says Julia, a Sacramento high school sophomore.
But body image remains a big issue for many women and teenage girls. Fourteen-year-old Jasmine Johnson of Sacramento often hears girls at her school complain about their weight.
"Everyone wants to be size zero, and I think that's kind of stupid," says Johnson, a high school freshman. Her classmate Robbie Ginther agrees, and he wonders if girls realize the skeletal look is something most guys aren't into.
"I mean, I like girls that are thin, but not so much that their ribs are showing," says Ginther, who's 15 and a sophomore.
Zidenberg and Paulson tell the teen girls they treat that shrinking celebs such as Nicole Richie and Kate Bosworth aren't normal — no matter if magazines insist they're "just like us." Zidenberg says constantly seeing such images can be very destructive to girls and women.
"If I see one more picture of Nicole Richie, I'll scream," Zidenberg says.
Zidenberg would rather have the perception of beauty be the "healthy at any size" image she tries to promote. And there is evidence the attitude in fashion may be heading that way, says fashion expert Sam Saboura, former host of ABC's Extreme Makeover and author of Sam Saboura's Real Style: Style Secrets for Real Women with Real Bodies.
During Madrid's fashion week in September, Spanish officials banned severely underweight models from participating in the shows, blaming the superthin models for helping spur eating disorders in young women.
And Dove, already running print ads featuring "real" women of all sizes, this fall launched a viral video ad campaign called Evolution. A YouTube favorite, the video shows a normal-looking young woman with limp hair and acne scars getting made up into a flawless supermodel, with the video sped up to show the entire process in a minute and 15 seconds.
It's encouraging, Saboura says, but it's not enough.
"I think what's happening is it's becoming in vogue to protest against all these things, but it's really not catching on," says Saboura.
"It really has to come from the top of the fashion industry, and I don't think that we're ever going to give up that lean, tall model look, because the clothes look best on those types of bodies," Saboura says.
Still, health care providers hope for a positive change in the ideal women's body type.
"I really hope so," Paulson says, "'cause my business would go away, and I would love that."
Comments will be moderated. Keep comments relevant to the article. Remarks containing abusive and obscene language, personal attacks of any kind or promotion will be removed and the user banned. Final decision will be at the discretion of the Taipei Times.