Restaurant: Amigo Mexican Food 阿米哥捲餅店
Address: 85 Linsen S Rd, Taipei (台北市林森南路85號)
Telephone: (02) 2393-2488
Open: Every day from 11:30am to 9pm, except Tuesdays
Average meal: NT$150 to NT$185
Details: Chinese and English menu; credit cards not accepted
Most people have probably never heard of Amigo, a pleasant little California-style Mexican restaurant located a block north of Chiang Kai-shek Memorial Hall and a block east of National Taiwan University Hospital, at the intersection of Linsen South and Renai roads. Which is a shame, because it's one of the few Mexican restaurants in Taipei that doesn't overcharge for the kind of food it serves. You can get a set meal with soup, drink and an entree like a burrito or taco for NT$150; or a beef taco, chicken burrito, corn chips with salsa, and a drink for NT$185.
"Everyone does Mexican food differently. The most important thing is you use lots of fresh vegetables," said manager Jean Chao (趙翼英). "But usually it's supposed to be simple, but healthy, and you're not supposed to charge a lot for it."
Chao has lived in California on and off for the last two decades, where she learned English and a little Spanish. A chef who had emigrated from Mexico taught her how to cook. She came up with the concept behind Amigo while visiting Taiwan after the 921 earthquake. A lot of people had lost their jobs in the wake of the earthquake and she wanted to help them by creating a business model that anyone could execute.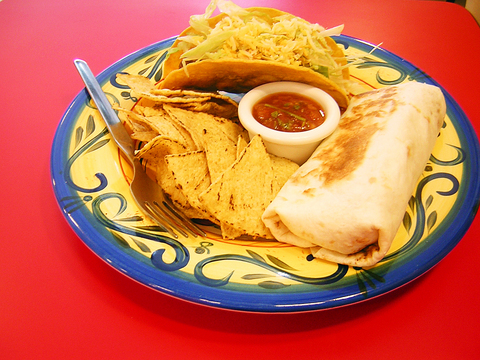 Dining is cheap, fast and delicious at Amigo.
Things inside Amigo (www.amigos.com.tw) are simple yet comfortable, with soft norteno music, bronze light fixtures and warm yellow and turquoise paint on the walls. There's also a takeout window with a bar for eating or drinking Coronas outside.
Chao estimates around 70 percent of her ingredients are imported, including the cheese and jalapenos. The lettuce and green peppers are rinsed with pure water in a power washer. Prices are low because "we save money on overheads to spend it on the best food for out customers," she said.
Unfortunately the place has yet to catch on. Chao said passers-by express curiosity but decline to try the food, because they mistakenly assume it's too spicy. She saw an increase in business several months ago after a cable TV station ran a program on Mexican food. But Tuesday, when thousands of anti-Chen Shui-bian protestors marched past her shop on their way to besiege the Presidential Palace, she sold "a lot of iced tea" but not much of anything else.
Chao, however, doesn't appear worried, and she already has plans to open a second restaurant, possibly further east on Renai Road.
"This is a simple restaurant that two people can run," Chao said. "If you give people a job and a place to eat, that's good enough?"
Comments will be moderated. Keep comments relevant to the article. Remarks containing abusive and obscene language, personal attacks of any kind or promotion will be removed and the user banned. Final decision will be at the discretion of the Taipei Times.