Surfers in a knot over the environment
Surfing's dirty environmental secret is out: enthusiasts of the sport that supposedly goes hand in hand with nature use taxic boards
Last December, a gnarly wave — to use the lingo — dumped on the global surfing community. In a frank and often emotional letter addressed to the surfboard manufacturing industry, Gordon Clark, the founder of Clark Foam, which was based in California and supplied about 90 percent of the polyurethane foam "blanks" used to make the world's boards, abruptly announced that his company was to close. Clark, a legendary figure known as "Grubby" by surfers, said that his company, which opened in 1961 (a year before the Beach Boys' Surfin Safari album greatly helped to popularize the sport) and made between 700 to 1,000 blanks a day, was to shut because the factory was violating environmental regulations and faced multimillion-US dollar lawsuits and fines. He said he faced possible criminal charges.
"The main concern of the state and the county government is a toxic chemical we use called toluene di-isocynate, commonly called TDI," he wrote, also admitting that his company emitted "over 1.8 tonnes of styrene fumes per year."
The news rocked surfing on two fronts. First, the cost of boards leapt as surfers feared a sudden supply-side wipeout. Second, it caused some soul-searching in a community that has always seen itself as having a strong tradition of environmental stewardship, given its close relationship with the sea and weather. As a result, the hunt is now on for new, more environmentally friendly materials from which to construct boards.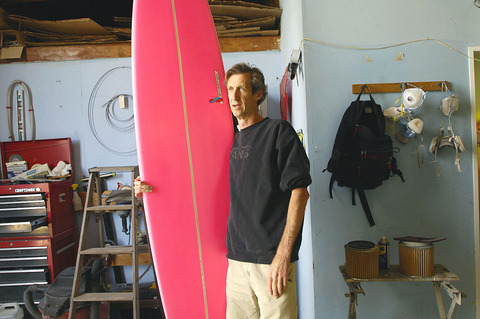 William Riedel, holding one of many custom boards he makes for famous surfers, in Santa Cruz, California. Riedel says he has sold more of his epoxy boards since the leading maker of classic foam cores shut down.
PHOTO: NY TIMES NEWS SERVICE
Some boards are now made using epoxy and EPS (expanded polystyrene) cores which use slightly less VOCs (volatile organic compounds) than the polyurethane foam and fiberglass boards common since the 1960s, but could in no way be described as "eco." Perhaps the most interesting development in board manufacturing is the experimentation with materials such as balsa wood, hemp cloth and vegetable oils.
Such a prototype board was displayed at an exhibition on the history of the surfboard at the Eden Project in Cornwall, UK, last year. Designed by Chris Hines, sustainability director at the Eden Project and former director of Surfers Against Sewage, which campaigns against the dumping of waste in the sea, the board was fashioned out of solid balsa grown at the Eden Project.
Other developments include boards made from paulownia wood. This month a firm based in the Cornwall surf town of Newquay, Ocean Green, launches its EcoFoil board, which uses hollowed-out, Forest Stewardship Council-certified balsa farmed under fair-trade conditions in Nicaragua and shaped in Cornwall, before being finished with organic hemp cloth and conventional resins (it will use an eco-friendly resin "as soon as it becomes available"). The board recently won Surfer's Path magazine's first Green Wave award.
There are, sadly, no such developments to report when it comes to wet suits. While they do allow surfers to enjoy our bracing British breakers and therefore greatly reduce the desire for surfers to jump on a polluting plane in pursuit of the perfect wave, they are made from Neoprene, a synthetic rubber developed 75 years ago by the petrochemical giant DuPont.
The inner calling some surfers say urges them to "chase the waves" is something that is used to commonly knock the sport's environmental claims. What is so green, some in the UK say, about driving a camper van or catching a cheap flight for the weekend to British surfing hotspots, let alone traveling off around the world to legendary breaks such as Snapper Rocks in Queensland, Teahupo'o in Tahiti or Playa Zicatela in Mexico?
Reflecting this urge, in recent years there has been a demand at some popular destinations to build artificial reefs to improve the surf, thereby increasing visitor numbers and possibly reducing the desire to travel long distances. Next summer the first artificial reef in Europe is set to "open" off Bournemouth, England, (a similar scheme for Newquay was seen off by objections from local boat users), but some environmentalists oppose such developments on the principled ground that any artificial coastal modification (usually formed from carefully positioned giant sandbags or granite boulders) should be avoided when the long-term impact on sea life and coastal erosion cannot be predicted.
But some are evidently thinking, why even bother with the sea? Next year the world's first Surfpark opens in — where else? — Orlando, Florida. It will offer an artificial surf pool that can generate waves between 1m and 2.5m high, allowing 100m-long rides.
Comments will be moderated. Keep comments relevant to the article. Remarks containing abusive and obscene language, personal attacks of any kind or promotion will be removed and the user banned. Final decision will be at the discretion of the Taipei Times.