Restaurant: Luk Kreung 混血兒泰義餐廳
Address: 5, Alley 10, Ln 223, Zhongxiao E Rd Sec 4, Taipei (台北市忠孝東路四段223巷10弄5號)
Telephone: (02) 8773-0275
Open: Daily from 6pm to 3am
Average meal: NT$300 to NT$500
Details: Credit cards accepted; Chinese and English Menu
Luk Kreung means mixed-blood in Thai, and refers both to mixed ethnicity of restaurant owner Tseng Hsu-min (曾旭民), as well as the mixed parentage of the cuisine that he presents — an innovative combination of Italian and Thai.
When living in Thailand, Tseng, 36, said he frequented a restaurant that cooked Italian food in a Thai style. He believed that this combination would prove popular in Taiwan as well, so two years ago he opened Luk Kreung in Taipei's trendy East District.
On its Chinese-English menu, there is an image of the Virgin Mary, representing Italian food, and one of the Buddha, representing Thai food. These are combined to create his "mixed blood" cuisine.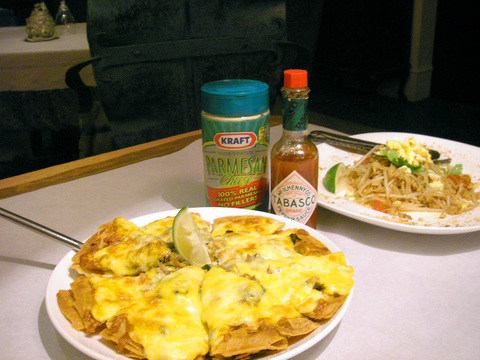 Mama mia, it's da-pao pork pizza.
PHOTO: GINGER YANG, TAIPEI TIMES
This leads to some interesting combinations. There is da-pao pork, a dish of thinly sliced boiled pork with various garnishes, which is a regular feature at many Indo-Chinese themed restaurants. But in this case, it is served on a cornmeal pizza crust (NT$250), with the addition of minced meat and basil. Restaurant manager, Lai Chien-an (賴建安) said it was especially popular as a take out order.
Italian-style fried rice noodles (NT$220) uses anchovies to enhance the flavor of the traditional Thai dish, and can be fine tuned to individual tastes with sugar, ground peanuts and lemon, which are served on the side of the plate. The deep fried trout with Thai apple dressing (NT$480) and grilled beef tenderloin in green curry sauce (NT$700) are worth trying.
Luk Kreung mixes it up with the decor as well; half decorated in palatial Italian style and the other half featuring Thai-themed furniture. The furnishings are uniformly both comfortable and stylish. In fact, the establishment could easily be mistaken for a high-class furniture shop if you don't look too carefully.
There are two rooms for private functions that seat up to 12 people.
The setting is much more luxurious than you would expect for the menu's price range. "We spent more than six months designing the menu and settings. We let our imaginations run wild. Running this restaurant isn't work, it's play," Lai said. Service is stylish, but not particularly efficient.
After the kitchen closes, Luk Kreung transforms itself into a lounge bar that serves a wide range of spirits and wine. If you want to reserve a seat, call after 5 pm.
Comments will be moderated. Keep comments relevant to the article. Remarks containing abusive and obscene language, personal attacks of any kind or promotion will be removed and the user banned. Final decision will be at the discretion of the Taipei Times.