When `I do' is replaced with `you will'
For youngsters forced into marriage by their families in Britain, there is little support
Troubled by the number of youngsters of South Asian origin being forced into marriage, Britain has launched an assault on a practice that is pushing many vulnerable teenagers into a living nightmare.
Marriages without consent, or their refusal, have led to suicides and honor killings in Britain, shocking a nation
generally deemed to have successfully absorbed immigrant communities and practices.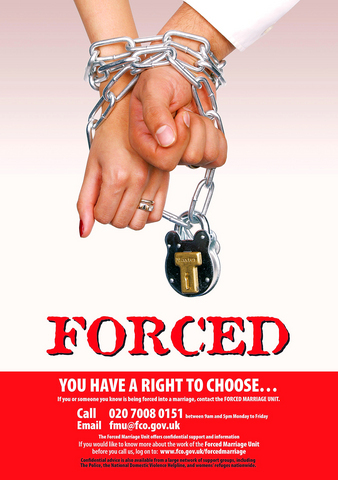 Britain has launched an assault on the practice of forced marriage, which leaves many youngsters in a living nightmare.
PHOTO: AFP
"Younger British Asian women are increasingly self-harming and attempting suicide at rates two to three times above the national average," said Jasvinder Sanghera, 40, who helped found a refuge for South Asian women years after fleeing her own family rather than accepting a forced marriage.
"My family said: `Marry him or be dead in our eyes,'" she recalled.
As part of the British government's campaign, ministers this month unveiled emotional film clips, in English and Hindi, to raise awareness on the issue.
British Prime Minister Tony Blair's government argues that such forced -- as distinct from an accepted arranged -- marriage is a form of domestic violence and child abuse and a trans-gression of human rights. It is even considering whether to criminalize forced marriage.
Most of the cases concern people of Indian, Pakistani and Bangladeshi origin. But there are many others in Britain with ties around the world, notably to Arab states, the Balkans and West Africa, being forced into marriages.
"The people coming forward for help know the perpetrators are the people who are supposed to love them. It's an absolutely horrendous wrench," Sanghera said.
She said there was a "strong preference" within families of victims she helps to look for suitable husbands "back home," with the young woman easing the groom's passage into Britain as part of the deal.
Her Karma Nirvana refuge in Derby, central England, takes an average of 40 support calls a month and over 70 percent of her clients have issues relating to forced marriage.
She advocates warning children of the dangers in schools before they start to come under family pressure.
Sanghera recalled how, at the age of 14, she was shown a photograph of the man she was due to marry.
"They deprived me of my freedom. I suffered the emotional and physical abuse, and I ran away.
"You feel guilty, depressed and very isolated. You lose your family overnight and you are a victim made to feel like the perpetrator," she said.
The only current legal recourse concerning forced marriages is arresting people for offences such as rape and kidnap.
The Forced Marriages Unit (FMU) -- set up by the Home Office and Foreign Office -- has dealt with more than 1,250 cases brought forward by troubled spouses or relatives since it started in 2000. However, the FMU, which undertakes rescue missions in extreme cases, fears the true number may be far higher.
Sufian Miah said he was 20 when a cry for help from his terrified girlfriend Shipa landed in his letter box. It had been written on a tissue in an airplane toilet as her family took her to Sylhet in eastern Bangladesh with a view to a forced marriage.
Now his wife, Shipa, from west London, was 18 when she was bundled on the flight. She secretly handed the tissue to an air hostess as a desperate last resort.
"She said she had been taken against her will, her life was in danger and she didn't want to go back," said 31-year-old Miah, from Bromley in southeast London.
"Her mental state was absolutely gone. Her independence had been taken away."
"Devastated, angry and frustrated," he called every number he thought could help, from local Members of Parliament to Amnesty International, and flew to Bangladesh in a bid to rescue her.
He found her by chance at the house of one of her cousins and spoke to her through a window, vowing to get her out.
He said the Bangladeshi police issued an arrest warrant for him on suspicion of kidnap.
He took her case to the Bangladeshi supreme court. "Eventually her family had no choice but to give up," Miah said.
British Asian actor Ameet Chana, 30, who starred in the 2002 film Bend It Like Beckham and the BBC television soap EastEnders and helps campaign on the issue, was shocked that 15 percent of the Forced Marriages Unit's cases were men.
"If you're a bloke, a bit macho, how can you come forward and tell someone you're in a forced marriage?" he said.
"They are taking place under our noses in this country. It's good to stay traditional, but forced marriage is not part of any culture."
"The older generation needs to realize there's a way of doing things in the West -- and it's not always the way that it used to be back home."
Comments will be moderated. Keep comments relevant to the article. Remarks containing abusive and obscene language, personal attacks of any kind or promotion will be removed and the user banned. Final decision will be at the discretion of the Taipei Times.