Zacarias Moussaoui fights for his life
Zacarias Moussaoui, the only person to face criminal charges in US courts in connection with the Sept. 11 attacks, claims he had nothing to do with the plot, but federal prosecutors say he is guilty and should be executed
The sentencing trial that opens tomorrow for confessed Sept. 11 conspirator Zacarias Moussaoui is expected to spotlight federal authorities' missed opportunities to disrupt the unfolding plot during the 26 days between the student pilot's arrest and the devastating attacks.
Prosecutors seeking the death penalty are preparing to tell the sentencing jury that Moussaoui bears direct responsibility for the attacks and deserves execution because he "lied to federal agents to allow his al-Qaeda `brothers' to go forward with the operation" after his arrest on Aug. 16, 2001.
But Moussaoui's court-appointed defense team is ready to urge the jury that the 37-year-old Moroccan-born French citizen should be spared execution because he knew far less about the plot than top officials in the Bush administration, including then-CIA Director George Tenet.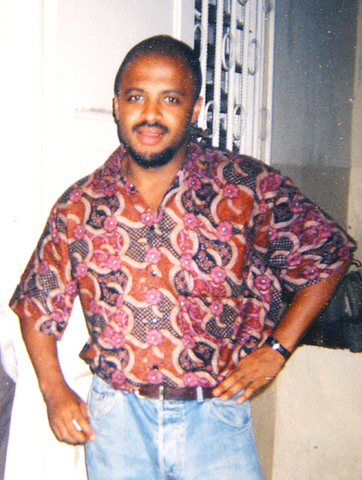 Reproduction of a picture of Zacaria's Moussaoui taken in 1998.
PHOTO: AFP
More than 80 prospective jurors are scheduled to report to US District Court here in suburban Washington, DC, tomorrow morning for the final phase of jury selection. The pool of candidates will be whittled down to 18 jurors and alternates, who will decide whether Moussaoui faces execution or life imprisonment without release.
Lawyers' opening arguments begin tomorrow afternoon in proceedings that stem from Moussaoui's surprise guilty plea last April 22 to six charges arising from the Sept. 11 plot, including three carrying the death penalty.
Moussaoui, the only person to face criminal charges in US courts in connection with the Sept. 11 attacks, claims he had nothing to do with the plot and was sent to the US for a second-wave of suicide attacks that never occurred.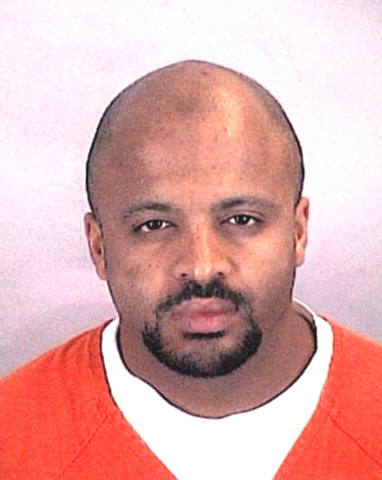 Zacarias Moussaoui has already pleaded guilty to capital crimes and will at a minimum spend the rest of his life in prison. For prosecutors to secure the death penalty, they must prove beyond a reasonable doubt that the government could have prevented the Sept. 11 attacks if Moussaoui had not lied following his August 2001 arrest on immigration violations.
PHOTO: AP
Carl Tobias, a law professor at the University of Richmond, said defense lawyers will try to shift jurors' attention away from Moussaoui "and onto government officials' failure to stop the attacks" in hopes of staving off the death penalty.
"By the time jurors face a decision on punish-ment, the government may look a lot less competent about what it did to stop the attacks," Tobias said.
Moussaoui's defense team underscored its plans to focus attention on the federal government's pre-attack actions by subpoenaing testimony from US Representative Curt Weldon (Republican, Pennsylvania). The 10-term lawmaker investigated a super-secret Pentagon intelligence operation known as "Able Danger" that raised the possibility that US officials knew about the Sept. 11 plot before it was carried out.
An artist drawing shows Judge Leonie Brinkema (center, rear) presiding as confessed al-qaeda conspiration Zacarias Moussaoui (center) and his lawyer Gerald Zerkin (second right) look on at the Bryan US District Courthouse during jury selection for the trial of Moussaoui.
PHOTO: AFP
US District Court Judge Leonie Brinkema last Thursday rejected defense lawyers' subpoena for Weldon, but granted defense lawyers' request for testimony by three specialists involved with the "Able Danger" program.
"What knowledge the government possessed before Sept. 11 regarding members of al-Qaeda, and specifically links between al-Qaeda and the eventual hijackers, is a key issue in dispute in this death penalty trial," Brinkema said in her written order.
It is unknown if Moussaoui's lawyers also subpoenaed high-ranking officials, such as Tenet or US Defense Secretary Donald Rumsfeld, because the court has sealed the list of witnesses.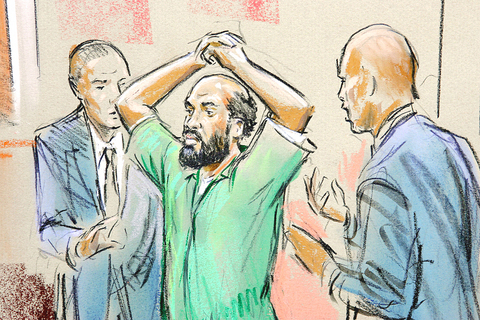 The acknowledge al-Qaeda conspirator Zacarias Moussaoui has been a volatile figure in the courtroom.
PHOTO: AP
But Moussaoui's defense lawyers can draw upon evidence of government missteps from the exhaustive findings of the National Commission on Terrorist Attacks Upon the US.
The commission found no direct link inside the US among Moussaoui and the 19 hijackers who commandeered four airliners to attack the World Trade Center and Pentagon and threaten a possible attack on the Capitol or the White House with a plane that crashed in western Pennsylvania.
But the unanimous report by the independent bipartisan Sept. 11 inquiry unearthed at least 10 missed "operational opportunities" to detect and potentially disrupt the plot before Sept. 11, including three involving Moussaoui.
"Moussaoui can be seen as an al-Qaeda mistake and a missed opportunity," the report concluded. "Publicity about Moussaoui's arrest and a possible hijacking threat might have derailed the plot."
The commission's investigation showed that high-level officials in the Bush administration failed to link Moussaoui's arrest to the escalating threat of al-Qaeda attacks within the US during the days before the attacks. Tenet, keenly aware of the mounting al-Qaeda threat, learned about the FBI's arrest of Moussaoui in Minnesota on Aug. 23. But he testified that he did not raise the possibility with anyone that Moussaoui might have been part of an al-Qaeda operation.
The commission's chronology showed that high-level Bush administration officials were on high alert but missed the link to Moussaoui:
◆ Aug. 6, 2001: US President George W. Bush, amid a 27-day vacation at his ranch in Crawford, Texas, receives a presidential daily brief from a CIA briefer entitled "Bin Laden determined to strike in US." The two-page classified document, marked "for the president only" and the 36th briefing on bin Laden since he took office Jan. 20, said the FBI was pursuing al-Qaeda-related investigations into "patterns of suspicious activity in this country consistent with preparations for hijackings or other types of attacks."
◆ Aug. 16, 2001: Moussaoui is arrested in Eagan, Minnesota, for overstaying a US visa after employees at Pan Am International Flight Academy express concerns to local FBI agents that the student pilot and vocal Islamic fundamentalist had paid US$8,300 for seven days of ground training on a Boeing 747 flight simulator without even having a pilot's license. An FBI agent in Minneapolis subsequently expresses concerns to a higher-ranking FBI agent at headquarters in Washington, DC, saying he was pressing for an investigation over the objection of headquarters because he was "trying to keep someone from taking a plane and crashing into the World Trade Center."
◆ Aug 17, 2001: Tenet, returning from a vacation that included the first 10 days of August, briefs Bush personally at his Texas ranch on day-to-day threats facing the US. Tenet later tells commission investigators that "the system was blinking red" that summer about possible al-Qaeda attacks.
◆ Aug. 23, 2001: Tenet receives a memo entitled "Islamic extremist learns to fly" detailing Moussaoui's arrest and joint CIA-FBI efforts to trace a possible link to overseas' terrorists. The FBI in Minneapolis hopes to establish a connection to convince the US Foreign Intelligence Surveillance Court to authorize an examination of Moussaoui's laptop computer.
◆ By Aug. 27: French intelligence relays information to the FBI documenting a link between Moussaoui and a Muslim Chechen rebel leader, but high-ranking officials at FBI headquarters resist a request from agents in Minneapolis to obtain the search warrant.
◆ Aug. 31, 2001: Tenet personally briefs Bush at the White House on day-to-day threats facing the US after the president returns from his Texas ranch. Tenet meets with Bush at least six more times in the 11 days before the attacks.
Tenet later tells the Sept. 11 panel that he did not alert the White House or Bush about Moussaoui's arrest amid heightened concern about al-Qaeda terrorist attacks.
"Seeing it as an FBI case, he did not discuss the matter with anyone at the White House or the FBI," the commission report said. "No connection was made between Moussaoui's presence in the US and the threat reporting during the summer of 2001."
Tenet said he did not raise the alarm or discuss Moussaoui's arrest at a high-level National Security Council meeting the use of an aerial drone for attacks on terrorists that took place at the White House on Sept. 4 -- seven days before the attack.
"Tenet told us that no connection to al-Qaeda was apparent to him at the time," the Sept. 11 commission report said.
Tenet left his post at the CIA in July 2004 after seven years. Bush awarded him the presidential Medal of Freedom in December 2004.
Comments will be moderated. Keep comments relevant to the article. Remarks containing abusive and obscene language, personal attacks of any kind or promotion will be removed and the user banned. Final decision will be at the discretion of the Taipei Times.