Writing in Chinese is a learning curve for German expatriate
Cay Marchal visited Taipei on a stopover and was inspired enough to return and become an author of Chinese books
Cay Marchal was on his way from Germany to Japan in 2001 when his plane touched down in Taipei for a stopover, but he ended up staying in the city for two days because Typhoon Nara was keeping planes grounded.
That was his initial taste of Taiwan, and later, after a year working as a German teacher in Japan, Marchal decided he wanted to come here to live and work on a Ph.D. dissertation. He was accepted as a visiting scholar at Academia Sinica, in Nankang, and the 31-year-old German national has been here ever since.
Marchal, who writes under a Chinese pen name, has also done something few Westerners here have done. In September, he published a book of essays that he wrote in Chinese, and the book was released by a major publisher in Taipei, with several Chinese-language newspapers taking note of the unusual way the book found its way to publication in Taiwan.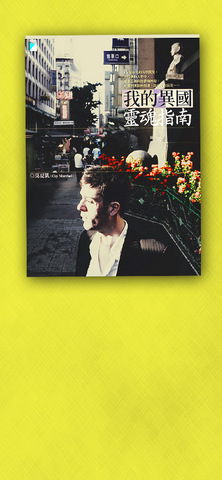 A Guide to My Foreign Soul in Taiwan By Cay Marchal Aquarius Books NT$280
Titled A Guide to My Foreign Soul in Taiwan, Marchal's book was published by Aquarius Books in Taipei. The first printing was 3,000 copies and a second printing has been released as well. In addition, Marchal has appeared on a few TV and radio shows and sat for several newspaper interviews, to promote the book.
"The book happened like this," Marchal, a native of Wilhelmshaven in northern Germany, said in a recent e-mail. "Two years ago, I submitted some freelance essays to [a Chinese-language newspaper] and the editors there later asked me to write a weekly column. I did this for about a year-and-a-half, and I wrote all the columns in Chinese by myself. After writing about 60 columns, I thought it might be interesting to try to collect them into a book, for publication here, and I was lucky enough to find a publisher at Aquarius Books."
When asked how, as a native German-speaker he learned to write in Chinese, Marchal explained, "I first started studying Chinese in 1994 in Germany, taking classes for about two years, and then studying on my own. Later, I went to Beijing for about 10 months in 1996 and 1997."
Marchal finished his masters degree in 2000, writing a paper about The Book of Changes, and in 1999 studied French literature, Chinese and Arabic philosophy at the Ecole Normale.
"I had always thought about trying to write in Chinese, the idea was always in the back of my mind. So in the 1990s, I began trying to write some short sketches, diary entries, letters, things like that, even some classical Chinese verses. But I was always, quite frankly, scared about this attempt to write in Chinese. It's a daunting challenge."
"In the winter of 2001, I met an editor of a Chinese-language literary magazine in Osaka, while I was working in Japan, and during our conversations and meetings, I began to feel that maybe, yes, someday it might be possible to actually write in Chinese. Later, when I came to Taiwan, I began to see my way even more clearly."
"In my book, I have written also about the problem of trying to write in Chinese," Marchal said. "There is an American writer in Japan named Ian Hideo Levy, and he is one of the few non-Japanese writers to write novels in Japanese directly by his own hand, without translations, so I guess he has gone through similar experiences as I have in trying to write in Chinese."
"There is also a Persian woman named Fatima, or Yen-ying in Chinese, her name is very famous in Chinese literature, because the writer Eileen Chang wrote about her in some essays: how they lived together as students in Hong Kong during World War II in the 1940s, how they went out to the cafes and to cinema, how was their life in these small dormitories students used to live in at that time," Marchal said.
"In my book, I write a lot about Taiwan and Asia. But I approached everything from a subjective [point of view], writing about and thinking about things that happened to me," Marchal said.
"In my book, readers will find some stories about my days in Taipei, a mixture of Graham Greene-like ironical impromptu [writing] and classical Chinese prose," Marchal said.
"For example, one story in the book focuses on a poster of Che Guevara that I saw in a bar here one day, and another chapter is about those coffee-table books with wedding photos that one can find near the Zhongshan MRT station, and another story is about how Vincent van Gogh studied calligraphy."
"Actually, my book is not about Taiwan so much as about how a European, or a cosmopolitan person, might see the world here in Taiwan," Marchal said.
"You know, while I am here, it's never possible to forget the distance between Taiwan and Europe and the loneliness of living in a foreign country without being able to see, on a regular basis, all the people I know back in Europe -- my family, my friends, my mentors. For me, living in Taiwan at this period in my life, I can say that it feels a bit like being Yen-ying in Hong Kong in the 1940s, but without somebody like Eileen Chang helping me out."
Comments will be moderated. Keep comments relevant to the article. Remarks containing abusive and obscene language, personal attacks of any kind or promotion will be removed and the user banned. Final decision will be at the discretion of the Taipei Times.