'Punk princess' cleans up her act auction house
Princess Gloria von Thurn und Taxis likes motorcycles and rock stars, lavish parties and jewels. She is known among the international jet set as the "punk princess" who collects contemporary art.
But sometimes, she cleans house.
On Monday night she put 50 works by some of today's trendiest artists -- including Jeff Koons, Richard Prince, Cindy Sherman and Paul McCarthy -- up for sale at Phillips, de Pury & Co (Phillips auctioned 85 more works from her collection Tuesday.)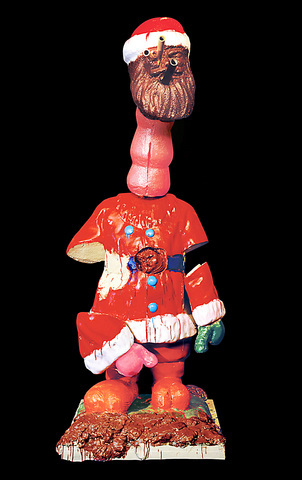 Paul McCarthy's Santa Long Neck is now officially worth US$856,000.
PHOTO: NY TIMES NEWS SERVICE
The sale totaled US$6.3 million, or US$7.4 million with Phillips' commission. (Prices of record include the commission: 20 percent of the first US$200,000 of the hammer price and 12 percent of the rest. Estimates do not reflect commissions.) The high estimate was US$7 million.
In 1993 the princess held a nine-day sale of furniture, art and objects from Schloss St. Emmeram, the family castle in Regensburg, Bavaria -- everything from a Harley-Davidson motorcycle to 75,000 bottles of vintage wine. That sale, which brought more than US$19 million, went to pay inheritance taxes on the estate of her husband, Prince Johannes, who died in 1990. In 1992 she sold much of the family jewels, also at Sotheby's. Simon de Pury, chairman of Phillips, then chairman of Sotheby's in Europe, presided over both events, and he and the princess became friends.
De Pury recently put her on Phillips' board. And on Monday night she showed her support for him and for the company by weeding out much of her collection. (Art dealers familiar with her collection say she has held on to the best work.) Before the auction, some dealers grumbled that the princess had bought many of the works recently in anticipation of turning them around at this auction to make a profit. Many also said the offerings were mediocre in quality. But that didn't seem to diminish the enthusiasm for contemporary art; even works made just months ago sold for strong prices. Records were set for eight artists.
Still, no single item made US$1 million. The most expensive work was Paul McCarthy's Santa Long Neck, a 2004 painted bronze sculpture of a distorted Santa Claus. It sold to a telephone bidder for US$856,000, over its US$700,000 high estimate and a record for the artist at auction.
There was less competition for Koons' Yorkshire Terriers, a polychromed wood sculpture of two dogs, one wearing a blue bow, the other a pink one. It is from an edition of three plus an artist's proof that Koons made in 1991. Only one bidder wanted the sculpture, and the hammer fell at US$550,000, just under the low estimate of US$600,000. Sometimes there was serious competition. The princess was selling two joke paintings -- plain-colored canvases from the 1980s with the text of jokes -- by Richard Prince, whose prices have skyrocketed over the last two years. Stellan Holm, a Manhattan dealer, and Hyun Sook Lee, president of the Kukje Gallery, one of the most successful galleries in Seoul, South Korea, fought over Untitled (A Man Walks into a Doctor's Office), from 1988. Both wanted the painting badly, and the winner was Lee, who paid US$475,200, far above its US$350,000 high estimate.
Prince's Why Are You Crying? (1988) was less popular and less expensive. Todd Levin, the curator for the Manhattan collector Adam Sender, bought it for US$296,000, above its low estimate of US$250,000.
The way even brand-new works sold surprised many dealers and collectors. Anselm Kiefer's 2005 sculpture XXI Claudia Quinta, made of lead books stacked precariously and topped with a model ship and human hair, was bought by James Cohan, the Manhattan dealer, for US$340,800, far above its high estimate of US$300,000.
After the sale, de Pury said it did not represent the end of the princess' collecting. "It is her intention," he said, "to keep buying art that is right now."
Comments will be moderated. Keep comments relevant to the article. Remarks containing abusive and obscene language, personal attacks of any kind or promotion will be removed and the user banned. Final decision will be at the discretion of the Taipei Times.