Jirayut Roddon won the man of her dreams by changing gender
Thai transsexuals are pushing the boundaries of acceptance and are finding success, happiness and love
Jirayut Roddon has lived the kind of love story that makes her friends believe in destiny.
It began ordinarily enough, more than a decade ago. She
finished school, found a job, left her parents' house and fell in love with the boy next door.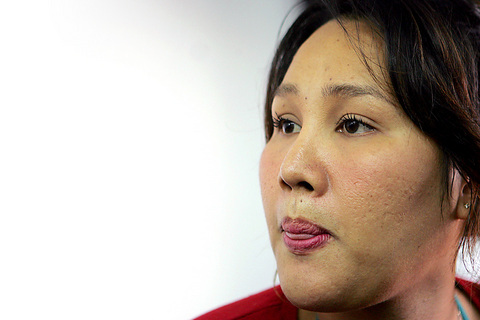 PHOTOS: AFP
Of course things are never that simple. Although Jirayut, who goes by the nickname Ball, had lived as a woman for years, she was actually a man when she fell in love with a guy who in her words, "only liked slim, beautiful women, which was exactly the opposite of what I was."
Falling in love was the push Ball needed to get the sex change operation she'd always wanted but once her physical transformation was complete, she had lost track of her dream man and didn't meet him again for six years.
But when they found each other, what a spark.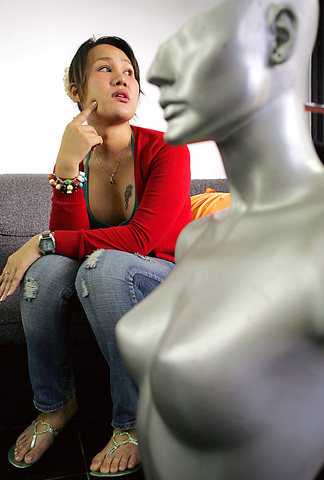 Jirayut Roddon recalls her past while sitting in a photo studio where she's found success as a hair stylist, in Bangkok.
To see her now, it's hard to imagine a time when Ball would have been a man. At 30, she's pretty but dresses conservatively with a sweater over her tank top. She says her style was flashier when she was younger.
"I think the hormones mellowed me out," and she laughed, at the photo studio for Preaw, one of Thailand's top fashion magazines, where she's found success as a hair stylist.
Ball can't remember the time when she was truly a man either. She remembers pilfering her sister's skirts even as a small child, and always getting teased by the other kids at school for being a kathoey, which translates roughly as "ladyboy" but sounds like a slur in adolescent taunts.
"Once when I was eight, my dad hit me when he found me wearing my sister's skirts. I was his only son, so I think he wanted me to grow up and get married to carry on the family name," Ball said.
Despite the troubles at home, Ball refused to change. By middle school, Ball says she knew she wanted to be a woman but it wasn't until high school that she found a group of friends like
herself.
"I used to go out with my friends to department stores, and go into the changing rooms to switch into women's clothes. Then we would go out dressed as women, and when it was time to go home we would change back," she said.
By the time she was finishing college, she was dressing as a woman full-time and still living with her parents.
"After some time, my dad opened his mind. I never asked him what was going through his head, but then one day he told me it was fine to have two daughters. I was probably 19 or 20 then," Ball said.
Taking the leap
Once she finished school, she hopped between a couple of jobs, including one helping her mom sell meals at a store. That's when she met Khake, her husband-to-be. Good-looking and charming, he was easy to spot when she was out with friends. Ball thought she had lucked out when he ended up working in the same store where she and her mom were selling food. But he was clear that he would only date someone who was physically a woman.
"So I decided to make myself beautiful," she said.
Becoming a woman in Thailand is easier and cheaper than almost anywhere in the world, even more so now than when Ball began her transformation 10 years ago.
And Thai hospitals are world-renowned for their sex change operations.
Ball spent about 150,000 baht (US$3,750) on a series of operations over three years. While that's a fraction of the cost of the procedure in developed countries, it took her years to save the money.
She started with breast implants, which she received in 1997 at a Bangkok clinic that she remembers as a "slaughterhouse."
"When I saw it, I thought, oh my God, it looks awful. It was just a big room, which curtains between the operating tables."
She decided to do more research before finishing the job, and finally chose an expert in
Sarburi province, north of Bangkok.
Ball had to take a psychological exam, which consisted mainly of a questionnaire.
"They just asked me a few questions, had me fill out a form, and asked me to draw a picture. So I drew a picture of a woman with big breasts and high heels," she says.
She would have stopped there, but after some reflection she
realized her breasts were too big, so she went back to have them reduced. But since then, she's never looked back.
Thailand is believed to have one of the largest transsexual populations in the world. Academics
estimate at least 10,000 live in Thailand, though other guesses are more than 10 times higher.
boundaries
The size of the community also helps make kathoey one of Thailand's most visible cultural exports, made famous not only through cabarets popular with tourists but also through movies that have dramatized their unique place in Thai society.
Films like Beautiful Boxer, about a kathoey becoming a
champion in the macho world of Thai kickboxing, or Satree Lek, a similar story about a volleyball team, were blockbusters in Thailand that made the rounds on the international film circuit.
Part of the problem in estimating the number of kathoey is deciding who to count. The term stems from the Khmer word for "different", and in past generations was broadly applied to anyone not clearly
heterosexual.
But Western ideas about sexuality have begun to intermingle, and gay men now tend to identify themselves with the English word "gay", while many lesbians have adopted the term tomdee -- a mix of the English words "tomboy"and "lady".
Kathoey -- whether or not they undergo a complete sex change operation -- have also become a more distinct group as medical treatments have become more readily available. They remain on the fringes of society, tolerated but still curiosities.
The only problem with Ball's procedure was that afterwards, she couldn't find her love as they both ended up working different jobs that took away her daily chances to woo him.
Eventually, she shrugged it off as a lost opportunity, until one day they bumped into each other at a friend's birthday party -- six years after they last met.
Everything was different, because this time he saw her as a woman.
"At first I was cautious, because I didn't want to get hurt again," Ball recalls. "But he kept doing things to take care of me, doing things around my apartment, so finally I let him come into my life."
They now live as husband and wife, although Thai law doesn't treat them as such. Sex changes are not legally recognized, so women like Ball are still legally men.
a high note
Despite the hurdles, Ball's friends say her life makes them believe happy endings are possible.
Anusit Wongpeng, a 32-year-old make-up artist at the Preaw studio, says she doesn't believe she'll ever find love.
A series of financial mishaps and family emergencies have left her without enough money to complete her sex change -- she's had breast implants but has given up on any more surgery, preferring to save her money for her future.
"I'm afraid of love, because I think there's no future for kathoey. It's not like men and women," she says.
But when Anusit looks at Ball's relationship, she admits to seeing more possibilities.
"That's different. It's destiny."
Comments will be moderated. Keep comments relevant to the article. Remarks containing abusive and obscene language, personal attacks of any kind or promotion will be removed and the user banned. Final decision will be at the discretion of the Taipei Times.