The curtain closes on Hong Kong's film industry
The starlit industry that made Jackie Chan and Bruce Lee and once turned out 300 movies per year has faded to only 64 features last year, and many blame piracy and downloading
The industry that launched Jackie Chan (成龍), Bruce Lee(李小龍) and Chow Yun-fat (周潤發) on the path to international stardom is in trouble.
Once a powerhouse that churned out 300 movies a year and had box-office takings of more than a billion Hong Kong dollars annually in the mid-1990s, the industry is now just a shade of its past glory.
In 2004, Hong Kong produced a measly 64 features and took HK$445 million (US$57 million) at the box office.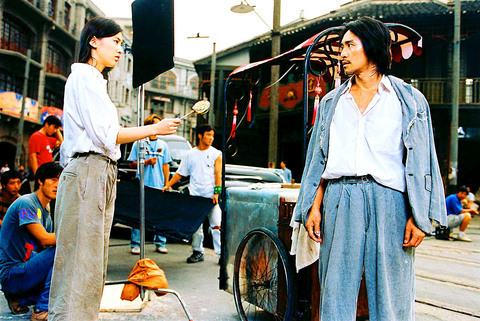 Actor and director Stephen Chow, right, and actress Huang Sheng Yi are seen on the set of the film Kung Fu Hustle.
PHOTO:REUTERS
"You can't even call it an industry," said Woody Tsung, chief executive of the Hong Kong, Kowloon & New Territories Motion Picture Industry
Association.
Industry insiders blame video-disc piracy -- widespread in Asia -- and the rise of computer download services for siphoning off profits and spooking movie
Jackie Chan makes a face for photographers.
PHOTO: AP
investors.
Hong Kong moviemakers are now turning to China's market, co-productions with foreigners and new forms of film financing to try to mount a recovery. They're also pressing the government for better protection of intellectual property.
China recently removed quota restrictions on Hong Kong films under a free-trade deal. But there are just three Chinese distributors authorized to import movies from the territory, making it tough to get a good prices for distribution rights.
"If those three companies don't buy the film, then there's nothing to talk about," Tsung said. "Our bargaining power is much smaller."
While China's market of 1.3 billion potential viewers is mouthwatering, it remains largely untapped, Hong Kong industry official say, because it only has about 2,000 screens and movie watching isn't widespread.
Some analysts say one way to expand the industry may be to form greater ties with mainland China.
Film critic Law Kar envisions an industry that has China providing the backdrops and Hong Kong supplying experienced work crews, business savvy and an established global distribution network.
"The Hong Kong spirit is constantly adapting with flexibility," he said.
Law's vision of an integrated greater-Chinese movie industry has already demonstrated its potential in the Oscar-winning martial arts movie Crouching Tiger, Hidden Dragon (臥虎藏龍), which Taiwanese director Ang Lee (李安) filmed in Chinese deserts, casting Chow, China's Zhang Ziyi (章子怡), and Malaysian Michelle Yeoh (楊紫瓊).
Crouching Tiger cracked the coveted US market despite its non-English dialogue, grossing more than US$130 million and becoming the most popular foreign-language film in American history.
Breaking into mainstream Western markets is critical to the Hong Kong industry's success, said Tsung, the movie industry association head. In the past, Hong Kong stars like Lee and Chan have moved to America to try to make the big time.
"In the past, Hong Kong and Chinese films were looking at the Chinatown market," he said. "Not any more. Now we're talking about the mainstream market. We want national releases. Even foreigners have to watch them."
Comedian Stephen Chow's (周星馳) Kung Fu Hustle (功夫), a collaboration with Columbia Pictures, is a film fashioned with such global ambitions.
The movie shattered Hong Kong box office records this year, won six Hong Kong Film Awards, including best film, and reached No. 5 at the US weekend box office.
The Hong Kong government has stepped in to help, setting up a HK$50 million (US$6.4 million) fund aimed at encouraging banks in this global financial center to back movies. The fund guarantees bank loans to movie productions and so far has been used in several productions.
Tsung said the burgeoning use of Internet file-sharing software is becoming a bigger problem than illegal copying of movies onto video discs.
One recent Hong Kong release, House of Fury (精武家庭), has been downloaded one million times worldwide, Tsung said, without saying how the figure was reached.
Authorities have cracked down on copyright violations in Hong Kong -- they recently prosecuted a man who allegedly uploaded movies using the BitTorrent file-sharing program. But piracy is very difficult to police across borders.
Sammo Hung, star of the US TV series Martial Law, worries that Hong Kong has run out of ideas because movie makers went into creative overdrive during their more prolific days.
"The backdrop of Hong Kong is small. Our thinking is narrower," Hung said. "Hong Kong exhausted all its movie ideas years ago."
Comments will be moderated. Keep comments relevant to the article. Remarks containing abusive and obscene language, personal attacks of any kind or promotion will be removed and the user banned. Final decision will be at the discretion of the Taipei Times.