Weekend's on-screen entertainment ranges from slapstick to high art
Chu Yen-ping's comedy `Two Birds with One Stone' opens in Taiwan this weekend, while on the small screen, a documentary about projects at the National Palace Museum will air on PTS
This weekend, if you're in the mood for slapstick comedy, spend NT$220 and check out Chu Yen-ping's (朱延平) latest film, Two Birds with One Stone (一石二鳥). If you're looking for high art or want to learn more about Taiwan's top tourist spot, the National Palace Museum (故宮博物院), tune in to the Public Television Service (公視, PTS) channel tomorrow at 11am for the premiere of Behind the Palace, Beyond the Horizon (歷史典藏的新生命), a film about the collected national treasures and a set of contemporary works inspired by them.
Two Birds with One Stone is a China-Taiwan co-production, with Chu's Yen-ping Films and the Beijing-based Time Films (時代電影). The movie was obviously made to cater to the mainland market for the Chinese New Year holiday slot. Chu should be happy because it is reported that the film grossed about NT$60 million in China.
Starring the notorious TV host Jacky Wu (吳宗憲) and actress Lin Hsin-ru (林心如), the film is set in the Ming dynasty and tells about an exiled minister trying to escape assassins from all martial arts factions.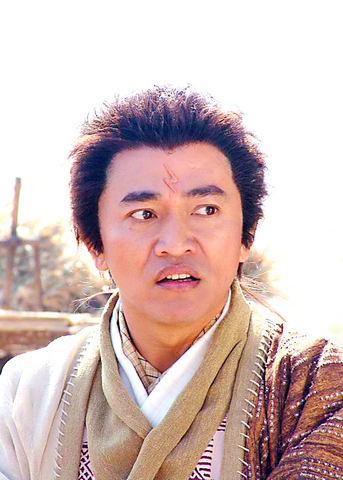 Jacky Wu plays a slacker with an eye for a minister's daughter in Two Birds with One Stone.
PHOTO COURTESY OF YEN-PING FILMS
The film is intentionally a parody and mocks some hit martial-arts movies of recent years, such as Zhang Yi-mou's (張藝謀) Hero (英雄) and House of Flying Daggers (十面埋伏). Some scenes mimic classic flying and fights in the dessert or the woods, and Chu makes them look cheap and cheesy. It's obvious that he does so on purpose, which elicits a fair number of laughs.
Chu's films often insist on using poor taste to mock the classics and Two Birds with One Stone is no exception. But he seems to overdo this technique and forgets to tell a complete story. The only character that works is played by Wu in a convincing performance as a slacker who secretly adores the minister's daughter.
Behind the Palace, Beyond the Horizon (歷史典藏的新生命) is a documentary about the encounters between prestigious artists around the world and the ancient collections in the National Palace Museum.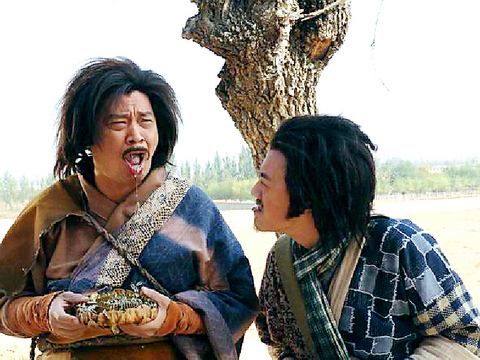 Chu Yen-ping is adept at directing slapstick humor, as he proves in Two Birds with One Stone.
PHOTO COURTESY OF YEN-PING FILMS
In 2003 the National Palace Museum underwent a series of cultural exchange projects in hopes of refreshing its public image. One of them was a "visiting artists" program that invited international artists to visit Taiwan and the museum. The program inspired this PTS documentary.
Film director Wang Hsiao-ti (王小棣) and her Rice Field Films (稻田電影) were commissioned to document the whole process of the project, in which visiting artists first get to see the artwork, then spend three months working on their own creations that relate to collections they have seen in the museum. Wang documents the artists' process from appreciation to inspiration to the creation of new art.
Dutch animation filmmaker Gerrit van Dijk is known for his unique style, which uses collage and deformation of images. During his visit to the museum, he is especially intrigued with a Ming-dynasty block print, Stories of the West Chamber (西廂記), painted by Chen Hong-shou (陳洪綬) and engraved by Hsiang Nan-chou (項南洲).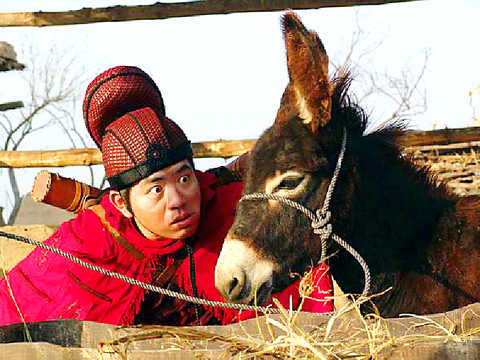 It's hard to tell who's the ass in Two Birds with One Stone.
PHOTO COURTESY OF YEN-PING FILMS
Van Dijk praised the work as so refined that he found its execution centuries ago simply unbelievable. And his 40-second animation is made like an impressionist painting, inspired by the block print and also infused with his personal impressions of his Taiwan visit.
French pottery artist Jean Girel owns the title of Maitre d'Art, presented by the French National Committee of Art. Girel came to see the Soong-dynasty china that he had been longing to see. He was also impressed by the animal-shaped ornaments on the bronze wares of the Bronze Age that depict bears, horses and birds.
Apparently, Girel was moved by the spirit of ancient people worshiping the universe and nature. His pottery work, which was made in the studio of Taipei Teacher's College reflects such a spirit. It is graceful artwork, simulating the thick and solid quality of bronzeware and at the same time demonstrates an experimental variation of glazed colors.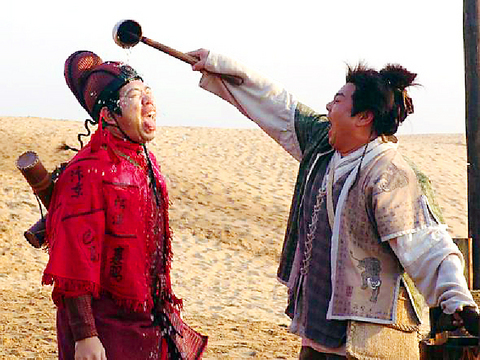 Cheap laughs come by dozen in Two Birds with One Stone.
PHOTO COURTESY OF YEN-PING FILMS
As director Wang Hsiao-ti puts it, the relation between the collection pieces and the new artwork is the flow and transformation of creativity, and proves that such an old place like the Palace Museum can still generate new ideas and new creations.
The most valuable part of the film deals with seven architecture and design students and their works. Some were inspired by the art of calligraphy and invented a mechanism that looks like a huge writing brush. Others designed an imaginary world of plastic tubes that was inspired by Qing-dynasty snuff bottles.
From the young creative spirits shown in the film, Wang vividly paints a picture of those ancient collections being infused with new life. They no longer stay static in history but have become part of people's lives.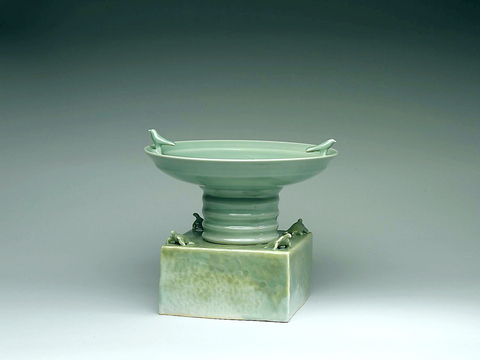 Shown is a piece of Jean Girel's pottery.
PHOTO COURTESY OF NATIONAL PALACE MUSEUM
French artist Jean Girel, who is depicted in a new PTS documentary, is meticulous about colors in his pottery work.
PHOTO COURTESY OF NATIONAL PALACE MUSEUM
Publication Notes
Film Notes:
Two Birds with One Stone (一石二鳥) Language: Mandarin with Chinese subtitles Screening venues: on general release Taiwan Release: tomorrow
Publication Notes
Film Notes:
Behind the Palace, Beyond the Horizon (歷史典藏的新生命) Language: Mandarin with Chinese subtitles Taiwan Release: tomorrow, 11am on PTS
Comments will be moderated. Keep comments relevant to the article. Remarks containing abusive and obscene language, personal attacks of any kind or promotion will be removed and the user banned. Final decision will be at the discretion of the Taipei Times.