Traditional Taiwanese arts for Christmas
The National Center for Traditional Arts offers a day of old fashioned entertainment
While some feel cheated by replicated historical buildings, others say the imitation cities create a feeling of nostalgia. Either way, it generally works in theme parks as a major tourist attraction. \nThe wood railing and red brick buildings of the National Center for Traditional Arts (NCTA,國立傳統藝術中心) were designed to resemble those standing 200 years ago. Their similarity, said deputy director of the center Fang Jy-shiuh (方芷絮), "helps people to understand the architecture and lifestyle of the past." \nThe NCTA park officially opened to the public in 2002 and offers a day of entertainment the whole family can enjoy. Situated along the Tungshan River (冬山河) in Ilan County the 24-hectare area is home to an education center, museum, theater, concert hall, outdoor stage, snack area and a boulevard lined with shops selling traditional arts and crafts. Established by the Council for the Cultural Affairs (CCA), under the Executive Yuan, the original idea behind the park was not for it to be a tourist attraction but rather a center for the preservation of Taiwanese traditional arts, Fang said. \n"We need to protect the intangible culture left behind by our ancestors such as music, performing arts and handicrafts. The center allows locals and those that want to understand Taiwanese culture to be able to do so. It provides a way to experience culture in a relaxed environment," she explained. \nJust how relaxed the park is on weekends is debatable considering it sees an average of 3,000 people on any given Saturday or Sunday. The weekdays are relatively quiet, with less than 1,000 visitors per day. \nFactoring in a two-hour drive from Taipei, it is best to schedule an entire day to spend at the park, a trip which could be combined with a trip to the Tungshan River Water Park (親水公園). Every summer during the Ilan International Children's Folklore and Folk Game Festival, a ferry service operates between the water park and the NCTA. The east portion of the park is occupied by education and administration facilities, so the exhibition hall and theater, located in the center of the park, is a good place to start. \nThe museum is divided into five areas displaying collections of pottery, lacquer, bamboo, embroidery and the winners of the CCA sponsored National Craft Master Awards. The artifacts are mostly daily-life items dating back to the Qing Dynasty. A portion of the hall is reserved for special exhibitions that change each season. A new exhibition on calligraphy opens today and will run until March. Guided headset tours, available in English, Japanese and Taiwanese, are also provided for free at the museum's entrance. The two-hour tour takes visitors through the museum, theater and other points of interest in the park. \nAcross from the exhibition hall is a 400-seat theater where a different Taiwanese opera, music or comedic troupe is invited to perform each week. Apart from national holidays, performances are held only during the weekends and include both a matinee and evening shows. Performances are free but tickets must be picked up at the park entrance. There is also a 150-seat concert hall that, when not being used as a rehearsal space, is reserved for hand- and shadow-puppet performances. \nAlong the Folk Art Boulevard are many mini galleries rented by local artists. In addition to selling their works, the artists offer visitors a chance to test their own craft making skills. The DIY activities range in both price and difficulty staring at NT$100 for materials and a short demonstration on how to make a clay necklace, up to NT$800 for lantern painting. The craft shops are not restricted to traditional arts and accommodate contemporary crafts or variations on traditional forms. One of the most interesting studios is Rachel's Glass Studio where visitors watch a glass-molding demonstration by shop owner Cheng Hui-yi (曾譓憶) and later try their own hand at glass molding. Cheng also offers less-complicated DIY activities that don't involve using a 1,1000C oven. \nThe boulevard leads to a public square with an outdoor stage for opera, puppet and musical performances. Over the holidays, related festival activities, such as making sticky-rice dumplings (粽子) during the Dragon Boat Festival are held in this area. \nAs of mid-December there was only a dim sum restaurant, 7-Eleven and Starbucks as options for food, although a food court was under construction and scheduled to open at the end of the month. There are plenty of patio-style tables to eat pre-packed lunches or takeout, in addition to several green grass areas at the front and back of the park. \nJust how commercial the park will become in the future is questionable. The CCA commissioned a six-year contract to Uni-President Ilan Art and Culture Corporation to run 80 percent of the park. Although the contract states that 20 percent of the commercial enterprises can be non-historical it does not stipulate what companies can operate there, nor does it prohibit international franchises from opening. Currently Starbucks and 7-11, both of which are owned by Taiwan's Uni-President corporation, are the only franchise chains. Whether or not we'll see a McDonald's or KFC in the future remains to be seen. \nWhile providing the public with a venue to experience Taiwanese culture first hand, the park also provides future artists with a place to cultivate their talents and passions for traditional arts. Each year, the NCTA board of directors invites several instructors and experts to teach at the on-site education center. During their residency, both teachers and students from Taiwan are provided with dormitory housing. The government subsidizes the programs in an effort to pass along the skills to younger generations. \n"In addition to preserving the traditional arts, we need to bring them to life and keep them alive in our museums, theaters and minds, Fang said. \nFor your information : \nWhat: National Center for Traditional Arts \nWhen: Open daily from 9am to 9pm. Exhibition Hall closes at 5pm. \nCost: NT$80 general admission; seniors and children under 110cm free; parking cost NT$50 for the day \nWhere: 201, Sec 2, Wubin Rd, Wuchieh township, Yilan county (宜蘭縣五結鄉五濱路二段201號) \nTelephone: (03) 9705815 \nHow to Get There: \nBy Train: Taipei-Ilan line (2 hours) exit at Loutong station (羅東站). Taxi to park (NT$200). \nBy Car: Taipei-Yilan Highway 9 (2 hours) and connect to Provincial Highway 2 to Wuchieh township or Highway 1 towards Keelung and connect to Provincial Highway 2 \nWeb site: www.ncfta.gov.tw.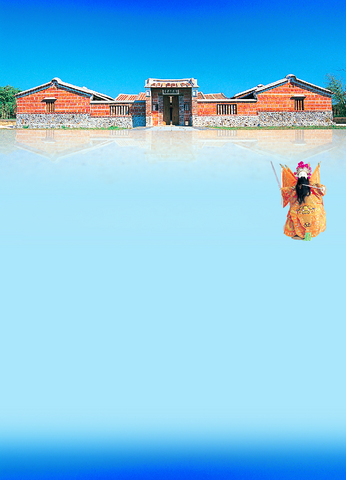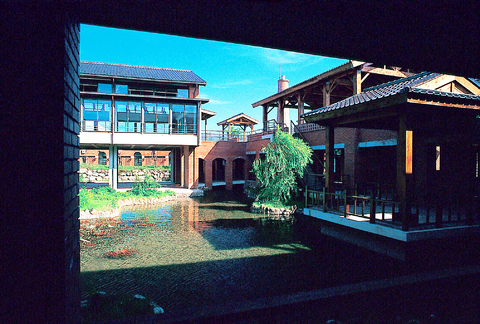 The red brick buildings of the National Center for Traditional Arts were constructed to resemble the buildings of 200 years ago.
PHOTO COURTESY OF THE NATIONAL CENTER FOR THE TRADITIONAL ARTS
Middle-left: Shop owner and artist Rachel Cheng.
PHOTO: DIANA FREUNDL, TAIPEI TIMES
Comments will be moderated. Keep comments relevant to the article. Remarks containing abusive and obscene language, personal attacks of any kind or promotion will be removed and the user banned. Final decision will be at the discretion of the Taipei Times.