Restaurant: Witch House 女巫店
Address: 7, Ln 56, Xinsheng South Rd, Sec 3, Taipei (新生南路三段56巷7號)
Telephone: (02)2362 5494
Open: 11am to 1am daily
Average meal: NT$200
Details: Live music on Thursday, Friday and Saturday nights, cover charge NT$300. English menu, credit cards not accepted
Walking into Witch House for some mellow jazz guitar and vocals, it is easy to see that, despite the name, this establishment is not just for witches -- but it is for sexual innuendoes. \nThe patrons, male and female, Taiwanese and foreign, college-aged and middle-aged, had all come to enjoy the low-key sounds and let-it-all-hang-out atmosphere that Witch House, right across from NTU, has to offer. \nThis bar and restaurant/live house abandons all pretense of decency. The menu plays up every sexual innuendo possible, with it's "Juicy Sextracts," "Shapely Rice Tits" and "Frothing Cock-onut Milk." There's even a reference to Classical Chinese pornography with the "Jin ping mei" salad (金瓶梅沙拉), which you can find under the "can't get fat" (吃不胖) section of the menu. \nThe Mexican chicken leg is, perhaps, the most innocent sounding choice on the menu. The juicy, baked drumstick and thigh is smothered in salsa and rested on a pile of spicy potato wedges. A similar dish, the Thai chicken leg -- covered in sweet and garlicky Thai chili sauce -- comes with shapely rice mounds instead of potato wedges. The German sausages with sweet dijon mustard are another favorite. All entrees are accompanied by sides of potato salad and cooked veggies. \nThe drinks menu is extensive, including universal favorites as well as Witch House inventions such as the "MC [Menstrual Cycle] Ice Tea," made with tea, berries and rum. The German Grolsch beer will go nicely with the either the German sausages or the German board games which are stacked on shelves ready to be played or bought. The German connection is clear and no doubt owner Peng Yu-ching (彭郁晶) would have commented further if she weren't in Germany visiting her spouse's family. \nAs diverse and humorous as the menu is, Witch House's relaxed "let's enjoy our food as much as we enjoy our bodies" attitude is probably what keeps people coming back. Customers can come in for a meal or drinks after browsing the queer/feminist books upstairs. According to the menu, the NT$150 afternoon tea set is perfect for those "ditching work or school, gossip or talk business." It pairs a choice of coffee and tea drinks with cake, chips and salsa, or a baked apple.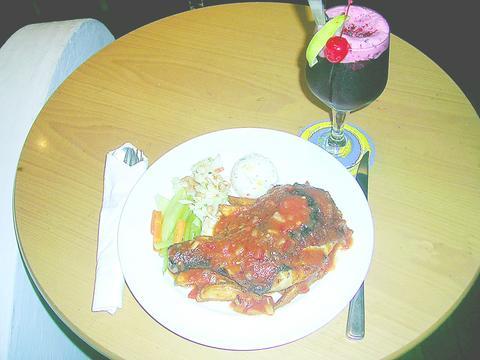 The Mexican chicken seems innocent, but the MC ice tea was a deep shade of red.
PHOTO: MEREDITH DODGE, TAIPEI TIMES
Comments will be moderated. Keep comments relevant to the article. Remarks containing abusive and obscene language, personal attacks of any kind or promotion will be removed and the user banned. Final decision will be at the discretion of the Taipei Times.