Had a drink? Get a chauffeur
The hot new service in Los Angeles right now is calling up the driver if you've had a few too many drinks
Arvin Brown, a television director whose credits include episodes of Everwood and The Practice, had something of a problem. Leaving a party in the San Fernando Valley, 40 minutes by freeway from his home in Marina del Rey, he did not feel sober enough to drive his Jaguar. Nor did he relish calling a taxi and leaving the luxury car behind. Then he remembered Home James, a chauffeur service with a twist: you're driven home in your own car. \nBrown made a call, and 20 minutes later his driver arrived, dressed in a mod suit accented by a Union Jack armband, riding a collapsible scooter. Greetings were exchanged. The driver folded the scooter into a carrying case, threw it in the trunk of the Jag and whisked Brown safely home. "It was a spur of the moment thing," Brown said later. "I've now used them several times, and it gives me a relaxed feeling not to worry about the drive home." \nIn this car-dependent city, where even the drive for a morning cup of coffee takes 20 minutes, the long white-knuckle trip home after an evening of martini-enhanced socializing, windows rolled down for sobering blasts of air, is an all-too-familiar ritual. \nAlso a dangerous one. Drunken driving has caused 7,681 accidents and 97 deaths in the last three years, and the city's efforts to crack down are well publicized. The police stake out the homes of repeat offenders to catch them coming or going under the influence. A proposal before the City Council would make Los Angeles the first major city to seize the cars of anyone arrested while driving drunk. \nEnter Home James and a rival service, Autopilots, whose clientele are aware of the consequences of drunken driving, yet often find themselves out on the town, drink in hand, following the strong imperative toward partying in the entertainment industry, and among weekend club hoppers. \n"I thought if any city was tailor-made for something like this, it was LA," said Barrett Worland, the founder of Autopilots, who took his inspiration from similar businesses in London. \n"The last thought anybody wants to have is, God, did I have one glass too many?" he added. "We're for the people who want to go out and really Wang Chung." \nOr, as James Gibb, the founder of Home James, put it in his own British colloquial, "Public transport here is rubbish." \nBoth services, which began last December, have slowly if not spectacularly caught on. Autopilots says it has driven rock stars and actors. Home James ferried guests after a birthday party for the actress Natasha Henstridge and is booked for two events during Los Angeles Fashion Week, which starts Oct. 25, including the 2 B Free show's after-party, whose host is Tara Reid. \nThe collapsible Di Blasi scooter, which retails for about US$2,000, is the centerpiece of both services. It is an easy fit in most car trunks. "Yes, it fits in a Mini, but a Porsche can be a tight squeeze," said Worland of Autopilots, who is also one of its 10 drivers. In his nearly 300 sorties, he has driven every imaginable type of car, he said, from a hair stylist's hearse to a 1942 Rolls-Royce that once belonged to Britain's royal family. The services charge comparable fees, between US$40 and US$55, depending on the distance between a pickup and a client's destination. \nWhile one might think that Los Angeles drivers accustomed to the splendid isolation of their own vehicles would not make for the best passengers, Worland said the opposite is very nearly true. "If they've arranged for us to come, they are generally in a good state of mind," he explained. "People actually say things like, 'Do you mind if I smoke?' To which I reply, 'It's your car."' \nOf the two services, Autopilots strikes a more informal note. Its slogan is, "You party, we drive," and it outfits drivers in a police-tape-yellow windbreaker, supplying them with a party kit loaded with munchies and an air-sickness bag. \nHome James is of the "let's put on a show" school. It hires models and actors exclusively and insists that they all be called James and affect a British accent. They wear skinny rep ties and new-wave-style suits from Mossimo. \nVicki Whicker, who met friends at the Standard Hotel on Sunset Boulevard recently for what she called a "liquid lunch," called Home James, mindful that she had arrived driving her boyfriend's new BMW. She was impressed by the savoir-faire of her driver, Jordan Smith, on his Italian scooter. "He was very cute," she said. "He looked like a member of the Strokes." \nWhicker called on the spur of the moment, and Home James promises to dispatch one of its "Jameses" to any location on the Westside on 30 minutes' notice. \nSome clients of both services, looking ahead to a boozy night out, arrange beforehand to be picked up. That was the case for Wes Stone and Evie Johnson, regular clients of Autopilots, on a Saturday evening in early October. \nThey began with dinner at Asia de Cuba, enhanced by martinis and a bottle of wine. Then they hopped over to the Sky Bar in the Mondrian hotel, the perennial perch on Sunset for beautiful people. \nAfter more cocktails, Stone had a white-suited valet retrieve his girlfriend's Porsche Cayenne, just as the couple was met by their Autopilots driver, Anselm Clinard, whom they greeted like an old friend. \nJohnson, a jewelry designer and aspiring photographer, teetered slightly on her heels. Stone, who recently finished an MBA, said he had moved West to be with Johnson. \nThe statement caused her to roll her eyes in mock disbelief. For a moment the prospect of an alcohol-induced drama hung in the air. But it evaporated quickly when the conversation turned to whether to go on to a party or simply return home. \nWith Johnson, a tall blonde in a sleeveless dress, tucked into the front passenger seat and Stone in the back seat of the SUV, Clinard drove them home uneventfully to Santa Monica. He unpacked the scooter and sped back into the night. \nBoth services' drivers are exclusively male and generally good-looking, which has not been lost on some female clients who have had a drink or two. Clinard, who was cast as one of the suitors on the second season of the ABC reality show The Bachelorette (he was eliminated the first night), said that flirting comes with the territory. "There's always crazy energy," he said. "A young buck will show up to drive them home. You get invitations to come inside. Maybe there's a long grateful hug, one that goes on a little longer than it should." \nKristin Moss, a marketing executive at MGM, recalled how she was the envy of all her friends when her Home James driver showed up to take her home after a girls' night out of margaritas and cosmopolitans. \n"It's 1am and I'm the only one that's married," she said. "While they're fumbling for their keys, I get the hot guy to drive me home." She said that she went so far as to try and set her driver up on a date with one of her friends. \nNow if the two services could just take care of the next morning's hangover, they would really have the better mousetrap.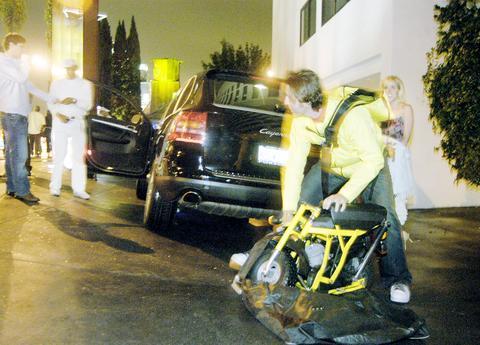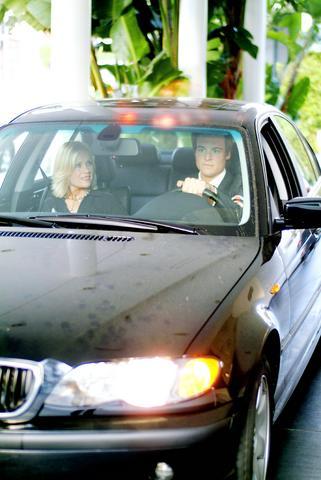 Anselm Clinard, a driver for Autopilots, folds up his scooter as client Wes Stone, left, pays the parking valet at a Hollywood nightclub. Autopilots is a chauffeur service with a twist -- they drive you home in your own car if you do not feel sober enough to drive.
PHOTOS: NY TIMES
Comments will be moderated. Keep comments relevant to the article. Remarks containing abusive and obscene language, personal attacks of any kind or promotion will be removed and the user banned. Final decision will be at the discretion of the Taipei Times.