Trapped in Penghu
Stone weirs provide a relaxing way to catch fish for the people of Penghu.Building and maintaining one, though, can be a life's work
Yang Chin-hua (楊秦化) has caught fish for some 70 years without casting a line. Instead, he takes his basket and sandals and walks to the ocean-side trap he built. Fish swim in at high tide and Yang nets them when they're stranded at low tide. Long before the people of Penghu went to sea to fish, they let the sea come to them.
Historians say stone weirs were first built in Penghu 700 years ago. The origins of most aren't known because they were public works; anyone in the community who could lift a rock and wanted to eat had incentive to help with construction. Because they eventually succumb to the tides, they have to be maintained.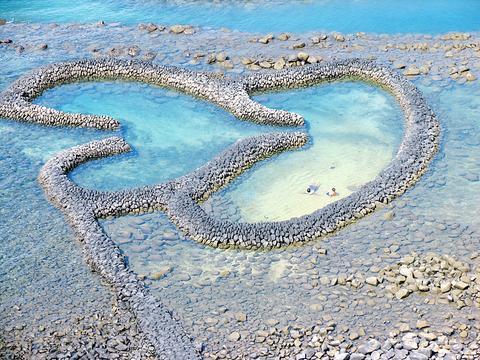 A couple swims in Twin Heart Fish Trap on Penghu's Chimei Island.
PHOTOS: DAVID MOMPHARD, TAIPEI TIMES
But to call folks like Yang fishermen isn't entirely correct. Penghu's traditional lifestyle was equal time spent catching fish (often building a weir to catch more) and time spent coaxing crops out of infertile soil.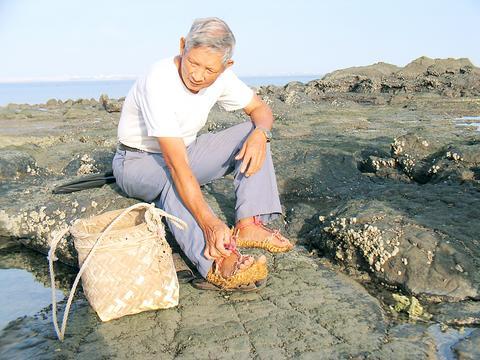 Yang makes his own sandals out of heavy rope laced with plastic cord. The rough-bottomed sandals keep him from slipping on the coral and basalt of the weir.
In farming, too, they built walls. On every island in the archipelago where crops have been cultivated, locals have stacked coral to protect their plants from the fierce winds that scour the archipelago in the winter months. Kilometers of meter-high walls crisscross the islands in a honeycomb pattern that is as pleasant to look at as it is practical.
But the stone weirs that trap fish have captured people's fancy, as well; none more than Twin Heart (雙心石滬), sitting where basalt stones fall from the north cliff of Chimei Island. The weir's shape, as its name suggests, is of two hearts spooning top to bottom. Because the road leading busloads of tourists to Twin Heart runs atop the cliff, the weir below has become a familiar backdrop for countless couples' photos. Local legend has it that lovers who go for a swim in it during low tide will stay together -- figuratively, if not actually, trapped in love. Chimei locals now catch more tourist dollars from their famous fish trap than they do fish.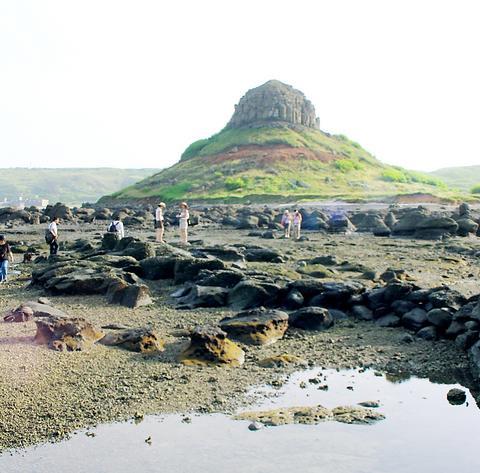 Yang Chin-hua's stone weir at Cow's Heart Bay on Hsiyu Island in Penghu sits beneath picturesqu Turtle Mountain, one of Penghu's highest peaks at some 70m above sea level.
Yang's fish trap isn't the tourist trap that Twin Heart is. Mention Twin Heart, and he grimaces.
There are no young couples coming to photograph themselves in front of his fish trap -- there's no birds-eye vantage point from which to get it all in frame. And even if they could, no couple would want to be photographed in front of a fish trap called Cow's Heart (牛心) -- a much harder sell than Twin Heart's postcard-perfect setting.
Yang was out of luck in terms of materials to build his weir, too. Where Twin Heart sits beneath a cliff that has supplied an ample amount of basalt stones for its construction, Yang had to carry stones from the base of Turtle Mountain, a promontory of basalt rising 70m above sea level and hundreds of meters to the west. He used large pieces of coral in building it, as well, but said the heavier basalt didn't wash away as easily in the tide.
Yang started work on the project as a boy, helping his dad. A half-dozen able-bodied young locals who agreed to work for a share in the spoils joined them. The group piled stones by hand, one stone at a time, across an area the size of a football field. It took the better part of a decade.
How many fish does it catch in an average tide?
"Oh, maybe none. Not many," Yang said. "Fewer than it used to."
Though they've brought Yang his dinner all his life, the tides have slowly changed for Penghu. For the first half-century of Yang's life, his native Hsiyu was, in effect, more of an island than it is now. In the late 1970s, bridges connected it to Baisha and Matsu islands, making the three, in effect, one large island. About the same time, commercial air flights connected them to Taiwan proper. Then everyone left for paid work and a more modern lifestyle. Yang figures the folks that helped him stack his stone trap were among them.
"I haven't seen them here in a while," he said.
Comments will be moderated. Keep comments relevant to the article. Remarks containing abusive and obscene language, personal attacks of any kind or promotion will be removed and the user banned. Final decision will be at the discretion of the Taipei Times.