`The Gibraltar of Asia' and a `park in the ocean'
Kinmnen has been called many things and an exhibition held in bunkers on the island is a good reason to visit and see why
A bracing exhibition in Kinmen is an aesthetically and politically gratifying reason to visit one of the most interesting in a chain of islands strung out across the Taiwan Strait and in the wider South China Sea. Kinmen has sandy beaches that compare with Penghu and is larger and more beautiful than Green Island. It's attractions have been preserved, obliterated and scarred by a near 50-year war.
Not far from one of Kinmen's long beaches, with fortifications pointing toward China like raised fingers, is a bomb shelter that has been converted into an art exhibition space as part of the Bunker Museum of Contemporary Art (BMoCA) that opened earlier this month.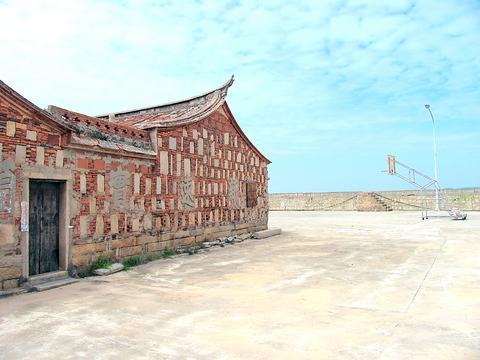 Fujian-style houses are a feature of Kinmen.
Eighteen artists, mainly from Taiwan and China and local schoolchildren, have transformed wartime bunkers into galleries of discovery about Kinmen that variously reflect on the island's buffer-zone status. The exhibits also comment on the years of full-scale war, when Kinmen was the battleground between what some locals call two outsider forces. Other exhibits express hope for a future without war. Military rule on the island only ended in 1992.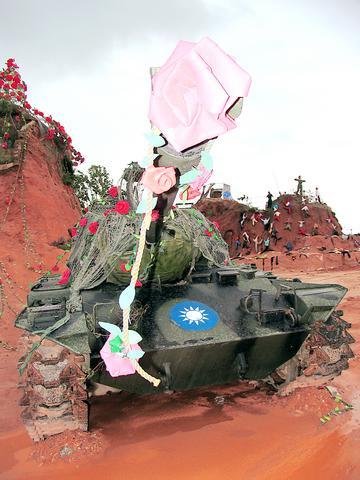 tank and bunker decorated by school children.
It is an exhibition of four-poster beds, broken pianos, documentary films and innovative structures. The diverse perspectives have been admirably put together by the Chinese curator Cai Guo-qiang (蔡國強), who lives in New York and is famed for his "wildly poetic" explosions.
Standing outside a reinforced-concrete shelter dug into a small hill, the local artist Lee Shih-chi (李錫奇) said life was like a lottery in Kinmen after the Chinese Nationalist Party (KMT) lost a civil war against the Communists and "regrouped" on Taiwan in 1949. Kinmen became the frontline between the two armies. It was bombed for 20 years and became the most densely mined place in the world. In 1958, China shelled the village of Guningtou, Lee's hometown, with 470,000 rounds that ended up killing 10,000 locals.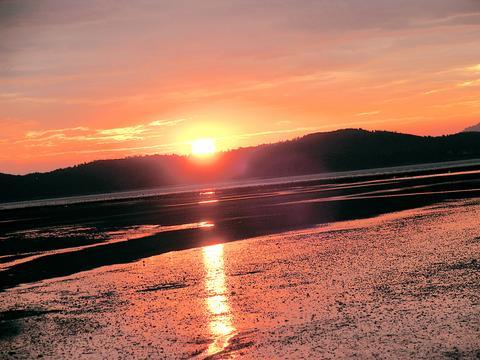 A sunset over Lieyu island.
Beneath a canopy of Kaoliang bottles that were made to look like shells, Lee pointed to the clear plastic lottery machine that spat up colored table-tennis balls on a stream of air. It was explained that the white and black balls represented war. Blue and green signified the status quo. A yellow ball meant you were rich and could leave the island to escape the war. These were the choices for people in Kinmen at that time, he said.
Just 2km of water divides Kinmen and China, a distance that appears further reduced when the tide is out. Taipei is over 400km to the east. Of all the islands that belong to Taiwan, Kinmen is the closest to China -- and not only geographically.
Though Kinmen is said to have first been settled 6,000 years ago, unlike Taiwan proper and its nearby islands there is not a strong history of Aboriginal culture. It was populated by waves of immigration from China beginning at least 1,600 years ago and it was China that named the island Kinmen, "Golden Gate," in the 14th century.
There was a brief flirtation in the 1600s with Dutch rule and the legacy is a number of buildings that have a distinct European look, such as in Shuito Village. In the town of Jincheng, Model Street's restored shops show traces of Japanese occupation, mixed with Fujianese styles.
Since January 2001, Kinmen has benefited from direct links with China through the metropolis of Xiamen about 10km away, and there is a steady flow of fishing boats and goods between the two ports. Locals speak what they term "Kinmenese," which is similar to Taiwanese, since both dialects derive from Fujian province in China.
Architecturally, Kinmen is peppered with restored relics of its history, such as the Ming-dynasty (1368 to 1644) "palace" temples. Many houses and even clan shrines have traditional sloping roofs with swallowtail ridges. In the most unexpected places -- in settlements and on trails -- one can stumble across stone wind lion gods, in various styles from different eras. These were originally made to appease the gods who were thought to be responsible for the effects of deforestation on the island.
Today, sand is mainly on the beach and there are plentiful gardens, populated by luxuriant banyan trees, with lakes for fishing and taking a picnic. In addition to the underground labyrinths that were built by the military (some of which can be toured) there are "green tunnels" through the national park and up to the 253m top of the island, Mount Taiwu. The 2km walk takes in a cemetery, inscribed stones and cultivated nature.
There are wetland centers and trips to the small island of Lieyu for bird watchers. You can tour the knife factory (the knives were originally made from shell casings), find out about the history of sorghum wine at the Kaoliang factory and take a stroll through the larger towns of Jincheng and Kinmen City, where a slower pace of life is enjoyed and noodles hang out to dry in the streets.
Then, when you feel at peace, you will notice the soldiers in camouflage shirts. On a quiet walk off the beaten track, you will discover guarded army depots, bunkers and hidden artillery placements. There are still mines, so do not stray too far off the path.
There is plenty to do in Kinmen for a two or three day trip apart from look at artistically modified bunkers. But they are a good place to start if you hire a motorbike and the weather is kind. And even if it isn't, the experience will be a bracing one.
Just the facts:
Size: 150km2 (including 15 other small islands)
Population: Approximately 50,000
Climate: Subtropical, monsoon climate, high humidity. Average temperature is 21C
What: Bedrock of gneiss and granite, highest elevation, Mount Taiwu 253m
Travel service information:
Ju Ni (082) 327 675
Jin Ming Sheng: (082) 352 409
Hotels:
Shang Bing Hotel: (082) 321 1528
Tai Kin Hotel: (02) 2395 1167
Haifu Hotel: (082) 322 538
Tour bus information:
Da Fu (082) 324 491
Nan Xing (082) 322 459
Arrange car, bicycle or scooter hire through hotels or at the airport
Airlines:
Uni Airline (082) 324 481
Transasia (082) 321 1501
Far Eastern Airline (082) 327 339
BMoCA is at bmoca@caiguoqiang.com
The exhibition continues until Jan. 10, 2005
Kinmen Tourist Department: (082) 324 174
http://tour.kinmen.gov.tw/
Comments will be moderated. Keep comments relevant to the article. Remarks containing abusive and obscene language, personal attacks of any kind or promotion will be removed and the user banned. Final decision will be at the discretion of the Taipei Times.