Pop Stop
It's natural with the hot weather to shed inhibitions and clothing. Singer Alex To (杜德偉) and his fans are no
exception.
For his latest album Take Off (脫掉), To not only makes a nude appearance in his music video, but he also invited his fans to do the same. On Sunday in a promotion for his new musical offering. To stripped to his shorts in Ximending. His record company advertised "half naked for half price, all naked for free" CDs, to encourage people to go on stage and strip with To. A few women took off their tops and presumably got half price CDs.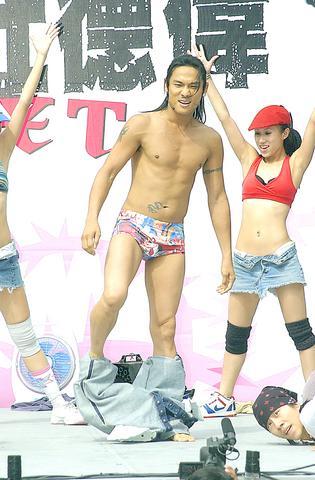 Alex To is prepared to go all the way to help promote his new CD.
PHOTO: TAIPEI TIMES
"I look at myself in the mirror every night, naked, and make believe I'm 25. I can dance, sing, act, write songs and I'm good-looking!" said To (actual age, 42), adding he's proud of his iron-hard hard butt. According to The Great Daily News (大成報), however, To didn't just lose his clothes last week, he also lost his wallet and work permit in a taxi, causing a headache for his manager.
Thai action star Tony Jaa was another hot male body in action last weekend. In a promotion for his movie Ong Bak, Jaa gave Taiwanese reporters a first glimpse of his awesome Thai martial art powers. He somersaulted into the press conference and then practiced "kicks" at a 2m-tall colleague. It was all done so quickly the photographers present had to ask him to do it again, and again.
"I don't smoke, drink or have sex. I don't touch anything that's bad for the body. The most important thing for me is Thai boxing," the 28 year-old actor said. "The sacrifice is worth it." Whatever, Jaa is now back in Thailand to shoot the mega-budgetedTom Yum Goong, a story about saving an elephant from being abducted.
PHOTO: TAIPEI TIMES
Jackie Chan's (成龍) 22 year-old son Jaycee Chan (房祖明) is receiving recognition for his singing skills and dad will doubtless be chuffed. At the 6th CCTV-MTV Music Award Ceremony held last Saturday in Beijing, Chan Jr. took the award for Best Hong Kong New Performer. Never mind the fact that his record has not been released yet, and few people in China (let alone Taiwan)) have ever heard of his singing. Dad has clout, obviously. Jaycee Chan is also starring in the NT$320 million action thriller, Twins Effect II (千機變II花都大戰), in which his father is an investor.
"I don't want to rely on my father's connections in the entertainment field. In fact, I don't want people to mention his name in front of me," Chan was quoted as saying by Chinese media. Yeah, right.
In its second week of release, the negative reception to House of Flying Daggers (十面埋伏) is becoming a chorus of disapproval in the media and in Internet chatrooms in China, Hong Kong and Taiwan. In Beijing, film professor Su Mu (蘇牧) wrote an article slamming the film as "childish and ridiculous."
"Most of the audience was laughing in the theater and this expressed the contempt of the audience toward Chinese filmmakers," Su wrote. In Hong Kong well-known actor and director Michael Hui (許冠文) told Apple Daily (蘋果日報) that only one word could describe the movie ? "crap." In Taiwan, a movie Web site concluded, "Basically you can treat this movie as a comedy and laugh about it. But then again, NT$250 is better spent on more meaningful things."
Comments will be moderated. Keep comments relevant to the article. Remarks containing abusive and obscene language, personal attacks of any kind or promotion will be removed and the user banned. Final decision will be at the discretion of the Taipei Times.