Karaoke spawningaddicts in New York
With a taste for the intoxicating sensation of breezing through a cheesy song to the jeers and cheers of one's friends, the young and hip are turning to Japan's most infamous export
On a Saturday night not long ago, an actress from Queens celebrated her 26th birthday by singing Avril LaVigne's hit Don't Tell Me at Muse Karaoke on New York City's West 21st Street. A short cab ride away at Village Karaoke in Cooper Square, all 16 private suites were booked and James Brown's Sex Machine could be heard blaring from a roomful of young women wearing Mardi Gras beads.
Around midnight at Sing Sing on the Lower East Side, a French woman and two blond models nursed cocktails while hipsters in thrift store T-shirts sang Metallica. And by 2am, the red leather booths at Winnie's in Chinatown included magazine editors, actresses, investment bankers -- and Celeste Pillow.
Pillow, 23, a jewelry-maker, summed up the attractions of amateur singing: "Karaoke is as bad as it gets, but that's why it's good."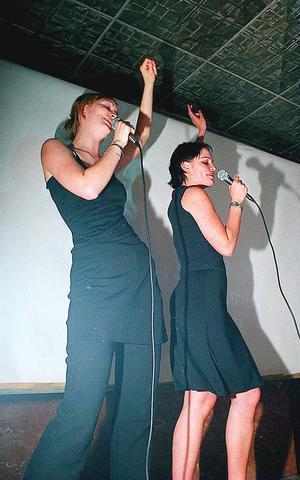 Performers at the Lansky Lounge on New York's Lower East Side have included David Lee Roth. This truly odd moment -- a rock star performing a karaoke version of his own recording -- was part of a reawakened interest among New York hipsters in the sing-along pastime imported from Japan.
PHOTO: NY TIMES
After three seasons of American Idol, Bill Murray's sing-a-long during Lost in Translation and spending 20 years as an extra in the drama of New York night life, karaoke is suddenly enjoying a second wave of popularity.
Old Asian haunts are more crowded with English-speaking customers. Rentals of karaoke equipment at one leading East Coast distributor have jumped fivefold since 2001 and there is no sign of dwindling interest.
Thousands, if not millions, of karaoke tracks are being traded illegally online. Those in the karaoke business nationwide predict that the business will grow by about 10 percent each year as the industry switches from CDs to digital databases holding up to 90,000 songs.
New private rooms with huge digital collections are popping up all over the city.
Karaoke goes political
Dozens of bars, restaurants and lounges in New York have also started offering karaoke one or more nights a week. The Apollo Theater in Harlem will have its first karaoke night on July 23, and a well-heeled couple in Chelsea is even planning a Kerry-oke fund-raiser this month for Senator John Kerry's bid for the Democratic Party nomination to run in the US presidential election.
Clearly, given the demographics, this is not the karaoke of crazy drunken uncles who worship Neil Diamond, nor is it the more studied karaoke first pioneered by Japanese businessmen. Instead, it is more akin to the swing-dancing craze of the 1990s -- a form of urban group expression that satisfies a longing for community. In other words, karaoke is hot because it is a cheap, team activity.
"Japanese singers like to sing alone to show off their voice," said Mike Toshi Kida, the owner of Sing Sing, Village Karaoke and four other karaoke locations on the East and West Coasts. "Americans like to sing together, loud, chorus style and with dancing."
This is the case wherever televised lyrics can be found, in private rooms, at bars and at parties. When the song choice is anything from Bon Jovi or Madonna, it is often hard to tell who is actually singing, which is exactly how many fans like it.
Karaoke etiquette holds that skill matters less than passion.
"My favorite performers are the ones who suck but really put their heart into it; it's better that way," said Samantha Ronson, a singer who recently cut a debut album after being the karaoke hostess at Moomba in the West Village in the late 1990s. It has since closed.
Somehow, fans at several locations said, karaoke helps people connect. Katy Finnin, 29, between songs at Duet Karaoke in Midtown, explained the social setting by noting that "everyone is equal." Kimberly Mulvaney, 26, an actress from Queens who sings in both bars and private rooms, said that karaoke also encouraged conversation. "It's not like a party where if you don't know anyone, you end up in the corner," she said. "With karaoke, there's camaraderie."
shamelessness is good
Crowds, in fact, tend to form when the mood is cozy, respectful and full of shameless characters. At Arlene's Grocery on the Lower East Side on Mondays, punk rockers sing karaoke with a live band, then offer friendly analysis on Tuesday via Internet message boards.
M Shanghai Bistro in Williamsburg offers hip hop karaoke to amateur MCs on Sundays, and at the Royal Oak a few blocks away, 20 to 30 regulars gather each Monday to sing obscure favorites in the candlelit back room of the bar. They close each night by singing Kool & the Gang's Celebration.
Friendships here can often be traced to karaoke, whether at Enid's in Greenpoint, Brooklyn, a few years ago, or other bars like the Alligator Lounge, in Williamsburg, which has karaoke on Thursdays. Most of the regulars return not just to sing but also to encourage one another. The hostess at the Royal Oak, Jenny Jemison, 26 and dark-haired, knows all the singers by their first names.
The most confident performers sing several songs in an evening, and the regulars know one another's range. When Jonathan Parsons, a 25-year-old waiter, prefaced Radiohead's Paranoid Android with a disclaimer on a recent Monday, the crowd told him not to worry -- and the song came off without of a hitch.
Meanwhile, the loudest applause was reserved for the quirkiest or most energetic performances, including one bearded bald man's take on Tori Amos' Cornflake Girl.
"Karaoke addicts" will sing anything, anywhere, anytime. Many of them show up at several karaoke bars each week. Some of them became hooked on song in private suites.
pleasure of performing
Other enthusiasts discovered karaoke after singing in choirs or in a cappella groups in college. Among them are Jay Ferguson, 29, a vice president at Saatchi & Saatchi, who recently proposed to his girlfriend, Finnin, while singing the Moulin Rouge version of Elton John's Your Song.
Still more are instantly attracted by the sheer pleasure of performing before and with a crowd. According to Jemison, who also works at Second on Second, a Japanese restaurant in the East Village with a lounge and private rooms, most of these fanatics started as "karaoke virgins," people who "take the mike very reluctantly and only to appease the almost bullying of their friends."
"They issue many disclaimers, and are usually very drunk," she said. "Usually it's a beautiful disaster, which true karaoke performances should be.
"But every once in a while, they pick the perfect song, maybe something with hand claps; think Hall and Oates' Private Eyes. And they nail it and the crowd is into it. `Private eyes (CLAP-CLAP) are watching you ...'
"And there it is, another karaoke addict has been born. You can see it in their eyes. You know they are going to want that microphone in their hand for the rest of the night."
Comments will be moderated. Keep comments relevant to the article. Remarks containing abusive and obscene language, personal attacks of any kind or promotion will be removed and the user banned. Final decision will be at the discretion of the Taipei Times.