Mrvica to dazzle on the ivories
The Taipei International Convention Center (台北國際會議中心) will play host to a special one-off concert tomorrow evening when the exciting young Croatian pianist, Maksim Mrvica makes his Taiwan debut.
Born in Sibenik, a town on the Adriatic coast, Mrvica began playing the piano aged nine and has since become one of the hottest and hippest classical performers on the world stage and one of the few to boast a following of fans under the age of 30.
When the civil war broke out in 1990, Mrvica continued with his musical studies regardless of the fact that "there were a thousand grenades a day in my town," -- as he recalled in a recent interview.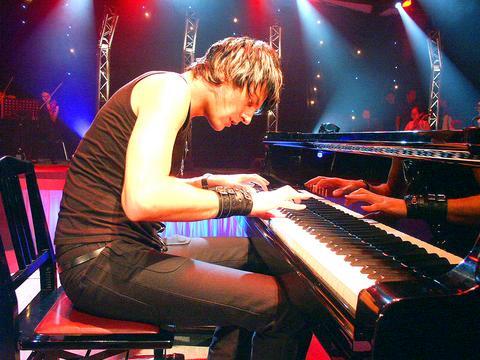 Young Croatian pianist, Maksim Mrvica will be making his Taiwan debut and bringing his classical crossover chic and rock 'n' roll style performance to the Taipei International Convention Center tomorrow evening.
PHOTO COURTESY OF KHAM
After five years study at Zagreb's Music Academy under the guidance of Professor Vladimir Krpan, Mrvica moved to Budapest where he studied at the Ferenc Liszt Conservatoire.
It was his move to Paris in 2000, however, that was to prove the turning point in his career. Releasing his debut album, Gestures that same year, Mrvica found himself the center of mass media attention following his album release concert in Zegreb, which saw him going against the grain and employing a laser show, dry-ice and a video wall.
For the third leg of his first large-scale Asian tour, which has already seen the 28 year-old pianist perform to sellout crowds in Japan and Korea, Mrvica will be exhibiting his extraordinary talent in what has now become his characteristic bizarre and non-classical conformist manner.
What violinists Nigel Kennedy and Vanessa Mae did for the images of classically trained fiddlers, Mrvica has done for pianists. The classical musician, who has successfully crossed over to the mainstream thanks to his rock star looks and fashion sense, has brought a whole new image to tickling the ivories.
Even though his on-stage musical repertoire remains predominantly classical, the Croat's concerts have all the trappings of a gig by any one of a dozen well-known rock acts.
Mrvica incorporates drama, video-screens, lighting and laser-shows as well as a certain amount of humor into his performances.
He has turned his interpretation of Rimskij-Korsakov's The Flight of the Bumble Bee into an art form unto itself and manages to breathe 21st century pop chic ethics into Grieg's Piano Concerto In A Minor
Classical purists may wince at the thought, but the Croat's offbeat take on the classics has built him a huge and loyal following of fans the world over, large numbers of whom are young people more in tune with the Black Eyed Peas rather than Bach.
While he's predictably become a superstar in his native Croatia, Mrvica has also conquered the hearts and minds of fans throughout Asia. His 2003 album, The Piano Player sold more copies in Hong Kong and Taiwan on its release in July than all the other local and international pop acts combined -- displacing Dido from the number one spot in Hong Kong. The album went gold in Singapore, Malaysia and China, platinum in Taiwan and reached double platinum status in Hong Kong.
The Taipei International Convention Center will come alive to the strains of Mrvica's piano tomorrow evening when the pianist performs a set filled with a selection of popular tunes from last year's award winning album as well as some lesser-known reworkings of classical standards.
Performance notes:
Where: Maksim Mrvica will perform at the Taipei International Convention Center (¥x¥_°ê»Ú·|ij¤¤¤ß).
When: At 7:30pm tomorrow evening.
Cost: From NT$800 to NT$3,600, available direct from the venue or via ERA Ticketing Outlets nationwide.
Comments will be moderated. Keep comments relevant to the article. Remarks containing abusive and obscene language, personal attacks of any kind or promotion will be removed and the user banned. Final decision will be at the discretion of the Taipei Times.