The Vinyl Word - MoS opens and it all goes crazy
There's an embarrassment of riches for party people this weekend and in the coming month, as Ministry of Sound (MoS) has finally opened, Luxy takes its show on the road, Citrus celebrates its second birthday and there's an intriguing event that involves rollerskating around a rink looking at photos.
First, MoS had its star-studded opening last night, along with canapes, a lightshow and dancing to the early hours. Project director Peter Bowden hadn't been sleeping much but said he was "real excited" by the look, the sound and the feel of the place. Tonight there's a chance to hear the resident DJs Damian Saint and DJ Buff.
Tomorrow, we have UK turntablist Jon Carter, who has been one of the leading lights on the party scene since the "Summer of Love" in 1989. Carter has remixed some of the biggest names in the business, including U2, Manic Street Preachers and Prodigy (with whom he toured). He's played all over -- including the millennium event in Australia and 3 million people at one gig in Salvador -- and should put together a fired-up house if he's in form.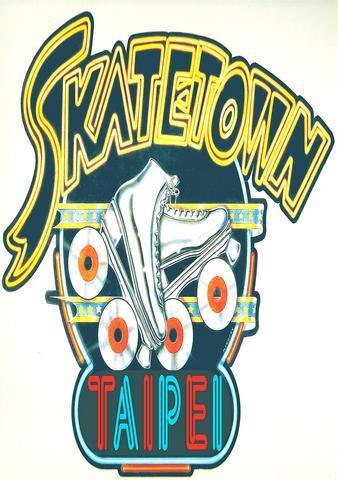 The first ever rollerskating disco inferno in Taipei.
PHOTO COURTESY TENSEGRITY PRODUCTIONS
Citrus Squared at Luxy tonight is guaranteed party action, with the arrival of DJ Chozie from Beijing, lining up with DJs SL and Saucey. Their previous second-year celebration earlier in the month at Eden was a good one and this should be even better, with a double CD (SL and Saucey), T-shirts and speciality drinks being given away. Speaking from Hong Kong, Chozie said he was ready to play. "I've got a bunch of new records, which I hear people may have already heard, but I'm gonna drop them anyway. And I'm gonna play a bit harder too." Saucey said all the songs on the album have got memories of Luxy and 2nd Floor. "This will wrap things up a little bit and then I'll move on, spending time making my own music."
Also tonight is JungleMania presenting Louder! at Bacchus, with DJs FunkStar, Danjah, Flanky, DJ Mykal, plus Edmund and Em with back to back sets, with MC Beemer from the UK. Further competition comes from Circuit, which last week started putting on foreign DJs -- a move so successful they're doing it again tonight with the Evil 9 Asia Tour, from 11pm to 7am, with supporting DJs Stone, Teddy and Joe.
Elsewhere, the Love Shuttle is about to leave town and tour the country, leading up to a FREE party in Kenting on the beach next Friday and Saturday. This Sunday the monster wagon set up by Sony PS2 and Pioneer will settle in Warner Village for a small event, and is in Taichung on Monday and Tainan on Wednesday. Alan Hsia of Luxy said the sound truck is the biggest of its kind in Asia, so expect some noise.
For something completely different try "Skatetown, Taipei" on Sunday, which is loosely based on the unreleased masterpiece Skatetown, USA with Patrick Swayze. MC Marcus Aurelius will be wearing four hats for the event, as the promoter, photographer (Marcus Maurice), DJ and master of ceremonies. The first 50 get a free mix CD. It works like this: you go in, put on some rollerskates, circumambulate the DJ who has set up in the middle of the rink, and view the photographs by Katherine Wang, Li Chen and Maurice, which have been hung on the pillars and walls. Visual artist Djie Zhou has also got in on the act, along with hip-hop DJ Kill and Elements with drum `n' bass.
The Vinyl Word: Get yer skates on.
Publication Notes
For your information:
Bacchuss B1, 88 Songren Rd, Xinyi District, Taipei, next to In House (台北市松仁路88號), call (02) 2345 6928.
Circuit 5F, 72 Wuchang St, Sec. 2, Taipei (台北市西門町武昌街2段72號5F), call (02) 2370 3162.
Luxy 5F, 201 Zhongxiao E Road, Sec 4, Taipei (台北市忠孝東路四段201號五樓), (02) 2772 100.
MoS Lequn 3rd Rd, Neihu, Taipei (台北市中山區樂群三路310號). Call (02) 8502 1111. www.mos-taipei.com.
Skatetown Taipei can be found at 6F, 70 Xining S Rd, Ximending (in the Wau Nien building). NT$400 includes skate rental, from 6pm to 10:30pm.
Comments will be moderated. Keep comments relevant to the article. Remarks containing abusive and obscene language, personal attacks of any kind or promotion will be removed and the user banned. Final decision will be at the discretion of the Taipei Times.