Japanese dancers step into the fray
The Novel Dance Series (新舞風 ), now in its sixth year, has brought many internationally important choreographers to Taiwan and this year is no different. \nThe series' artistic director Lin Huei-min (林懷民 ), the best-known choreographer in Taiwan, has invited two Japanese groups well-known for their use of digital elements to present their shows in the e-Steps, Japan program. \nTokyo-based Leni-Basso is a rising star in European contemporary dance circles, while Akiko Kitamura, the group's choreographer, infuses modern technology with martial arts-influenced dance. With the aid of dramatic lighting, sounds and video projection, her pieces often shock the audience with their visual impact and fierceness. \n"Leni Basso!" meaning "Leni is back" in the language of the Nuba tribe, was what the native Africans shouted joyfully to each other in the 1960s when the late German photographer and filmmaker Leni Riefenstahl filmed there. It is not generally known, but Riefenstahl had a short yet brilliant career as a dancer. When Kitamura set up her group in 1994, she named it Leni Basso to remind herself of the adventurous genius. \nLeni-Basso's 2001 work Finks has its dancers moving quite unexpectedly in an exploration of the physical communication between dancers. In some scenes, the dancers seemingly engage in an intense street fight. Their dances overlaps with real-time video projections of the dance in the background. Deafening noise from two large speakers also strengthens the sense of unrestrained disorder and violence. \n"The work is about the possibility of physical communication between people. This communication may be not always be smooth. We just look to express how our bodies feel about other people's bodies," Kitamura said. "All the sounds and lighting are involved in a `discussion.'" \n"Dancers not only communicate with each other, but communicate with the video projections and the sound effects. These multimedia elements also \ncommunicate with each other." \nPerforming in Taipei, the group's 10th anniversary has special meaning for Ryuichi Fuse, its administrative director. "In 1999, we performed a short piece in Taipei. It was our first show abroad. Coming back to Taipei means a lot to us," Fuse said. \nAfter its premiere in Tokyo in 2001, Finks toured Denmark, Belgium, North America and China, before coming to Taiwan. \nDumb Type, which hails from Kyoto, will perform next weekend. Made up of a group of former college students discontent with the educational establishment, the group set out to be different both in life and in dance. \nVoyage is their latest work and conjures up a virtual journey on a stage in which social phenomena are examined and sometimes subtly criticized.
Leni-Basso's Finks overwhelms the audience with dazzling visuals and audio effects.
PHOTO COURTESY OF NOVEL HALLN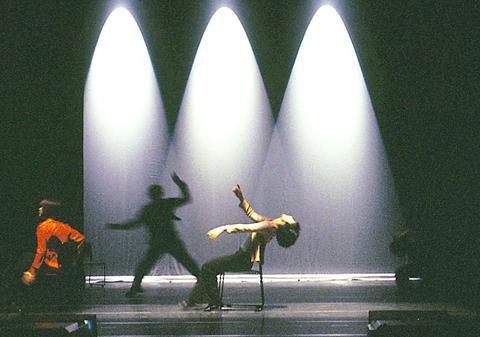 Publication Notes
Performance notes:
Leni Basso will perform Finks at 8pm today and tomorrow, and at 3pm Sunday.
Dumb Type will perform Voyage 8pm April 2 and April 3, and at 3pm April 4.
All performances are at Novel Hall (新舞臺), 3-1, Sungshou Rd, Taipei (台北市松壽路 3-1 號). Tickets range from NT$350 to NT$1,500, available at Era ticketing outlets. For more information, call Novel Hall at (02) 2723 7953.
Comments will be moderated. Keep comments relevant to the article. Remarks containing abusive and obscene language, personal attacks of any kind or promotion will be removed and the user banned. Final decision will be at the discretion of the Taipei Times.