Hanging tough?
Gangsta rap has come to Taiwan, but fear not-- they're firing blanks
We've been here before. Some shifty looking young males loitering on a street corner in East LA amid all the tried-and-true symbols of the ghetto -- the stray 50-gallon drum, the freeway overpasses, the graffiti, the cracked sidewalks and even a bucket of a ghetto ride that lurches to the curb with a boarded-up building in the background. It's a scene that's been played out a zillion times since N.W.A.'s Straight Outta Compton.
And that's the whole point. We're supposed to immediately recognize the symbolism in the opening shots of Iron Bamboo's (鐵竹堂) video and draw the conclusion that this rap group is only one hair's width away from spraying the entire city. That's how gangsta these guys are. They're just like Tupac or 50 Cent.
But come on; Taiwanese gangsta rappers playing it tough on the mean streets of LA? The credibility meter registers in the negative zone on that one.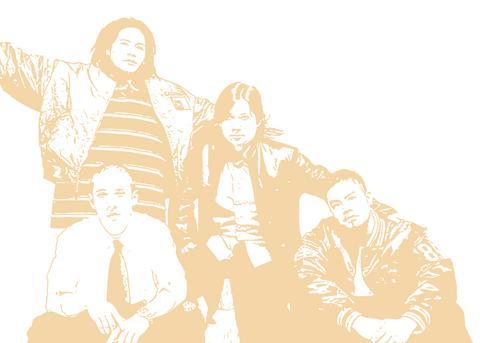 PHOTO: TAIPEI TIMES
Intrigued though, I tracked the band down through their label Alfa Music to arrange an interview and like rock stars, they stalled and delayed several times before a meeting could finally be arranged. Some apprehension set in that the interview might take place in a sketchy crack den or gangster lair, until their manager called to inform me to meet them at a downtown Rose English Tea House -- the type with the frilly curtains and genteel clientele. That didn't sound very gangster at all.
So on the appointed day last month Michael, Vince, Scottie and Jason piled out of a converted van and strutted through the incongruous setting of the Victorian-themed tea house and immediately began apologizing effusively for their late arrival. These guys were so unimposing and polite that, despite their extra-baggy clothes and Scottie's full head of dreadlocks, even the geriatric clientele barely took notice of them.
They introduced themselves with sincere smiles and handshakes and seemed at first to nervously take cues from their manager Jia Jia (嘉嘉), who listened in on the entire interview.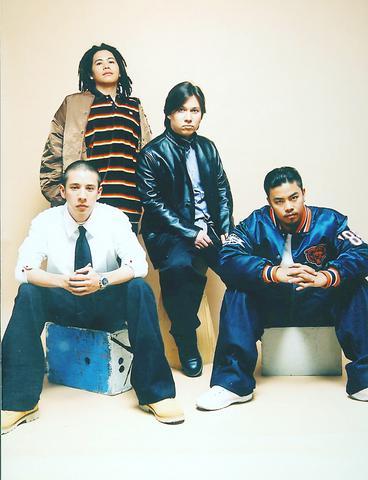 PHOTO: TAIPEI TIMES
Once the tea and crumpets arrived at the table, Michael, who is definitely the spokesman -- if not the leader of the band -- launched into an eager campaign to convince me that Iron Bamboo were not actually gangsters, although by that time I needed little convincing on this point. "We're just singers, artists trying to make a living," he said.
But if Iron Bamboo are as wholesome as they claim, then why the video filled with guns, girls, drugs and money that got banned from MTV? Why the hard-ass lyrics in For My Brothers (為了我的兄弟) like: "When it comes to my thugz & I, u kno we're da most hardcore/So if you wanna snitch on us, we'll come and settle da score/I know u bitches been itchin to go str8 talk 2 the copz/My boyz n I found out; we gonna roll up on ur blok pop shotz until ur stopped"?
The answer came from Michael, who's been a producer at Alfa for three years and assembled the group through various acquaintances, after Vince knocked on the studio door rhyme-book in hand asking for an audition. "The way we approach our music is like a movie. There are 10 movies in this album. It's entertainment. If you can do it for the movies, you can do it for music."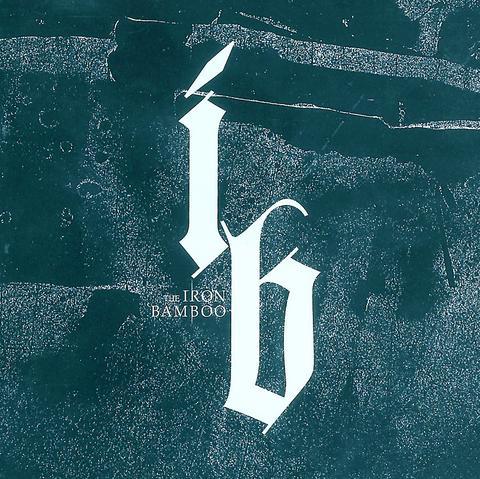 Iron Bamboo bust out with the hardest lyrics ever to hit Taiwan
PHOTO: TAIPEI TIMES
Sure enough, if Iron Bamboo are actors then they've boldly tackled almost every theme that's worked for the African-American forebears of the music they're assimilating.
There's the homage to dead homies in Peaceful World (和平世界), the celebration of thug life in Storm (風爆), the sentimental lament of hard times in the ghetto in You Killed Me (你殺了我), the declaration of inner-city realpolitik in Money, Money, Money and the party anthem In Da Club.
Sandwiched between these there's even a gospel-heavy nod to the occasional religiosity of rappers called Faith (信仰) with a straightforward chorus that reassures "Yes Jesus loves me/Yes Jesus loves me/Yes Jesus loves me."
The Jesus part, though, is actually quite dear to Scottie, who is a mix of Paiwan, Rukai and Hakka and grew up Protestant, and to Michael, who said religion helped extract him from a life of petty crime and mafia connections while growing up in the US and South Korea (he's half Korean, half Swedish). Having brought up his past, Michael and then the others again piped up to restate the fact that any connection to gangs was long since cut and that they are not gangsters. Right. They're a boy band whose selling-point is their rough edge.
Their eponymous album, while a collection of familiar mainstay hip-hop scenarios, is impressively arranged and produced. Fang Wen-shan (方文山), who's written several of Jay Chou's (周杰倫) hit singles, has credits on three of the album's songs and the budget that was thrown into its production -- including a 30-minute film that's bundled with the CD -- is clearly astronomical for an album sung in almost equal part in Mandarin, English and French. Vince is half French and cuts loose with violent gangsta-style Parisian-accented lyrics, though he actually grew up in the sticks of central France.
When I mention that, despite the lyrics, the guys in the band don't come across as very tough, they seem pleased. "We don't want to," said Vince.
"The whole point is that in Taiwan you still have to come across as friendly. You can't come across as, you know, tough. Look at Hollywood actors. They are tough in the movies, but in life they can't be that way. There are some that are tough, but who likes them? If you do that, people just think, oh, you're all fake," Michael said.
The acting analogies by this point had convinced me that Iron Bamboo are first and foremost in show business and as with any business, there are inherent risks that come with an investment. Michael said reactions to the album had generally been positive, while Vince, when asked if he thought sales would take off, just said, "I hope so."
Then Scottie, who, along with Jason, had remained mostly silent throughout the whole interview sat up and said, "People in Taiwan need to hear something new. They're sick of the `I love you, you love me' ballads. Look at Wu Bai (伍佰). The reason he's been around so long is because he's always done different stuff. That's all we're trying to offer."
And with that, he stood up and excused himself so he could rush to Fu-Jen Catholic University to write an end-of-semester exam.
Fair enough. Like Michael had said, they're just a bunch of singers struggling to make a living and if their image is a front, at least they're not afraid to admit it.
Comments will be moderated. Keep comments relevant to the article. Remarks containing abusive and obscene language, personal attacks of any kind or promotion will be removed and the user banned. Final decision will be at the discretion of the Taipei Times.